Unblocked Games 67: Unlocking the Gateway to Fun
Unblocked Games 67: Unlocking the Gateway to Fun
By James Collins No Comments 6 minutes
Do you like to play video games in your free time but always find yourself limited? Are you annoyed by your work or school ISP always blocking gaming sites?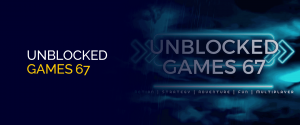 Don't worry we have the perfect solution. Unblocked Games 67- the ultimate haven for online gamers who seek uninterrupted fun and thrilling experiences!
What is Unblocked Games 67?
Unblocked Games 67 is a website that offers many interesting online games that you can play at school or at work without any restrictions.
This website was created to ease boredom and offer you to have a great time with various genres of games, such as action, adventure, puzzle, sports, and more. You can also chat with other players and share your scores and feedback.
So, if you are an adult trapped in an office cubicle and miss the good old days of gaming, Unblocked Games 67 is the place for you.
It has a huge collection of classic and retro games that you can play online for free. Whether you want to shoot some aliens, race some cars, or solve some puzzles, this website has something for everyone.
In this blog post, we take a look at Unblocked Games 67 and how you can use it to access blocked gems and enjoy the nostalgia of retro-style gaming.
What are the Types of games available at Unblocked Games 67?
Unblocked Games 67 includes a vast variety of games including classic arcade games, flash games, mind games, cooking games, music games, and a lot more.
All the games on this website are intently chosen and classified into categories so that you can easily find the sort of game that suits your taste.
The best thing about this platform is that the gaming lists are regularly updated so you'll always get to explore something new and exciting to play.
Top Games At Unblocked Games 67:
Here are the top most popular games available for free at Unblocked Games 67:
Gun Mayhem
Crash Landing
Trial Bike Epic Stunts
Elastic Man
Zuma
Bullets and Brains
Fire Boy Water Girl
Running Fred
Gun Blood
Drift Hunters
How to play Games at Unblocked Games Safely?
Although the Unblocked Games 67 can simply be opened on nearly every network, it is still better to be extra careful when using this platform. The internet can be a wild and scary place filled with dangerous crooks and cyber criminals. You need to watch out for them, or they will easily rip you off before you know it.
Using a VPN can save you from such scammers and hackers who want to steal your data or mess with your network. A VPN safely encrypts your internet traffic and hides your IP address, so no one can track you or spy on you. It's like having a secret tunnel to the web that only you can access.
In this case, Fastest VPN can be your best bet. Here is a simple guide to setting up Fastest VPN for Unblocked Games 67:
Step 1: Sign up for a Fastest VPN subscription.
Step 2: Download and install the Fastest VPN app or extension.
Step 3: Login into your Fastest VPN account with your ID and passcode.
Step 4: Connect to a VPN server in a desired region.
Step 5: Access the Unblocked Games 67 platform.
Step 6: Now you are set to enjoy a safe and secure gaming experience.
By following these steps, you are now safe to enjoy exciting games on Unblocked Games 67 with added security and privacy.
What are the Benefits Of Playing Unblocked Games 67?
1. Enhanced Cognitive Abilities:
Research shows that gaming can have a positive impact on some of our cognitive abilities such as visuospatial skills and concentration.
2. Improved Problem-Solving Skills:
Gaming can significantly improve your logical thinking and problem-solving skills according to research teams from Australia and China.
3. Increased Eye to hand coordination:
Another study found that people who actively play games have better sensorimotor skills in comparison to those who don't.
4. Greater Ability to Multi-Task:
Most games train players to perform several tasks at the same time- especially action games. For instance, you have to keep track of your health, ammo, and other resources while controlling your character's movement. This helps players improve their ability to multitask in real life as well.
5. Faster and More Accurate Decision-Making:
The University of Rochester studies suggest that video games can enhance your decision-making capabilities in real life.
6. Keen Attention to Detail:
People who play games are more likely to pay attention to detail and see better. This is most accurate for gamers who play first-person shooting games where paying attention to your visual periphery is crucial for identifying the dangers of enemies.
However, it is important to take breaks in between to let your eyes rest.
7. Higher Accuracy and Faster Completion of Tasks:
According to a recent study, gamers perform better at tasks that require hand-to-eye coordination with higher accuracy and better speed.
8. Prosocial Behaviors:
Even though playing games all the time can make you introverted and antisocial, there are games out there that promote community building and peer-to-peer interactions.
For example, gaming could be a popular topic of conversation among students at schools or institutes.
What are the reasons behind Blocking Gaming Sites?
Gaming sites are most often blocked in schools, institutes, and workplaces due to a handful of reasons.
Distraction Demon: The primary reason behind the gaming lockdown is the dreaded D-word: distraction. We all know how captivating games can be luring us into their immersive worlds. This can divert attention away from educational or work-related tasks.
Time-Bandit: You must've heard the saying "Time flies when you are having fun"? It certainly does when gaming is involved.
Gaming sites can easily morph into time-devouring black holes, sucking away the previous minutes and hours that should be dedicated to learning or accomplishing tasks.
Bandwidth Battleground: Gaming sites tend to consume large amounts of bandwidth, impacting the overall network performance. By blocking gaming websites schools, institutes, and workplaces can preserve their limited bandwidth for more educational or work-related endeavors.
Security Shield: Online gaming can sometimes be a gateway for digital mischief. Gaming sites can harbor risks such as malware, viruses, or phishing attacks that can infect devices or compromise sensitive information.
Social Slideshow: Lastly, limiting access to gaming sites encourages face-to-face interactions and prioritizes real-life collaborations over online gaming.
In essence, these restrictions are aimed to create an environment focused on education, personal growth, and productivity.
To sum up, playing games can be both positive and negative on the quality of your life, so it's important to be aware of your play and keep things in balance.
Game Over!
With unblocked games 67, you can play any game you want at work or school. No more blocked sites or filters. Just remember to balance your gaming and other important tasks, because the rules are there to help you grow and succeed.
So, the next time you find yourself craving a gaming fix in the hallowed halls of education or the busy world of work, remember that these restrictions exist with good reason.
While gaming undoubtedly has its merits, learning, personal growth, and productivity should always take center stage in your life.
Take Control of Your Privacy Today!
Unblock websites, access streaming platforms, and bypass ISP monitoring.
Get FastestVPN