TikTok is Banned – Here's How to Unblock TikTok
TikTok is Banned – Here's How to Unblock TikTok
By Nick Anderson No Comments 4 minutes
The highly-popular social network platform has seen rapid growth over the past two years, but it has received a large amount of controversy as well. From privacy and security concerns to matters of national security, TikTok has been in the breaking news for many months now. In the latest development, the U.S government has decided to ban the app, marking another major territory where TikTok will be made unavailable.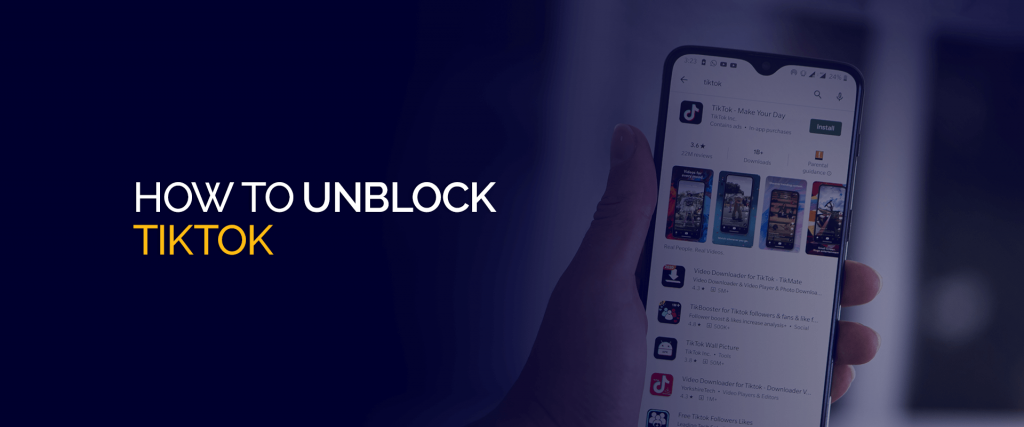 As of right now, the ban will come into effect through the Presidential executive order in less than 45 days. However, you can continue using TikTok by bypassing the block.
Why Unblock TikTok
The lingering question in your mind could be that if the U.S government has deemed it a national security matter, why would anyone want to access TikTok deliberately? The reasons may be other than what you think. For example, people visiting the U.S cannot access TikTok unless they return to their country where it's available. Similarly, you may want to access TikTok to delete your account or leave a message for your fans.
TikTok has also been banned in India – one of the biggest territories for the social network platform. The app was pulled from Hong Kong due to a new security law that grants the Chinese government power to demand the removal of content that it deems as a danger to national security.
It is also worth noting that there are many content creators on TikTok who have pursued producing content as either a profession or a hobby. It may not be so easy to let of go the social network platform.
We have discussed the safety of TikTok in a previous blog. It will educate you on why TikTok has been a target of several controversies, and whether you should continue to use the app.
How to Unblock TikTok App
Once you have decided to move forward, bypassing the ban is fairly straightforward. You need a USA VPN that has servers outside the United States, or whichever country you are in right now. FastestVPN's global network consists of many geographic locations, including Finland, France, Germany, Australia, Luxembourg, Sweden, Spain, and many more. All of these regions are where TikTok is currently available.
You should not be able to access the app. But in the situation where it still appears inaccessible, you might need to do one more step. TikTok collects many information about the user's device, and one of those is the user's mobile carrier. It is possible that TikTok will not allow access if it detects a region where the app is not supposed to be available. For regions where the government has banned TikTok, a VPN should do the job.
But, if you were unable to access the app, remove the SIM from the phone and try again. Once the app detects you are not in the region, it should allow access. For now, these two are the simplest solutions to access TikTok.
Will TikTok Get Unbanned?
After the ban is in effect, both the Play Store and App Store will delist the app. Android users have the flexibility of manually installing apps through .apk files, but such is not true for iOS. iPhone/iPad users will have to make a new iCloud account with a different region address to download TikTok. However, it is very dangerous to install apps manually through untrusted sources. It may contain malware.
TikTok's issue goes beyond just privacy and security; it is seen as a matter of national security. No one can say for certain when the situation will turn in favor of TikTok. Diplomatic tension between U.S and China, or India and China, is unlikely to go away anytime soon.
Microsoft is currently leading talks to buy TikTok. After thorough scrutiny by Microsoft with the help of the U.S authorities, there is some positive outlook in the months to come for people who have come to enjoy the social network platform.
Conclusion
One of the issues reported by independent research regarding privacy and security is TikTok's lack of encryption. According to the report published, the TikTok app uses an unsecure HTTP connection with the CDN (Content Delivery Network). It means that a third-party can intercept the communication and spy on your activities, such as what videos you have watched. VPN will not only make your activities private, but secure as well.
Pair TikTok with FastestVPN's AES 256-bit encryption to make your experience secure throughout. Additionally, you can also use FastestVPN to unblock Omegle and other platforms.
Take Control of Your Privacy Today!
Unblock websites, access streaming platforms, and bypass ISP monitoring.
Get FastestVPN