Unblock Online Gambling Websites with a VPN
Unblock Online Gambling Websites with a VPN
By Nick Anderson No Comments 4 minutes
Online gambling has become a wildly popular pastime for many around the world, especially during times of social distancing, city-wide lockdowns, and fewer travel possibilities. Unfortunately, online gambling is illegal in some countries, and in others, access is heavily restricted.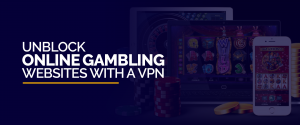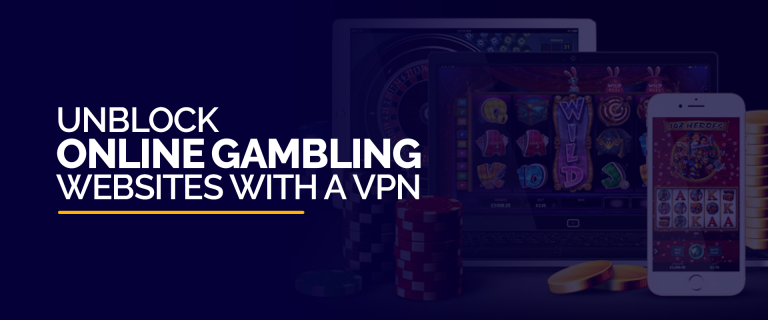 As more and more players want to get in on the action, VPNs have become an essential tool. So whether you're traveling, in a gambling-restricted locale, or just want to get some freebies, using a VPN when you play is a great way to go.

Why use a VPN for gambling?
A VPN connects your device to another server somewhere on the internet and allows you to browse the internet using it as a proxy. If that server is in a different country, it will make it look like you are actually browsing in that country. This allows you to potentially access things that you could not normally – such as gambling websites.
The purposes of VPN software have morphed over the years and are now used to give the user anonymity by hiding their location, allow users to stream Netflix and Hulu, protect users from being logged while torrenting, protect users from untrustworthy wifi hotspots, and to bypass geographic restrictions on websites.
Illegal vs geo-locked
It is important to know the difference between accessing a banned site in a particular country or simply a site that has been geo-locked according to the region. It is not recommended to defy local laws by using a VPN to access online casinos in countries where it is strictly forbidden. The UAE, for example, has very strict laws prohibiting any gambling activities, and doing so there could land you in a lot of trouble.
What you can do, however, is use a VPN to bypass blocks on geo-restricted gambling and sports betting sites. For example, some Canadian-based gambling sites won't accept players from certain US states, including New York and Nevada.
Here is where a VPN can save the day! A VPN encrypts all of your website traffic and routes it through an intermediary server. You can even choose the server location where you want to appear to be surfing from. Your device's IP address will be masked and replaced with one from the country of your choice.
Tips to get started
It's important to learn how to choose a VPN for playing at online casinos. But how do you know what makes a good VPN for online gambling? Well, first you need to choose one that is reliable, fast, secure, and easy to use. It also needs to have strong encryption and a server location that is in a country that allows online gambling.
Some of the more technical aspects that you'd want to look for in a good VPN are one that has a kill switch, no logging (of your personal information), and DNS leak protection. Just make sure to pick a VPN friendly casino before signing up so you don't risk losing all your winnings.
A major issue that players using VPNs in restricted countries run into is not being able to withdraw their winnings when they're finished playing. Often, they'll be surprised and upset to find requests for verified identification documents and an IP address that doesn't match their place of residence.
Some online casinos even have VPN detection software to determine if players are using VPNs to play. In order to protect yourself and your winnings, use a VPN connection to an offshore casino in Curacao and primarily use cryptocurrency for financial transactions. Both of these strategies can help to make your VPN betting experience secure and profitable.
VPN detection software is one of the reasons why finding a VPN-friendly casino is so important. The other reason, of course, is free bonuses!
World of free
In addition to opening up new gaming locations, using a VPN when you gamble online can offer an amazing assortment of free goodies. Depending on the site you've chosen to play on and the country you've set your VPN to, there are a whole host of no deposit bonuses, free spin bonuses, and other welcome gifts that you can get just by appearing to be a specific location.
Sometimes the bonuses are even more attractive, such as 100% and even 200% matching deposit bonuses. As you can see, using a VPN to play your favorite casino games online can truly unlock a "world of free" for you and your gaming experience. Next time you log on, make sure to protect yourself and your game with a quality and casino-friendly VPN.

Take Control of Your Privacy Today!
Unblock websites, access streaming platforms, and bypass ISP monitoring.
Get FastestVPN