How to get Unbanned from Omegle
How to get Unbanned from Omegle
By Nancy William No Comments 8 minutes
There are many reasons why Omegle bans its users – some reasons aren't yet determined due to the overall nature of the service. However, bypassing the Omegle ban is quite easy to overcome. This guide will show you how to get unbanned from Omegle easily!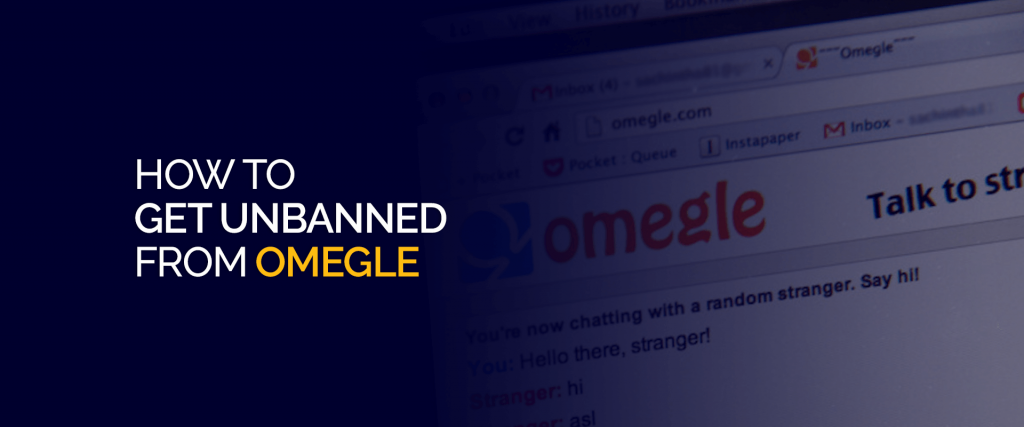 There are quite a few methods you can adopt to get unbanned from Omegle. The best way to get unbanned is by changing your IP address or by creating a new profile. Other than that, you can also connect to a different network other than the one you were using when you got banned. Another method would be to create a hotspot from your phone – changing the IP address is the main idea here.
The sad part about a platform like Omegle is that whether you did something wrong or not, you're bound to get banned from the service. It's still unknown why Omegel bans users without any valid explanation – leaving aside the obvious reasons that violate its terms.
Table of contents
What is Omegle?
Omegle is a web app that was created for the sole purpose of talking to strangers. The app doesn't have any moderator and doesn't require its users to sign up or create an account. This is the only plus point where user privacy is maintained without having to provide any personal details like your email ID. However, that doesn't mean Omegle comes without risks.
Apart from that, most users get banned on Omegle regardless if you're using the Android or iOS app. It even happens when you're chatting from the website.
How to get Unbanned from Omegle – Quick Guide
Subscribe to the best VPN. FastestVPN offers numerous IP addresses you can choose from.
Download and install the VPN on your device.
Sign in to your account.
Connect to a server other than your own, to change your IP address.
Go to Omegle. The Omegle ban should now be lifted.
As mentioned above, there is no saying why Omegle banned some of its users when they did nothing wrong. However, this does not apply to the users who actively misuse the service. I've highlighted a detailed tutorial below, showing you how to unban Omegle using a couple of methods.
6 Methods you can use to unblock Omegle easily!
There is more than one way for you to get yourself unbanned from Omegle. However, the simplest way to get unbanned from Omegle is by changing your IP address by using either a VPN or a proxy. I'm emphasizing more towards changing your IP address mostly because Omegle blocks the IP and not the user.
You could alternatively give it a few days for the ban to lift, but if that's not something you're willing to do, take a look below at how you can unblock Omegle.
1. Use a VPN to unban Omegle
The number one method to lift the Omegle ban is by using a VPN. Because the main focus is all about changing your IP address. A VPN is one of the best software that offers users numerous IP addresses to connect to. It lands as the number one method also because there are other beneficial factors – like better security, privacy, bypassing ISP throttling, and for access to platforms that are blocked in your country.
If Omegle banned you, a VPN will allow you to switch between servers, giving you a new IP address to use everytime. Even if you get banned from Omegle while connected to a VPN, all you need to do is disconnect from the VPN and connect to a new server.
FastestVPN offers a wholesome network of servers for you to use. It's also the best to use since it operates using AES 256-bit encryption matched with other advanced security features. Plus point is that you will also be able to use the VPN on up to 15 devices simultaneously.
2. Get another dynamic IP address from your ISP
Another way for you to unblock Omegle is by changing your IP address. However, this entirely depends upon whether or not you use a static or a dynamic IP. If you're using a static IP, there is nothing much that you can do other than ask your ISP for a new one. However, if you're using a dynamic IP address, there is a way to get a new one.
If using a dynamic one, it usually changes after a while. Here's what you can do:
On Google, look up "What is my IP address?"
The very first search result on Google search is your IP address.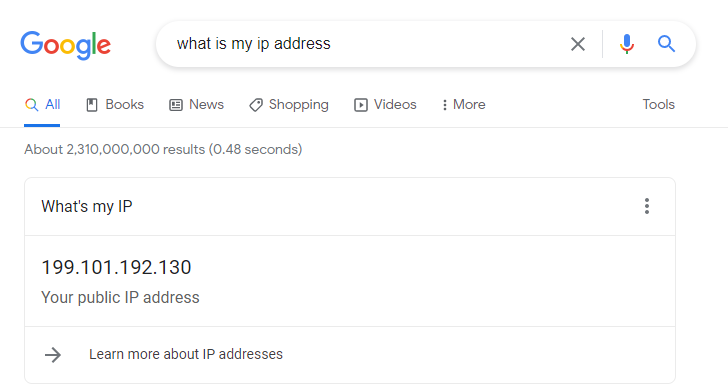 Now, disconnect your modem from its power, and let it remain off for some time.
Plug your modem back in and allow it to connect to the network.
Now, go back to Google and search "What is my IP address"
The IP address may have changed by now. If the results are different from the one you previously received, you can now attempt to unban Omegle.
Other than that, you could always contact your ISP and ask them for another – just to speed things up a bit.
3. Turn your phone into a hotspot
Another way to assign yourself a new IP address to get Omegle unbanned is by turning your phone into a hotspot. If you got banned on Omegle while using your home network, then of course, you will need to change your IP address. Since every network offers a different IP, maybe if you used your phone's hotspot you'd receive a different IP address.
When you use your phone's hotspot, you can even connect your computer to it. Using that new IP address, you will be able to unban Omegle and use it again.
However, the only downside to this method is that because you're connecting to either 3G, 4G, or even 5G, the speeds can be a lot less slower. Plus, you will be using way more data than usual as compared to Wi-Fi.
4. Connect to a different network
As mentioned in point number 3, every network offers a different IP address. If your IP is banned by Omegle using your current network, maybe try changing it. It's pretty easy to get a new IP by changing your network. You could either connect to the Wi-Fi at your local coffee shop, your friend's Wi-Fi network, someone's phone hotspot and so many other ways. Once you get yourself a new IP using a new network, you can easily lift the Omegle ban and start chatting in no time. However, make sure you're connected to FastestVPN to protect you from new and vulnerable Wi-Fi hotspots, or free Wi-Fi spots near you.
5. Wait for the Omegle ban to lift
This is one of the absolute simplest methods to unblock Omegle, but it requires patience. If you're banned by Omegle, chances are the number of days for the ban vary – some take 3 days, some a week, while other cases have no definite time frame. Either way, you could always wait for the ban to lift, or go for another alternative app that comes with safer end-to-end encryption.
6. Last resort? Use a proxy
The last method on this list involves using a proxy to unban Omegle. However, the reason I mentioned "last resort" is because unlike a VPN, a proxy is not safe. It might allow you to change your IP address and work to lift the Omegle ban, but that's as far as it goes. A proxy does not offer encryption and extended security features the way a VPN does. However, it's still a method to consider if you're in a hurry to unblock Omegle.
Why does Omegle ban users?
There are numerous reasons why Omegle bans users. Some of them include:
You've either dropped a chat or been dropped a lot
Another user reported you
You violated the terms of service
Omegle is geo-blocked or censored in your country
Your ISP blocked Omegle
Omegle algorithms
The thing about Omegle is that sometimes users don't violate any of the rules or the reasons stated above, but still manage to get banned. Omegle algorithms may pick out some weird behaviour that they deem as shady. Or, maybe you've dropped far too many chats or were dropped.
If you got dropped by users in the past, Omegle will automatically assume that your behavior towards those users were out of hand. Either way, you could always use any 6 of the methods above that will show you how to get unbanned from Omegle within minutes!
FAQs
Is Omegle safe for kids?
It's no secret that almost all chatting websites come with flaws, and with that said, Omegle is, for sure, not a kid-safe service. You won't find any trails of protection of privacy or security laws on its website, let alone moderators. Additionally, there isn't any parental control facilitation on the site either.
Do you have to change your IP address to get Omegle unbanned?
In short, yes, the safest and most reliable way to unban Omegle would be to change your IP address. However, there are some services that claim to be able to unblock Omegle without an IP change. Although, I wouldn't say that they're anywhere near successful. Through trial and error, the best way would be with a VPN.
Can Omegle track you and store your data?
Yes. We've mentioned that Omegle is most certainly not one of the safest chatting sites - few reasons being they can store your data and track you. All the data is stored on the Omegle servers, regardless of whether you're in incognito mode or not. Only a VPN will help you access the service with privacy.
How long does the Omegle ban last?
There's no precise number of days. The Omegle ban can last between 7 to 120 days. However, some experience the ban permanently depending on how they violate the terms. In short, it bans the IP address, not the user. The best way around this ban is by using FastestVPN. It will not only lift the ban, but will protect you from threats while using Omegle.
What causes the Omegle server connection error?
You're banned from Omegle or might be experiencing the Omegle connection error; either of these are because Omegle launched off a server connection error. It could be due to your IP address being banned, an Omegle server issue, or your ISP blocking the service.
Is the Omegel ban permanent?
Some Omegle bans are permanent, while others last from a week to 120 days. It all depends on why your account was banned.
Is a VPN necessary to unban Omegle?
As mentioned, in order to lift the Omegle ban, you will need to change your IP address. Even though there are several ways to do that, the best method would be through using a VPN service. FastestVPN offers numerous IP addresses that you can use to unban Omegle.
How do you use a VPN to get Omegle unbanned?
Subscribe to FastestVPN.
Download and install the VPN on your device.
Launch FastestVPN, and sign in.
Connect to the best server to change your IP address.
Go to the Omegle website and clear the cookies and cache.
That's all!
Can Omegle report accounts to the police?
Yes, certain Omegle accounts or rather the user's IP addresses are often reported to the police or the state and federal authorities. Platforms like Omegle are often under surveillance due to the activities being conducted on it
To conclude
And that's about it! To get Omegle unblocked or to unban Omegle from anywhere in the world, you need to change your IP address. With that said, the 6 methods highlighted in this guide will help you unban it within minutes!

Take Control of Your Privacy Today!
Unblock websites, access streaming platforms, and bypass ISP monitoring.
Get FastestVPN