What is a Web Browser and What Are its Types?
What is a Web Browser and What Are its Types?
By Christine Margret No Comments 8 minutes
A web browser is pretty similar to transportation. It allows us to travel on the internet and helps us visit our favorite websites. Just like we have preferences when it comes to selecting a vehicle for traveling, similarly, users also consider different features and functionalities while choosing an upright web browser.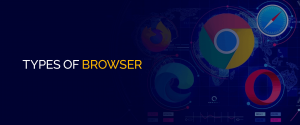 For instance, some web browsers offer robust encryption power that prevents hackers from looking into your traffic. It's main aim is to protect your valuable information that includes your bank account, private emails, and usernames and passwords for other personal accounts.
Other web browsers have an FTP client feature that is used to download movies and music files. Other than this, a web browser may also provide its users with complete anonymity.
It means that users can safely and anonymously surf the internet without exposing their digital footprints.
But, how would you exactly explain what is a web browser? That's what I am going to highlight in this blog.
I will also cover the features and functions of each web browser. Therefore, ensure reading this blog to the end to better understand the concept.
What is a Web Browser?
A Web browser is a computer software application that enables you to explore the internet. The browser operates through an application layer that opens the system's internet connection, and OSI (Open Systems Interconnection) model.
Below you can see the six most popular types of browsers for today.
What Are the Types of Browsers?
You can find different options in the web browser domain depending on your features and functionalities considerations. For instance, some browsers offer in-built encryption for security you can check the most secure web browsers here. Some are focused on speed, and others may have anonymity as the prime feature.
Here you can check out the top web browsers on the internet:
Mozilla Firefox
Google Chrome
Microsoft Internet Explorer
Apple Safari
Opera
Tor Browser
Note: All these web browsers are free to use. Now, let's understand the functionalities of each in detail, starting with Mozilla Firefox.
1. Mozilla Firefox – Web Browser Features and Functionalities
Over other browsers, Mozilla Firefox is ruling the web browser domain. It is specially designed while keeping privacy, flexibility, security, and simplicity in focus.
This browser can be used and installed across multiple operating systems, including Windows, Android, iOS, Mac, Linux, and more.
Firefox has incredible feature sets, and it is a great choice for power users and users who prefer private browsing. Take a look at the features and functionalities of Mozilla Firefox:
Faster page loading
Built-in download manager
Supported by a gecko engine
75 language support
High security and performance
Plugins and extensions available with developer tools
Malware/Spam filter
2. Google Chrome – Web Browser Features and Functionalities
The second leading browser that we have on the list is Google Chrome, powered by Google. Chrome started its journey in 2008 for Microsoft Windows only. Now, it is one of the most popular web browsers with a huge global share of 65.87% as of June 2023.
The best thing about Chrome is its speed, it is a very fast browser. It quickly loads and opens multiple tabs in just a click. Moreover, Chrome always delivers a clean user experience.
The address bar and Google search bar are combined in a single Omnibox which boosts speed and efficiency.
Google Chrome runs on all operating systems, and that's surely a win-win point of it. It also supports cross-syncing across devices. Here are a few more features of Chrome below:
Offline download manager
Personalized recommendations
Ad-blocking/ Malware/phishing filter
Tabbed browsing
Incognito mode is available
Security alerts
3. Microsoft Internet Explorer – Features and Functionalities
Right now, Internet Explorer has almost 28 million active users. This web browser was powered by Microsoft, also it is the default browser for Windows OS.
In 2015, Microsoft Edge replaced Internet Explorer with some new features and improved speeds.
Compared to web browsers like Safari, Opera, Brave, and Tor, Internet Explorer has a very slow processing speed.
However, it still offers an impressive feature set, including SmartScreen Filters, Active X capabilities, and a list of recommended sites. Find more features and functionalities of Internet Explorer below:
33 language support
Mouse Gestures
Customized options
Add-ons
Easy access to news sites and video streaming sites
4. Apple Safari – Web Browser Features and Functionalities
Apple Safari is powered by Apple Inc. It is a dedicated web browser for Mac and OS X. Mostly, users prefer to use it on Mac, but it also runs well on PCs.
Apple Safari is the default browser on all Apple devices, and it is best for users who are more focused on privacy and speed.
Just like all advanced web browsers, it also supports features like tabbed browsing, popup blocking, and built-in search functionality.
Besides that, Safari is also compatible with iCloud keychain that keeps all your password and other login information for Apple devices.
For PCs, it is not the most recommended browser, but it is the best for Apple devices. Take a look at Apple Safari features and functions:
Cross-platform compatibility
Customization options
Full-screen video and geolocation
Extended support for HTML5
Smart address bar
Private Browsing
Less power-consuming
Safari Extensions
5. Opera – Web Browser Features and Functionalities
Since we are discussing the types of web browsers, therefore we should not skip this amazing browser called Opera.
Opera came into play in 1995, and since then it's been constantly evolving. This browser supports multiple platforms, including Windows, Mac, Linux, Android, iOS, and Kindle.
It is a full-featured, fast web browser, ideal for smartphones and mobiles. The best features of this browser are a built-in proxy, top-notch security, and a great interface.
It is the best browser for social media users. The browser offers built-in access to social media platforms like Facebook, WhatsApp, Messenger, Instagram, Twitter, and Youtube. Here are some more features of the Opera browser:
Built-in VPN
Speed dial
Image mark-up tool
Private browsing
Bit Torrent
Phishing filter
Email suite
Java and non-java versions.
6. Tor Browser – Features and Functionalities
Privacy advocates love Tor, it is one of the most secure browsers so far. It offers great anonymity so that no one can ever intercept or eavesdrop on your online communication.
Tor browser entirely changes your current IP address and allows you to browse the web with its dedicated IP address. Another good thing about the Tor browser is that it never stores your history, which is a strong privacy indication.
However, compared to other browsers on this list, Tor is slightly a slow browser due to its encryption and anonymity process. It is also a complex browser to use. Here are some major features of the Tor browser:
Gives access to onion sites
Completely anonymous browser
Cross-platform support
Unblocks geo-locked websites
Which Browser is the Best for Me?
At the start of my blog, I clearly stated that choosing the right browser entirely depends on your needs. Each browser works differently and offers different functionalities and features.
Some browsers have built-in encryption to protect your traffic, for example, Firefox, DuckDuckGo, and Tor.
All three browsers are extremely secure and provide you with in-built encryption to hide your online traffic.
Similarly, some browsers like Internet Explorer, Chrome, and Firefox have add-ons to give users a more customizable experience.
Other browsers have options for private browsing, commonly known as incognito mode the best examples of such browsers are Chrome and Brave.
Therefore, the right browser is the one that better meets your needs. Privacy-focused individuals may select Tor, Chrome, and Firefox for their browsing.
While users who frequently browse social media sites can use Opera as their go-to web browser. Lastly, if speed is your concern then Safari and Chrome are the best browsers for you.
Conclusion
There are certain considerations to choosing the right web browser for your needs. We have listed everything about what is a web browser and what are its types. You can follow this blog to understand the main feature set of each browser so that you can better identify your browsing needs and what suits you the best.
Always remember that selecting the right browser is essential. It not only impacts your online protection but also controls how advertisers track your browsing activities.
Some advertisers even exploit browser bugs to gain users' information. Therefore, security always comes first in picking up a browser no matter what. You can also connect to a VPN to achieve an extreme level of secure browsing. Try FastestVPN, it is a risk-free VPN with top-notch security features and comes with a 15-day money-back guarantee.
Take Control of Your Privacy Today!
Unblock websites, access streaming platforms, and bypass ISP monitoring.
Get FastestVPN