Best Torrent Websites for Games
Best Torrent Websites for Games
By Christine Margret No Comments 6 minutes
It's not surprising that torrents are the unsophisticated way of installing files. The reason behind the uncertainty of torrenting is its vulnerable privacy. But, when it comes to torrent-based sites for gaming, torrent is still an ideal network.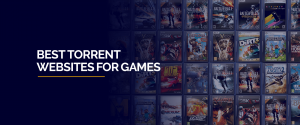 you can find many good games on torrent websites but you have to be careful about your online safety that is possible to maintain using a torrent VPN.
A VPN is essential for torrenting since you never know if any software or file you're downloading contains a virus.
A virus or malicious software can disrupt your system after installation. Therefore, make sure to connect a torrent VPN before using the best game torrent sites.
If you don't know which sites are the best games torrent sites, then use this blog as your guide. So, without further ado, let's explore the working torrent game sites 2021 to enjoy unlimited online games for free.
Best Torrent Sites for Games
Below are some of the most popular torrent websites where you can explore a good range of the latest and classic games.
GameTrex is the best torrent site for gaming and comes first on our curated list. You can find and download lots of free games on GameTrex. It's an easy-to-use torrent site that sorts all the games as per their categories. This site helps you search every game from retro to the most modern gaming titles to install on your PC.
Moreover, sometimes you may not find what you're looking for (which is a rare case), but still, you can use its request support to notify the admin about your favorite titles. The admin of the website will consider your request and soon upload your desired games.
Download Games Torrents is an authentic website dedicated to helping users in finding new games. The best feature of the website is that you don't have to jump from one link to another since the website is quite user-friendly and allows its users to directly download torrent files.
The site is a good alternative to the TorrentsGames website and divides games based on their platforms.
FitGirl Repacks is surely a treat for game lovers. You can almost always find all games of your choice. This site offers a collection of compressed, repacked games for multiple uses. One unique factor of the website is that users cannot notify their request for torrent games. You can make requests on a particular day, "Day of Requests," to ask for titles that you want.
The Pirate Bay is one of the most popular Torrenting sites for gaming. It's an old website with an unmodified interface but, it has the best torrent files for games that you can install on your PC instantly.
Besides torrents for games, you can also use this website to explore a good range of torrents for movies, shows, animations, and much more.
Kickass Torrents is also known as KAT. It's quite a veteran PC game torrenting site that also helps you explore different movies, shows, ebooks, and more. This is a free torrenting site with some incredible game titles that you won't find on other sites. Remember, this site will get you the precise details of your searched games to let you better comprehend what you're getting into.
TorrentSnack Games is one of the most recommended torrenting sites for games. It has a user-friendly interface. All the gaming files are divided based on their platforms to help you search quickly.
Gaming details are mentioned, so you can better decide whether to try a particular game or not. The best thing is that there is no irrelevant redirect, and you can instantly download your preferred torrent gaming files.
RARBG is a top source for game torrents. It's an old and authentic torrenting site. You can easily download games and ebooks on this site. Moreover, it's an easy-to-use site where you can find and download games hassle-free. One thing to remember is that to download games, you have to see the left side of the page to find the gaming category, and from there, you can search and download torrent gaming files without redirection and interruptions.
Games World offers a lot of gaming torrents to download on your PC or desktop. The best thing about this website is that it has no registration required for downloading games. Also, gaming links on the site are not broken and contain no virus, apparently, but a torrent VPN together with antivirus software is still recommended for added protection.
Skootie Games offers the latest online games. You can find any gaming category, including fighting, action, adventure, race, and much more is there to download. Downloading a game is simple with Skootie Games; all you need is to click on the link and start downloading. Just like other torrent sites for online games, this site is also free to use and contains no advertisements.
isoHunt is a good peer-to-peer torrent website for online games, and other media is available too. This site is quite user-friendly, and one can easily find all the desired games.
This site brings you its advanced feature that allows you to add a category to any search term which makes it easy to search games hassle-free without spending much time
How to Unblock Torrent Games Sites?
To prevent copyright violations, many countries block torrent sites. You can also face trouble while unblocking these torrents sites as some of the outlined sites will not work in your region.
However, using FastestVPN will unblock such sites easily. Here's how to do it:
Conclusion
Our comprehensive list of the best torrent websites for games comes to an end. You can try any of these sites to download the most sought-after online games. With that said, don't overlook your online security. Always connect a torrent VPN like FastestVPN to safely browse torrenting sites for games.
Take Control of Your Privacy Today!
Unblock websites, access streaming platforms, and bypass ISP monitoring.
Get FastestVPN