Terrarium TV shuts down – Terrarium TV is no more Working
Terrarium TV shuts down – Terrarium TV is no more Working
By Johan Curtis 1 Comment 6 minutes
Terrarium TV, one of the most popular pirate streaming apps for Android has shut down and left its users hanging from a cliff. In a notification sent through its app, developer NitroXenon has announced that Terrarium is going to shut down at the end of September. The news has left its users in a shock and many are now what's next! We have prepared a comprehensive list of Terrarium TV alternatives that will allow you to catch the same content and more for free and safely using a VPN.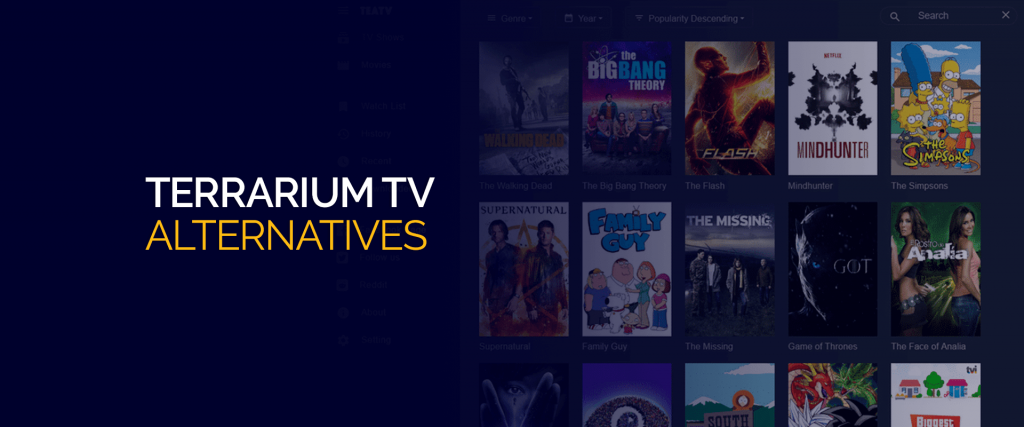 What is Terrarium TV?
Terrarium TV is an incredible app for streaming movies and TV shows as it offers tons of content from past to the latest ones. It has gained a lot of attention with its simple yet attractive interface and wide range of content categories.
Terrarium fetches content from various file-hosting websites the same way as Kodi. The app was created by a Hong Kong-based developer Peter Chan (also known as NitroXenon) a few years back. It was created as an alternative to ShowBox (the popular iOS streaming app) and at some point became had active users to other streaming apps. But unfortunately, news surfaced about the app getting taken down by Chan has become a reality now.
Terrarium TV Not Working Anymore
Last night, Terrarium users received a push notification in which NitroXenon stated that he is taking down terrarium TV and it will stop working at the end of this month.
He explained "It has always been a great pleasure to work on this project. However, it is time to say goodbye. I am going to shut down Terrarium TV, forever."
"I know this day will come eventually. I know it would be hard to let go. But it is really time for me to move on to other projects."
The news has raised a few questions in mind for some users as to why NitroXenon decided to take down the app, but many believe it is due to the lack of management in the team, and in some cases, the user requests were not met.
As many believe this was going to happen in some way or another after speculations that the team was already under pressure from legal authorities, but there is no definite proof as to whether this was the case or not.
As you can see in the image below, NitroXenon specifies that the app will work till the end of this month. However, as experienced by many users, the app is already down as it is not getting beyond the "Update" button.
Since the app is no longer working, users are busy finding alternatives to fulfill their streaming needs. Fortunately, there are a bunch of alternatives that give a try and hopefully move on from Terrarium TV.
Best Terrarium TV alternatives
There are various streaming apps that can satisfy your streaming needs, some of which are much more popular than Terrarium TV. As of now we have found the following apps to be a great alternative to Terrarium TV and recommend you to give them a try if want to watch latest and popular movies, TV shows, and more!
1. Showbox
Showbox is an android based streaming application that allows you to watch all the popular movies and TV series from past to present including the latest releases in HD quality. Although the app is not available on Google Play Store, you can download the apk file to get the app set up on your android device. Showbox isn't available on Apple App Store and can be hassle to get it on any iOS device.
2. MovieBox HD
Moviebox HD is another great Terrarium TV alternative that offers tons of HD-quality movies for users to watch online. However, just like Showbox, Moviebox HD is only available for Android and doesn't support iOS devices.
3. Popcorn Time
Popcorn Time is a very popular streaming platform that has been around for a while now. It offer users to instantly watch and download torrent movies on different devices. The service is regularly under scrutiny by legal authorities for using illegal torrenting websites to offer streaming content, but it is still running smoothly. You can either download the app on your device or watch movies/TV shows on its official website.
Note: As we know torrenting websites offer legal as well illegal content and anyone associated with these websites in anyway could become a possible target of legal troubles. To stay away from such issues, you need to become anonymous so that no one can track you when you're streaming. To become anonymous, you need a PopcornTime VPN that will make you anonymous by changing your IP and shield your online traffic with a bulk load of security features.
4. Kodi
When we think of free streaming apps, Kodi is the first name to come to mind. Yes, Kodi is one of the most used streaming apps of 2018 to watch media content, if not the most used, and you can get the latest version of the app on your preferred devices from the official Kodi website.
Unlike other streaming apps in this list, you will need to install the best addons to watch content with Kodi. For addons to be installed you need to download the popular Kodi repository or use repository URLs to get your desired add-ons.
Kodi addons are divided into two categories; official and third-party addons. The former are those created by licensed companies while the latter are the ones created by third parties. It's up to you to choose which type of add-on you want to watch desired content.
However, most official addons offer limited content, and sometimes the content may also be geo-restricted, which is why most users prefer to use third-party addons. Third-party add-ons offer unlimited content including movies, shows, documentaries, music, and even live IPTV channels. But because most IPTV channels are geo-restricted, it is recommended to use a Kodi VPN to avoid getting into trouble.
5. Playbox HD
Playbox is one of the only streaming apps that is available for both Android and iOS. You can use it to watch movies and TV shows for free. You wouldn't find any other streaming app like this for iOS. It's is a great alternative to Terrarium TV and an ideal choice for iOS users,
Final words for Terrarium TV shuts down
For many legal experts, this was already on the cards due to the nature of its content and the fact that Terrarium was offering it all for free. Streaming fans should worry much and simply choose an alternative from our list above. We recommend using either Kodi or Popcorn time, as both are compatible across major platforms like iOS, Windows, Android, and even Linux. Though remember to use FastestVPN if you're concerned about your online privacy and security.

Take Control of Your Privacy Today!
Unblock websites, access streaming platforms, and bypass ISP monitoring.
Get FastestVPN