Is TeamViewer safe
By Nancy William No Comments 5 minutes
In this guide we'll be talking about TeamViewer, and what its main function is. However, the true question is "Is TeamViewer safe?" We'll get to that in a bit, but first, let's stretch on to the basics.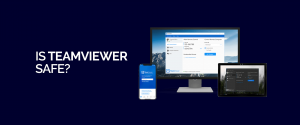 Table of contents
What is TeamViewer?
Before heading on to information on safety around TeamViewer, it is always the best idea to first understand what it's all about. What is TeamViewer? How much do you know about it?
In short, TeamViewer is free remote access software that allows users to control other computers. It allows you to share desktops, files, and take up maintenance of other computers and devices. It's mainly used by workforces, where a user can allow another to access your computer remotely, and go through with major fixes or issues that you need. For starters, a user can access your computer to install a software, delete malicious files, take over system updates, and more.
It is one of the most convenient ways for users to fix their computers or share data without having to manually or physically travel. However, because this software gives instant access to others to your computer, it does need every ounce of security and encryption, which we do believe is lacking.
What happens when you're not at your desktop and never initiated control to another user via TeamViewer? Don't you think that should set off some alarm? So, is TeamViewer safe? Let's find out!
Is TeamViewer safe?
TeamViewer comes with a little bit of solid security. It uses AES 256-bit encryption, which is considered as the best military-grade standards worldwide. It is the same encryption used by FastestVPN, among other features.
For extra security against access hacking, TeamViewer also enforces two-factor authentication, where if notified, you will be asked to reset your password. You can also list trusted devices. This might seem very assuring, but, there is more to look into.
For starters, back in 2016, TeamViewer made the headlines regarding external password breaches. Many accounts were targeted and robbed of their bank and PayPal accounts.
Then, in 2017, the TeamViewer team took the initiative of finally finding the root of cause that took over all the users' devices. However, that is not enough! Sure, you will be able to tweak around with the TeamViewer settings, but there is no saying if such an attack won't take place again. It's always better to take precautions to the next level. With that said, take a look below.
Is there a way to increase security on TeamViewer?
Yes, there is a way to make TeamViewer a little more secure. Here's what you can do:
Always use a strong password
You've probably heard that over and over again for many reasons, regardless of whether it's for TeamViewer, Facebook, or WhatsApp. It is crucial that you use a passcode that isn't very obvious to crack. For instance, your name is Aisha, and your birthday is on the 8th of September, 1991, and your TeamViewer password is Aisha81991. That is something you need to avoid at all costs. What most users do is make the mistake of simple passwords with personal information in it. If you need help, there are many reliable password managers you can use for it.
Two-factor authentication is necessary
You will need to sign in to your account. Once that's done, the website will recommend you to enable two-factor authentication. Proceed by clicking on "Activate" and then follow the onscreen instructions to complete. This step is crucial so that you're notified if ever someone tries to break into your account or hack your device.
Only allow trusted devices into your computer through TeamViewer
There is a way for you to select which device is trusted, and then you can whitelist them. When you click on your Profile, and then into the settings, you will see an option that says "Trust Devices." If you don't see any device that you don't trust nor gave access to, click on the "x" box, and then on "Delete."
If you're not using TeamViewer, disable it
Sometimes, TeamViewer users forget this option, and often leave the app running in the back. If your account is up and running in the back and your device is accidentally compromised somehow, you could lose a lot of data. Quit TeamViewer when you're done using it! Go into your profile settings, and click on Remote Control, then disable or untick "Start TeamViewer with System."
Always make regular updates on TeamViewer
Sometimes older versions of any software are what makes them vulnerable to attacks. Make sure you run up regular updates.
Sometimes even though a software claims to offer great encryption, it's always wise to pair it with another security software for double security. A VPN is one of the best options for that. I recommend using FastestVPN since it's not only affordable but packs a heavy punch in security.
Turn off Grant easy access
Besides disabling the launch TeamViewer on startup, you need to also consider disabling the "Grant easy access" box as well. It helps lower the risk of anyone trying to hack your account or device through TeamViewer.
Can I use an alternative to TeamViewer?
Yes, you can. Since TeamViewer is quite susceptible to cyberattacks, there are other safer alternatives you can use. They are:
Windows Remote Desktop
Slack
Remote Access Plus
LogMeIn
Mikogo
GoToMyPC
To conclude
So, is TeamViewer safe? The answer is not too clear. But, from all the detailed information gathered together, let's just come to a conclusion that TeamViewer is hackable, and it can be extremely vulnerable. For this, I've highlighted a few simple tips that you can follow for safer access on TeamViewer.

Take Control of Your Privacy Today!
Unblock websites, access streaming platforms, and bypass ISP monitoring.
Get FastestVPN