Stream Canelo Alvarez vs Billy Joe Saunders on Firestick
Stream Canelo Alvarez vs Billy Joe Saunders on Firestick
By Nancy William No Comments 6 minutes
Have you ever wondered why you prefer a certain fighter over another in boxing? What is the appeal?
Well, certain fighters speak to us in ways that others can't. We see ourselves in them: in the way they have gone about their careers, what do they do before the fight, what is their game plan during the fight are they cool and collected or fueled and passionate.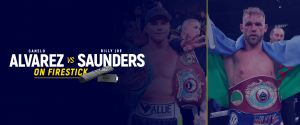 They are like finely tuned watches. They make their move when the time is right so that it hits the hardest.
That doesn't necessarily mean you don't admire all the other fighters with somewhat different strategies than yours. You just don't relate to them, or their mindsets, like you do with your favorites.
Any boxing fan can identify with a fighter because they have bridged the gap and gone from being merely a category to becoming a figure whose qualities they can see in themselves. Much like this, many hardcore boxing fans are waiting to watch Canelo Alvarez vs Billy Joe Saunders on Firestick this Cinco de Mayo weekend.

Who are Saul 'Canelo" Alvarez and Billy Joe Saunders?
The bout between the pair was planned for May 2, 2020, but couldn't happen due to the Covid-19 pandemic. In February 2021, Alvarez defended his unified title against WBC Avni Yildirim after having won it from Callum Smith in December 2020. Saunders ruled himself out in July 2020 from a showdown with Alvarez, claiming that he would not be 'ready' in time.
The fight between Alvarez and Saunders was agreed upon before Alvarez's fight with Yildirim. This match promises to be the biggest sporting event since the pandemic hit the world, meaning that people would be hankering to stream it live from their homes.
Canelo Alvarez is not wasting a single moment in solidifying his title as the world's best super-middleweight. He successfully came over the threat of Callum
Smith and is now taking on his next Brit by adding another belt to his collection in the form of Billy Joe Saunders.
Saunders is desperate to prove himself after defeating top-ranking opponents such as Andy Lee, Chris Eubank Jr., and David Lemieux. He is now facing a daunting task by taking on Mexico's pound-for-pound superstar after claiming the world title at 12st.
Alvarez, 53-1-2, fought Sergey Kovalev in November, whom he finished in the 11th round. Saunders' last match was also in November 2019, where he also finished Marcelo Esteban Coceres in the 11th round.
Canelo Alvarez vs Billy Joe Saunders: Commentary
Saunders has some tricks up his sleeves that will surely frustrate Canelo making this fight especially interesting for the spectators. His raw boxing skills are incredible, even though he lacks punching power. Yildirim proved to be a perfect match for Alvarez since he preferred standing in the pocket and going at it with his opponent. This is the reason he didn't get to see the fourth round with Alvarez. Alvarez will have to think of a plan to counteract Saunders' long jab, and Saunders will have to be a master defender if he wants a victory.
Cinco de Mayo weekends have always been favored by Alvarez for his fights, gaining him stellar wind over the likes of Julio Cesar Chavez Jr., Amir Khan, Shane Mosley, and the most recent Daniel Jacobs. He is currently on a winner's high with a four-streak win following his controversial draw against Gennady Golovkin in September 2017. Saunders' win over Coceres was his second bout in North America; he previously defeated Canadian David Lemieux in December 2017 in his home province of Quebec.
Alvarez vs Saunders: Date, Time and Venue
Canelo Alvarez vs Billy Joe Saunders on Firestick is set for May 8, 2021 for live streaming.  AT & T Stadium in Arlington, Texas, will be hosting the event at 11 pm GMT. DAZN will cover the match live and release for several parts of the world, excluding Mexico.
Canelo Alvarez vs Billy Joe Saunders: The Undercard
Frankie Sanchez vs Nagy Aguilera
Marc Castro vs TBA
Elwin Soto vs Katsunari Takayama
Keyshawn Davis vs Jose Antonio Meza
Kieron Conway vs Souleymane Cissokho
Kelvin Davis vs Jan Marsalek
Christian Alan Gomez vs TBA
Stream Canelo Alvarez vs Billy Joe Saunders on Firestick
The thrilling match will be aired live on DAZN, which boxing fans can watch on Firestick from anywhere in the world. You can use a reliable VPN to watch the match if you're in a location that does not allow access to geo-restricted content. Using a VPN, you can get another IP address, one which allows streaming access to your desired content and keeps you safe from lurkers on the prowl on the internet.
Follow these steps to watch DAZN on FireStick:
Open Apps on your device and search for DAZN.
Click on the app icon and install.
Make sure to update the app if an update is available.
Go to the DAZN app
Sign up and select your payment plan.
After creating your account, click done.
The many security features of a VPN allow you to stream content without buffering, making it a dream to watch live events, especially ones like boxing that can change within seconds. FastestVPN also has a kill switch, standard encryption, no-logs policy, DNS/IP leak protection, an ad-blocker, and full anonymity in case you're on the go and are forced to use public Wi-Fi. There isn't anything more gratifying to be able to view a highly electric event such as this one for boxing fans. This is the reason using a VPN can be a safety net for everyone who wishes to watch it but is unable to do due to geo-restrictions.
How to Stream Canelo Alvarez vs Billy Joe Saunders on Firestick with FastestVPN
Subscribe to FastestVPN.
Download the app for Firestick.
Enter your credentials.
From the list of servers, click the USA.
Connect.
Now launch DAZN app on Firestick and enjoy streaming the match!
Finally
Canelo Alvarez vs Billy Joe Saunders on Firestick is one event that will not be forgotten anytime soon. Both the fighters are formidable in their own right, and people all over the world are waiting to see what happens next in their careers. The turnout of this match will be the deciding factor for both the athletes and what their move will be in the coming years as professional names in boxing.

Take Control of Your Privacy Today!
Unblock websites, access streaming platforms, and bypass ISP monitoring.
Get FastestVPN