How to Setup VPN on Samsung Smart TV – FastestVPN Guide
How to Setup VPN on Samsung Smart TV – FastestVPN Guide
By Nick Anderson No Comments 4 minutes
Smart TVs have become the center of entertainment in the living room. Over just the last decade, TVs have grown in both size and functionality. A TV is no longer just a display that receives your local cable TV but has vast functionality that includes streaming movies and TV shows on-demand from the comfort of your couch. They are now so powerful that you can even play some games on them. With such vast functionality, users want unrestricted access to their favorite content. Let us show you how to setup VPN on Smart TV.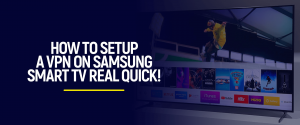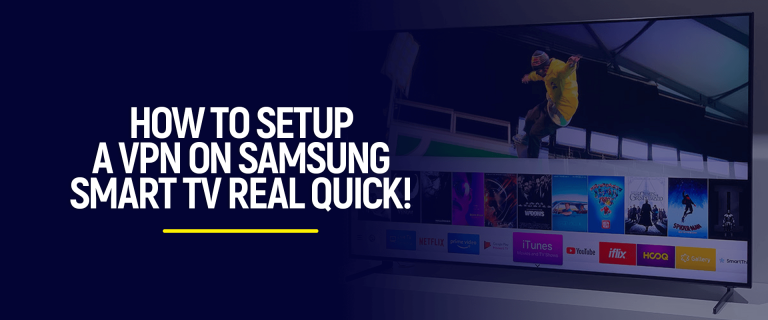 Geo-restriction is the barrier that prevents you from truly enjoying the digital streaming service you have subscribed to. Some content is only intended for some countries. Netflix, for example, gives you a curated list of titles if you view it from outside of the United States. You need a VPN to spoof your location to access them.
If you have a Samsung Smart TV, then read on as we explain how to configure Fastest VPN on Smart TV.
How to Setup VPN on Smart TV
Our goal is to make the tutorial as simple as possible. Just follow the tutorial step-by-step, and you'll have a VPN running on Smart TV.
Samsung Smart TVs operate on Tizen OS, which is based on Linux. Although it's not as powerful as Android-powered Smart TVs in terms of an app ecosystem, nevertheless, Tizen OS is powerful enough to give you a solid entertainment experience on the big screen.
There are two methods to enable VPN on Smart TV. We'll go over both of them.
So the first method involves configuring the router with VPN so that it can connect to FastestVPN's server without an app since the FastestVPN app currently does not Tizen OS.
Subscribe to FastestVPN
Head over our support page and select the tutorial that applies to your router
Follow the tutorial to enable VPN on the router
Once done, connect your Smart TV to the router via Wi-Fi or through a cable if the TV features an Ethernet slot
Remember to configure the router with the server in your preferred region. The United States works for most users. If the region is not a concern, then connect to the nearest region to your geographical location for the best performance.
If you have a laptop or a PC with Wi-Fi, then you can enable Wi-Fi sharing to allow the laptop to act as a hotspot for the TV. Internet connectivity will be seamless between the laptop and the TV.
Windows
Subscribe to FastestVPN, then download the VPN for Windows.
Open the app and connect to a VPN server.
Click on the Start button.
Go to Settings, then Network & Internet.
From the Mobile Hotspot menu, turn on the Share my Internet Connection with other devices, then choose the internet you want to share from the dropdown menu.
Set a password for the hotspot by clicking on the Edit
After all that is done, search for Wi-Fi connections on your TV and connect to the hotspot.
MacOS
Subscribe to FastestVPN, then download the VPN for Mac.
Open the app and connect to a VPN server.
Head to System Preferences, select Sharing, then click on Internet Sharing.
Check the box next to Wi-Fi or Ethernet-based on your connection type in Share your connection from.
Check the box next to Wi-Fi into computers using
Click on the Wi-Fi Options button to setup the hotspot ID and password.
Confirm the settings, now connect your Smart TV to the Mac.
Why Do You Need a VPN for Smart TV?
Much of the content there is on the internet is subjected to geo-restrictions or censorship. The former holds truer for digital streaming services, such as Netflix. The digital library will only offer you its complete library if you visit from certain regions, such as the United States. It is why Netflix USA has become the best way to stream Netflix and every other similar service.
FastestVPN features a dedicated Netflix USA server that gives you the convenience of accessing Netflix completely unrestricted.
Conclusion – VPN on Smart TV
FastestVPN features unlimited bandwidth across all of its packages so that you can watch movies in 4K Ultra UD on your Samsung Smart TV without any worries. If you have trouble setting up the VPN in the router, our customer support specialists are available round the clock to assist you.
Take Control of Your Privacy Today!
Unblock websites, access streaming platforms, and bypass ISP monitoring.
Get FastestVPN