The Best Ways to Send Anonymous Email
The Best Ways to Send Anonymous Email
By Christine Margret No Comments 7 minutes
Anonymous emails are the best way to maintain privacy while communicating to others online. The basic purpose of an anonymous email is to keep the recipient unaware of the sender's identifiable information e.g. name, address and location.
Earlier, sending emails anonymously was supposed to be a source of unethical electronic messages, with the changing times, anonymous emails became the need of the hour.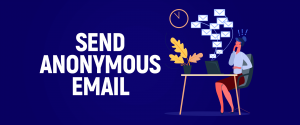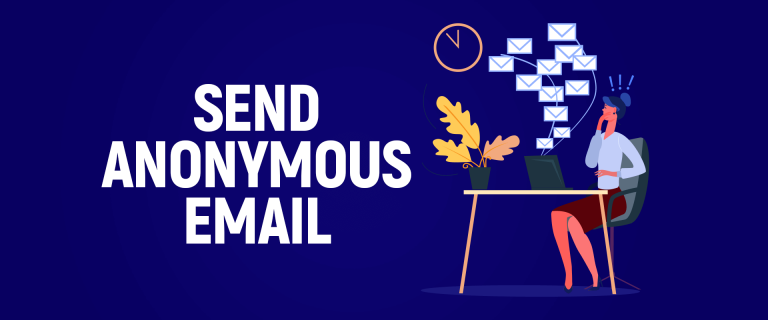 Anonymous emails provide more privacy and security than a regular email account. It also lets you communicate whatever you want without the risk of being tracked.
On the other hand, regular emails are easy targets for hackers to attempt malicious and phishing attacks. Different data breaches, just like ransomware are mostly delivered through emails; therefore, anonymous emails are required for added protection.
Email anonymity also saves you from unwanted advertisements. Every time when you log into different accounts, your online identity is traced by third-party advertisers.
It means that when you use a particular browser for surfing, it saves your activities since your browser is filled with trackers and cookies. Therefore, you have to make your mind to take care of your anonymity online.
That's where you need an anonymous email account. It gives zero access to your personal and professional information.
This blog walks you through the essential steps to let you send emails anonymously without invading your privacy.
How to Send an Anonymous Email
1. Install an Anonymous Browser
If you want the next level security, then installing a browser like TOR is recommended. Also, read our guide on Is Tor a Safe browser to know more. Tor browser never saves your browsing history and keeps all your browsing activities private.
TOR browser is safe because it lets your data pass through various nodes before finally transmitting to the open internet and keeps your IP address masked.
2. Create a New Email Account
You can send email anonymously by creating a new email account with any email service like Yahoo or Gmail.
While creating a new account, don't add any personal information that could help in recognizing you.  You can add fake information related to your address, D.O.B, and name.
Your selected email service might ask you to use your real phone number for the verification code. Think an alternative; otherwise it may reveal your real identity.
3. Create a Burner email Account
A burner email account allows you to send anonymous email without leaking your identity. After a certain period, burner email accounts get expired. You can also send message without having to create an account using a burner email.
You can choose any email service to send anonymous emails, depending on your needs. Either select a "Send only" service or "Receive only" service. Such services offer you a public address and later gets expired.
4. Go for the Encrypted Email
Encrypted email services are very much similar to your regular email service, but, it functions differently. It encrypts your inbox along with all the emails and contact lists. The strong encryption keeps your email content way from anyone who is snooping around.
With strong encryption, the email provider cannot access your inbox. Also, keep a check of the most secure email providers to continue sending protected emails. Encrypted email accounts are supposed to be a proven way to secure and private online communication.
5. Get Connected to a VPN
There are various ways to maintain your email anonymity, but always get connected to the VPN.
When you send an email with all the privacy features activated; still there are chances of being caught through your IP address. Therefore, a VPN is required to obscure your IP address and location 100%.
When you use a VPN, it transmits your traffic via the VPN server, in this way, your recipient can only access your VPN server's IP, and not your real IP address is revealed.
It is also imperative to select a trusted VPN provider like FastestVPN, who guarantees not to keep logs of your online activities.
Free and unreliable VPN sell your browsing data to third-party advertisers to make money from that. On the other hand FastestVPN follows a strict no-logs policy and never records or sell users' browsing history.
Is Gmail Anonymous?
Gmail itself is not anonymous. By enabling certain features, you can make it anonymous. Create a Gmail account by providing fake information, including your name, birthday, and location.
Make sure to provide Google with a third-party email address and phone number. Also, use TOR browser along with a VPN to retain your email anonymity.
Besides Gmail, you can also use a third-party anonymous email service to keep yourself truly anonymous. Anonymous email services offer SSL encryption that lets you send an email that can't be traced.
Why go for Anonymous Email?
You've now understood how to send anonymous email it's time to take a close look at who should use anonymous email to get the message across.
The thing is that sending emails anonymously is not limited to whistleblowers, anyone with private information can go for email anonymity.
However, for a few professionals, anonymous email sender is compulsory. For example, an anonymous email sender will be a needful tool for a journalist to communicate sensitive news or information.
Strong email anonymity will act as a powerful cover since many officials threaten journalists for publicly revealing sensitive news.
Similarly, if you're a crime fighter or your job is similar to making organizations aware of unlawful activities happening around, then you must send anonymous emails online. It will mitigate your risk because the accused party will not identify you by any means.
Moreover, anyone who doesn't want spam emails can also send untraceable emails. When you provide your email address publicly, websites track it from the mailing lists.
Later they send advertising emails, and some companies also sell your data, which they obtain from your email address. Therefore, you can use the anonymous email address for the time being to keep your inbox safe from spam emails.
How to send Anonymous email in Outlook
Outlook is not a primary anonymous email service; the best way to send anonymous email is to contact a trustworthy anonymous email provider.
However, you can hide your email address temporarily on Outlook, following these steps below:
Open a New Compose tab
Click at "Options" and select "From"
Now click at the From drop-down menu above the field and select "other email address."
In the pop-up window, enter any email address and click ok.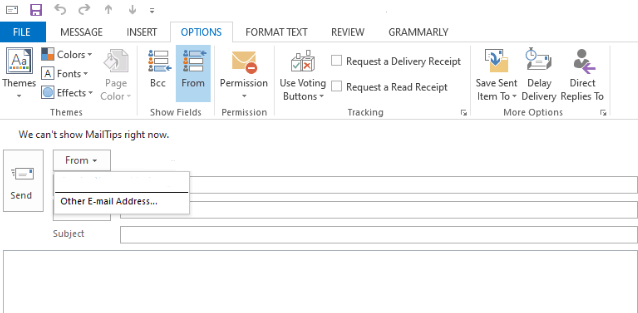 Bonus Tips:
Maintaining online anonymity is hard these days, follow all the mentioned tricks along with these bonus tips to assure maximum anonymity.
Avoid using an old password for your newly created account
Don't save your anonymous passwords on your personal account
Avoid sharing true or personal information during anonymous account creation
Never login to any other sites using your anonymous account
Try sending emails on a public network using a VPN. Avoid using your home or work Wi-Fi for sending anonymous emails
Don't forget to keep a check on your VPN status before sending anonymous emails. Also, make sure that you're safe from IP leak. Read our guide on IP leak to make sure your VPN connection is safe.
In Conclusion
The good thing is you can make emailing secure by following some basic security measures. Email anonymity is something that can keep you safe from potential phishing and spam attacks. Sending email anonymously also helps you to prevent ads from chasing you online. To keep your email ID safe and spam-free, try sending anonymous emails today with a VPN.
Take Control of Your Privacy Today!
Unblock websites, access streaming platforms, and bypass ISP monitoring.
Get FastestVPN