Send Anonymous Email in 7 Ways
Send Anonymous Email in 7 Ways
By Nancy William No Comments 13 minutes
Anonymous emails are the best way for users to maintain privacy while communicating with others online. The basic purpose of sending an anonymous email is to keep the receiver unaware of the sender's identifiable/sensitive information. For instance, to send an anonymous email means to secure a user's name, address, and location.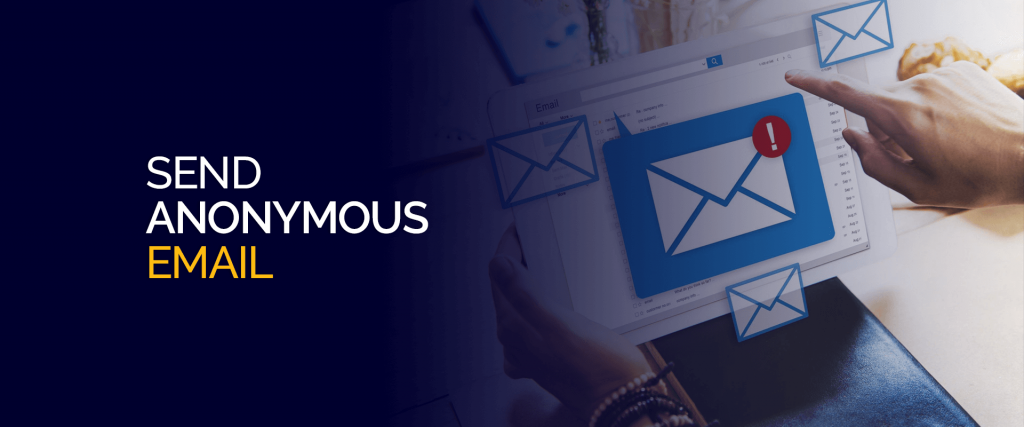 There are a couple of ways to send an anonymous email. However, the easiest way is by choosing one of the best providers like Tutanota, ProtonMail, or Guerilla Mai for keeping your email anonymous.
Earlier, sending emails anonymously was supposed to be a source of unethical electronic messages, with the changing times, sending anonymous emails became the need of the hour. The main focal point of sending an anonymous email means unidentifiable information both of the sender's and the receiver's end.
This guide will show you a few techniques on how to send anonymous emails, along with the best email providers that you can consider. Additionally, we've also highlighted reasons on why sending an untraceable email could benefit you.
Table of contents
Quick guide – How to send an anonymous email
As mentioned above, there are a couple of methods that you can use to send anonymous emails without exposing your IP address and other details. Within those methods, the easiest would be to use a secure and anonymous email provider, but not all are great.
Some users more actively use Gmail or Yahoo, and as great as they are; they're not private enough. We'll get to some alternative private email providers that you can use later on, but first, let's learn how to send an anonymous email:
First, choose an anonymous email provider. We've listed a couple of them ahead of that you can use.
Sign up for the service
Log in to your email account.
Send anonymous emails and secure your information and privacy online!
7 ways on how to send anonymous email
It's highly crucial to take active measures for online security and privacy, even while sending an anonymous email. Every email usually contains levels of sensitive information that can be misused if ever sent to the wrong person. It's equally alarming when your emails are hacked.
If you're planning on sending an email that contains sensitive information, there are a couple of things that you can do to make sure your emails remain anonymous.
The 7 tips highlighted below don't have any hard or fast rules of how to inculcate them. You can easily combine two or three methods simultaneously to make sure your emails are truly anonymous.
Here's what you can do:
1. Use the best anonymous email provider
As mentioned above, the most popularly used email provider is Gmail and Yahoo. It might come with great features, but it's still not safe for online security and privacy. This is when you switch and choose only the best secure email providers that allow you to send emails anonymously.
Sure, they might work with the same functions as a regular email provider, but they come with better encryption. No one will be able to read or pry on your emails, nor log your personal data. Some of the best anonymous email providers are ProtonMail and Guerilla Mail.
The best providers for burner emails are:
ProtonMail
DuckDuckGo
Tutanota
Guerilla Mail
StartMail
Mailfence
2. Create a New Fake Email Account
Other than using the best anonymous email provider, another easier method would be to create a new fake email account. This is especially for those who are still using Gmail or Yahoo to send emails.
When you create a new email account, make sure to leave out any real and sensitive information like your date of birth, your name, address, etc. You could always add a fake address, and use a pseudo name.
Additionally, while creating your account, the email provider might ask you to provide other verification details like your phone number. Never send it, instead, you could use an alternative number that's not exactly in use.
Even though this is a great step to send secure and anonymous emails, there is another issue. Your email provider can still track your physical IP address, leading them to your real identity and whereabouts. So, along with creating a new and fake email account, try using the best VPN to change your IP address.
3. Use a VPN to change your IP address & send anonymous emails
I mentioned above that you can easily combine a few methods to send an anonymous email. Creating a new account with little identifiable information is a good step, but you will still need to protect your IP address. Getting connected to a VPN not only maintains your email anonymity but adds other benefits.
When you send an email with all the privacy features activated; still there are chances of being caught through your IP address. Therefore, a VPN is required to obscure your IP address and location.
When you use a VPN, it transmits your traffic via the VPN server, in this way, your recipient can only access your VPN server's IP, and not your real IP address is revealed.
It is also imperative to select a trusted VPN provider like FastestVPN, which guarantees not to keep logs of your online activities.
Free and unreliable VPNs sell your browsing data to third-party advertisers to make money from that. On the other hand, FastestVPN follows a strict no-logs policy and never records or sells users' browsing history.
4. Use Burner email providers
Have you heard of a burner phone? If you've seen it being used in a movie, then you have a general idea. Users can call someone from a temporary number that expires within a short time; they're also not traceable.
Burner emails work the same way. Instead of signing up for an anonymous email provider, you could alternatively use a free burner email provider to send a temporary email. It allows you to avoid your information leaking out or getting traced.
Through this, a burner email expires after a short time. There are various burner email solutions that you can use, depending on if you only want to receive an email, send one, or both. There's no registration required for most of them.
The best providers for burner emails are:
AnonymouseMail
Temp Mail
10 Minute Mail
5ymail
Tempr.Email
Mailinator
5. Use a TOR browser to send anonymous emails
If you want next-level security, then install the TOR browser to send anonymous emails. Also, read our guide on whether TOR is a safe browser to know more. Tor browser never saves your browsing history and keeps all your browsing activities private.
TOR browser is safe because it lets your data pass through various nodes before finally transmitting to the open internet and keeps your IP address masked. This is another one of the safer alternatives to sending an email anonymously.
6. Connect to a different Wi-Fi
Just in case you're only trying to hide your emails or other sensitive content from your internet service provider, then connect to another WiFi. When you connect to another WiFi, you're basically restricting your ISP from tracking or prying on your emails.
7. Remove properties and personal information from email content
Some users who email documents to others, often forget to remove certain identifiable data from it. For instance, by not deleting any of the metadata from those files can easily lead back to you. Remove any of this information and then send. If you're using Windows, there's even a built-in tool that you can use called Document Inspector. It serves as an extractor, excluding all information that you don't want or need to be included.
Reasons why you should consider using anonymous email providers
We've highlighted repeatedly that sending anonymous emails is a sure sign of data and privacy protection. It can be protected from anyone online that is trying to gain access to sensitive data linked to your emails. With that said, here are a couple of reasons why one should consider signing up for an anonymous email provider:
If you're a journalist or an activist who wants to communicate with another party regarding secretive incidents or political news, it's best you switch to secure email providers. In this way, your resources remain anonymous, your data preserved and your goal is achieved.
Similar to journalists, whistleblowers alike too, have to maintain online privacy and security. If you're a whistleblower and would like to leave anonymous tips through emails regarding harassment, corruption, and other kinds of incriminating activities, then refer to this guide. It'll show you how to expose the truth to higher figures via secure and private emails.
Bypass ISP data tracking or spam links that most websites and companies endorse in. You can completely dodge it by switching to anonymous email providers.
Why anonymous emails trump regular emails for online security
Anonymous emails provide more privacy and security than a regular email account. It also lets you communicate whatever you want without the risk of being tracked.
On the other hand, regular emails are easy targets for hackers to attempt malicious and phishing attacks. Different data breaches, just like ransomware are mostly delivered through emails; therefore, anonymous emails are required for added protection.
Email anonymity also saves you from unwanted advertisements. Every time when you log into different accounts, your online identity is traced by third-party advertisers.
It means that when you use a particular browser for surfing, it saves your activities since your browser is filled with trackers and cookies. Therefore, you have to make up your mind to take care of your anonymity online.
That's where you need an anonymous email account. It gives zero access to your personal and professional information.
This blog walks you through the essential steps to let you send emails anonymously without invading your privacy.
Is it possible to trace an IP address from an email?
Yes, it is possible to trace your IP address just from the email you send. When you send an email, open it and take a look at its header and the metadata. You'll be able to trace the IP address there among other technical data.
To look specifically for the IP address of the sender or the receiver, first open the email header. Then, copy all the content and paste it into a header analyzing tool. This should then identify the sender or receiver's IP.
Is Gmail Anonymous?
Gmail itself is not anonymous. By enabling certain features, you can make it anonymous. Create a Gmail account by providing fake information, including your name, birthday, and location.
Make sure to provide Google with a third-party email address and phone number. Also, use the TOR browser along with a VPN to retain your email anonymity.
Besides Gmail, you can also use a third-party anonymous email service to keep yourself truly anonymous. Anonymous email services offer SSL encryption that lets you send an email that can't be traced.
Why sending emails anonymously is required
You've now understood how to send an anonymous email it's time to take a close look at who should use anonymous email to get the message across.
The thing is that sending emails anonymously is not limited to whistleblowers, anyone with private information can go for email anonymity.
However, for a few professionals, an anonymous email sender is compulsory. For example, an anonymous email sender will be a needful tool for a journalist to communicate sensitive news or information.
Strong email anonymity will act as a powerful cover since many officials threaten journalists for publicly revealing sensitive news.
Similarly, if you're a crime fighter or your job is similar to making organizations aware of unlawful activities happening around you, then you must send anonymous emails online. It will mitigate your risk because the accused party will not identify you by any means.
Moreover, anyone who doesn't want spam emails can also send untraceable emails. When you provide your email address publicly, websites track it from the mailing lists.
Later they send advertising emails, and some companies also sell your data, which they obtain from your email address. Therefore, you can use the anonymous email address for the time being to keep your inbox safe from spam emails.
How to send Anonymous email in Outlook
Outlook is not a primary anonymous email service; the best way to send an anonymous email is to contact a trustworthy anonymous email provider.
However, you can hide your email address temporarily on Outlook, following these steps below:
Open a New Compose tab
Click at "Options" and select "From"
Now click at the From the drop-down menu above the field and select "other email address."
In the pop-up window, enter any email address and click ok.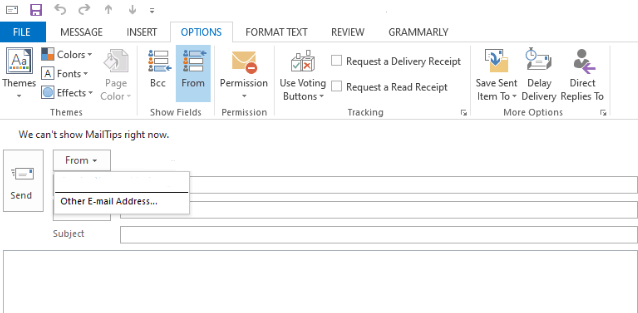 Additional tips to maintain and send anonymous emails
Maintaining online anonymity is hard these days, follow all the mentioned tricks along with these bonus tips to assure maximum anonymity.
Avoid using an old password for your newly created account
Don't save your anonymous passwords on your personal account
Avoid sharing true or personal information during anonymous account creation
Never login to any other sites using your anonymous account
Try sending emails on a public network using a VPN. Avoid using your home or work Wi-Fi for sending anonymous emails
Don't click on any weird links while opening emails from unknown senders or senders that appear to be someone you know.
Don't forget to keep a check on your VPN status before sending anonymous emails. Also, make sure that you're safe from IP leaks. Read our guide on IP leaks to make sure your VPN connection is safe.
Utilize anti-virus software just in case you experience issues with any one of the free anonymous email providers.
FAQs
What is an anonymous or secret email?
In simpler terms, an anonymous email means emails sent privately without your data or personal details being exposed. Through a secure email provider, either yours or the receiver's identity is masked. No email can be traced back to you. All anonymous emails hide your identity and keep all metadata secure.
Which email provider is the most secure?
Right now, the most popular and secure email provider to send anonymous emails is ProtonMail. It's an open-source service that comes with end-to-end encryption. However, to remain even more secure, you could always connect to FastestVPN, change your IP address and then use ProtonMail.
Is there any free email provider that is the most secure?
ProtonMail is not only ranked as the best secure email provider but also one that is the best anonymous free email account provider. The service itself is headquartered in Switzerland, which is known for its strict privacy laws. You won't have anyone prying on your emails considering that ProtonMail comes with end-to-end encryption.
Is Gmail safer than Outlook for sending emails?
What do we mean by safe, when talking about Gmail and Outlook? Both email providers offer quite a bit of advanced security protection. For instance, both allow you password protection and 2FA. However, what we believe that both lack is the required levels of encryption.
How can I send an anonymous email without being traced?
To send anonymous email or emails, first start by choosing the best secure email provider on our list above. Additionally, you can even use a VPN like FastestVPN to create a secure connection and to double down on the encryption. Other than this there are other ways to create an untraceable email using the tips in our guide.
In Conclusion
And that's a wrap! This guide pretty much sums up how to send anonymous emails and tips you can use to make it more secure. We've also highlighted some of the best secure email providers that you can use or temporary email providers required for a short time. Additionally, we recommend going the extra mile and securing your email data with the help of FastestVPN.
Take Control of Your Privacy Today!
Unblock websites, access streaming platforms, and bypass ISP monitoring.
Get FastestVPN