What is RFID Blocking
By Nancy William No Comments 6 minutes
In today's years, the world is now running a cash-free economy. Almost all transactions and purchase are done online. It's fast, more systematic, and requires less effort. However, even though online payments and transactions are convenient, there's always the question of security. Many have raised a few questions regarding how safe this new means of monetary regulations are. Most have wondered whether online theft is larger than life with the current advancements. Can they steal or empty out your bank accounts? That's where RFID blocking comes into par.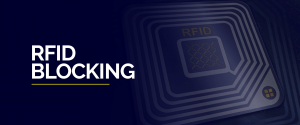 What is RFID?
Before jumping into what RFID blocking is, let's first go down to the basics. What is RFID? It's the abbreviation for (radio frequency identification).
Every card that you use, could be a Credit card or a passport card, or even and ID card, or a tracking applications all have a chip or label. These chips use RFID technology, and when you use your card, it allows machines to scan them through them as a form of identification or authentication. Each RFID chip contains sensitive information. Through RFID scanning over your credit card, you'll be able to make contactless payments or deposits.
There are a few perks to using RFID systems, but at the same time, most users worry that it could pose quite a number of threats or vulnerabilities where security is concerned. It is, no doubt, hackable.
For starters, most users worry that hackers can easily infiltrate the chips steal your information, rewrite it, wipe everything out, or even clear out your bank accounts with it. Theoretically speaking, a hacker can create their own RFID scanners and scan your cards without you even physically handing it to them. It is a possibility.
According to the Independent reports back in 2018, a hackers managed to steal around £1.18 million in a matter of 10 months using contactless RFID scanners. There are a few other worries apart from this that include identity theft. Most users fear that RFID scanning hacks can cause them to lose large amounts of stolen information from passports or credit cards, which in turn can be used against them through identity fraud.
However, even though these concerns are at large, there is a solution to it, and that is called RFID blocking.
What is RFID blocking? Does it work?
We know what RFID is and how it works, but the solution to possible threats is done through RFID blocking.
RFID blocking prevents the scanning of cards, passports or any important document with an RFID chip. The market that promotes RFID blocking mechanisms or products are booming by the minute. Basically, they're made from materials that are poor conductors or block RFID waves.
You will find items ranging from RFID wallets, to bags, covers, jeans, and even waterproof items. All it takes is a few layers of aluminium foil or thick carbon fibers to prevent the waves from leaking out or getting scanned.
Don't' get it wrong, you don't need to spend big bucks on an RFID blocker. You don't need to invest in the most expensive tools just because a product has great selling points. You could create one on your own, by covering your credit cards or passport in layers of foil; easily available from your kitchen.
RFID blocking tools do help a long way, but the question is, do you really need them?
Do you really need RFID blocking?
Even though RIFD blocking has a lot of pros to consider, do you really need it?
It's true that through some reliable sources, claim that RIFD results in many unseen crimes, loss of finances, or even identity theft. However, there's no actual study that shows why users truly need RIFD blocking. For starters, RIFD blocking doesn't exactly match up in line with the glorification of RIFD crimes. Most crimes conducted without physical contact are usually results of credit card theft.
However, despite all this, is there really such a thing as RIFD crimes? Studies show little to non-existent results. Yes, the 2018 UK report stated the millions of pounds stolen through RIFD skimming, but was there actually any evidence to prove it?
RIFD blocking is great to stay vary of the possibility of RIFD crimes, but it's mostly a tactic used by RIFD blocking companies who look to make a quick buck. Some of the blocking products are quite useful, but certain materials can cause further damage.
For starters, let's say you invest in a pair of RIFD skinny jeans, with heavily fabricated pockets. You put your credit cards along with your phone in your pocket. With having protected your card details, you'd also be losing phone signals. This could be careless when in crisis.
Does RIFD blocking really help prevent loss of data or identity theft?
There are a lot of reasons for you to worry about online identity theft or financial theft or even data loss. Other than RIFD crimes, there are far bigger cyber threats to stay clear of. Yes, if the perpetrator happens to steal your credit card, ID or even passport, there are ways for them to take over your data and identity. However, as far as RIFD skimming goes, there's not much to be worried about.
Thing is, most credit cards and passports today are designed with double layer protection, and with RIFD blocking material. The RIFD chip itself is heavily encrypted. All things that contain RIFD are designed with the encryption required to secure sensitive data. It's just how it is! However, RIFD crimes are still real, even if they're not as advanced as other means of cyber or digital threats.
What you do need to protect data and finances
There are quite a number of reasons to stay vary off where identity and financial theft is concerned, but the main threat is usually online. For starters, the device you use also contains sensitive data. Most users save their credit information, bank account passcodes and other details that could put them in real hot water if compromised.
With that said, the solution isn't really RIFD blocking material, but rather strong encryption standards.  
You should know that majority of crimes or theft take place online, rather than through contactless RIFD skimming. There are all sorts of viruses, or spear phishing scams to stay clear of. To protect yourself online, and you device or data, you need software that offer ample means of security like military-grade encryption and other advanced features. With that said, FastestVPN offers a high level of encryption, and can help slow down the cybercrime rates.
The solution?
If you're invested in the idea of protecting yourself against RIFD crimes, there are many RIFD blocking products you could look into. However, if protection against data theft, finances, identity fraud and other atrocities are in your main interest, consider looking up other means of online protection, like a VPN with the best encryption. Online is where the true danger lies!

Take Control of Your Privacy Today!
Unblock websites, access streaming platforms, and bypass ISP monitoring.
Get FastestVPN