Is Puffin Browser Safe to Use?
Is Puffin Browser Safe to Use?
By Nick Anderson No Comments 5 minutes
Puffin Browser is one of the lesser-known web browsers. Due to privacy concerns and discussions surrounding data collection practices, privacy-friendly tools and services are gaining popularity. They are popping up in discussions where they are being discussed as alternatives to more popular options. One such name is Puffin Browser.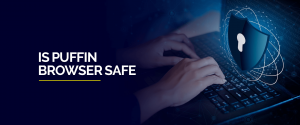 Where browsers such as Chrome are leading the popularity, users can benefit from alternatives that have a focus on privacy. After all, web browsers contain and handle important data such as what websites you visit, login forms, storing passwords, among other things. So, does Puffin Browser stack up against the competition, and more importantly, is Puffin Browser safe to use? Read on to find out.
What is Puffin Browser?
Puffin Browser is a web browser that was developed by CloudMosa. It is part of CloudMosa's other offerings. For desktops, it is called Puffin Browser Secure, and Puffin Web Browser for Android and iOS. However, it has been replaced by Puffin Web Browser Lite on iOS and drops support for Adobe Flash Player Support.
As a web browser, it is exactly what you expect from a web browser. A recognizable interface that lets you look up websites on the internet. But Puffin Browser is built differently than others when it comes to how it enables that experience.
Traditional web browsers such as Google Chrome render web pages natively. It means that when you load a website, your device is processing all the graphical elements and displaying them on the screen. By contrast, Puffin Browser is built as a web browser that is powered by the cloud. The cloud handles the rendering part, which CloudMosa calls Cloud Avatar Technology.
The same technology also powers other products offered by the company.
What Makes Puffin Browser Different?
Puffin Browser uses its cloud technology to offload the rendering aspect to the cloud. This allows your device to keep its computing resources for other tasks. Because it's not dependent on the speed of your device, this approach can be faster.
But sending data over the internet would be challenging and would defeat the point of offloading native rendering to the cloud. For this purpose, Puffin Browser uses its compression algorithm to send the processed data to the user, making it faster than native rendering.
Running it on the cloud also presents a security advantage. Malicious code in the webpage can run in the cloud instead of affecting your system.
Is Puffin Browser Safe?
All of that brings up to the real question: is Puffin Browser safe to use?
There are both advantages and disadvantages to this approach. As with many applications, the cloud provides the convenience and reliability that native applications cannot match at times. Services can offer tools that run on virtually any device with an internet connection. It offloads processing from the device, allowing even aging devices to run modern applications without the need for an upgrade.
Malware is a term to describe malicious software that harms your computer. Malicious code in web pages can exploit your system for vulnerabilities. Loading the web pages on the cloud isolates your device from the code, and the code gets filtered before the web page is displayed to you.
But on the other hand, you are essentially using Puffin Browser's cloud servers as a proxy. It knows about active connections and what websites you are visiting. Unencrypted network traffic can expose information to the servers. Although much of the internet today is encrypted, any unencrypted web pages would mean that your data will be exposed to the webserver thanks to HTTPS.
Hence why it is so important to have a service that takes privacy extremely seriously. FastestVPN does not log your activities when you connect to its VPN servers to surf the web. With its strict "no logs" policy, you have the confidence that your private internet browsing is not being tracked.
So, is Puffin Browser safe? So far, there have not been reports that suggest otherwise. It is also a paid browser which is a good sign. When service charges you, it does not have to sell ads to generate revenue.
If you want to ensure privacy, then use Mozilla Firefox or Brave browser.
Is Puffin Browser Free?
Puffin Browser is a paid web browser. To use it, you must have an active subscription.
It gives you a one-month free trial. After that, you will pay $1 per month or $10 per month to continue using it.
Where is Puffin Browser Blocked?
Some countries have blocked the web browser. These countries include China, UAE, Iran, Saudi Arabia. There is one more fact you need to keep in mind, and that's geo-restriction. The servers are located in the United States, so your browsing is limited to the websites that are accessible from the United States.
Conclusion
Once you consider the limitations of Puffin Browser and its recurring cost, most people are unlikely to use it. The cloud-based browser may be useful in some cases. But for day-to-day browsing activities, other web browsers exist that are free to use. Add FastestVPN's encryption, and you can have private internet access that's not limited to any region.

Take Control of Your Privacy Today!
Unblock websites, access streaming platforms, and bypass ISP monitoring.
Get FastestVPN