How to Protect Privacy on Windows OS
How to Protect Privacy on Windows OS
By Nick Anderson No Comments 6 minutes
Apps are not the only thing that collects data; the underlying operating system powering the experience can just as much collect data. Windows 10 is known to collect certain types of data to provide a tailored experience. But if you are conscious about privacy and security as we are, continue reading the blog, and we'll explain how to disable Windows 10's tracking.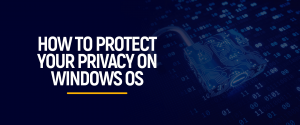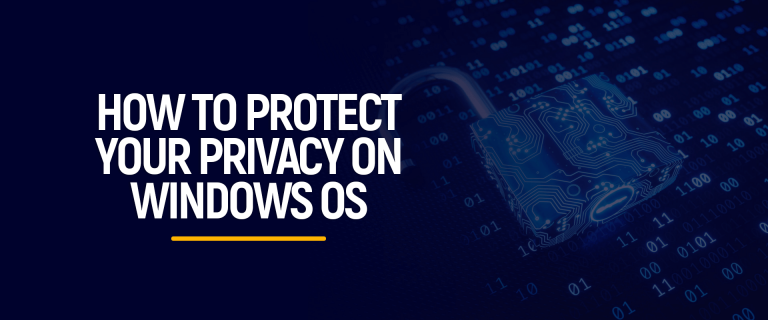 Why Windows 10 Collects Data
Any service trying to provide a tailored experience needs to learn about the user first. It includes behaviours such as what the user is doing most, what apps are installed and which ones get used the most, where the user is located. As you continue to use a service, it learns overtime and suggests things that you might be interested in.
Windows 10, being a modern operating system, collects many types of data about the user. Microsoft promises to be committed to user privacy and transparency about what data it collects. But not a lot of people might know what knobs to turn off if they wish to remain private about what they do on the device. You can choose what data to allow while setting up Windows 10, but in case you skipped that part, it can be adjusted later on anytime.
What Type of Data Does Windows 10 Collect?
Microsoft has categorized its collection of data into required data and optional data.
Required data is mandatory. It includes diagnostic data that gives Microsoft insight into the operating system's health and behavior for improvements. As explained in a post, the required data is collected from Windows 10 and integrated apps and services. Windows 10 will periodically collect and upload the diagnostic data to Microsoft's cloud servers. You can limit Windows 10 to collect only data that's required to keep the operating system improving and secure, but you can't entirely turn off data collection.
Microsoft's virtual assistant Cortana is available natively in Windows 10 and allows users to issue commands, such as looking up a query in Bing or opening up a program. It all happens through on-device speech recognition that Cortana can also use. By default, speech recognition relies on the system's capability to process voice, but Microsoft allows users to harness the power of the cloud to improve accuracy. Users can opt-in to use Microsoft's cloud servers to process their speed. It improves not only the accuracy of input but also helps Microsoft improve speech recognition overall.
How to Restrict Windows 10 From Collecting Data
Diagnostics & Feedback
As we explained, there is the data that's required for Microsoft to ensure a Windows experience that keeps getting improved and secured, and then there's optional data. We need to turn off the latter to ensure that only the minimum level of data leaves your device.
Navigate to Settings > Privacy > Diagnostics & Feedback and set it to Basic.
Inking and Typing
Keeping diagnostic data collection to Full allows Microsoft to capture inking and typing data. It builds a dictionary of the names and words that you type to help you type faster and more accurately. Your dictionary can be across other Windows devices that you may own.
You can find the option by going into Settings > Privacy >Inking and typing personalization.
This option will disable Windows from forming a personalized dictionary for you. For good measure, turn off the option to send the data to Microsoft as well by going into Privacy >Improve inking and typing. This option is off by defaultif you have diagnostic data set to Basic.
Speech
Speech recognition lets users write entire notes and email without touching the keyboard using Cortana. What some people may not prefer is allowing their speeches to be stored in the cloud, especially those personal in nature. In which case, you can turn off speech recognition, but doing so will leave you with Windows 10's speech recognition software, which is far from accurate.
Go to Settings > Privacy > Speech and turn off the option.
Voice Activation
Voice activation is a hands-off feature that enables you to trigger actions by your voice. If enabled, your device will actively listen for certain keywords, such as "Hey Cortana". Other apps can also use voice activation if they have been allowed microphone access.
Go to Settings > Privacy > Voice Activation >Turn off Allow apps to use voice activation.
It will disable all apps – including Cortana – from actively listening to commands.
Microphone
Microphone access is something that you cannot live without. It's one of the basic input devices we use to communicate over the internet while using apps such as Skype. Fortunately, Windows 10 allows you to pick the apps that can access the microphone. So, voice chat apps such as Skype can keep permission while the rest can stay without it.
Head to Settings > Privacy > Microphone and turn off individual knobs to disable microphone access for apps.
Location
Location data is very important. It gives insight to apps about your geographical location. If you use the Maps app, then it's logical to keep it turned on while every other third-party app remains inactive.
Here's how: Settings > Privacy > Location > Change > Turn off location.
Doing this will put a blanket order and disable all apps from accessing location data. But if you want to take a selective approach, keep the location turned on, turn on Allow apps to access your location, then pick the apps individually.
Activity History
This option keeps track of everything you do on your device, what apps you open, what your search for, all your Cortana queries. It stores a local backup of the activities on the device, but if you have opt-in, it will send the data to Microsoft's cloud servers for cross-device sync. Your activities will be synced with other Windows devices that use the same Microsoft account.
Navigate to Settings > Privacy > Activity history >uncheck Store my activity history on this device.
You also have the option to clear your activity history on the same page. If you want to know what Microsoft has collected so far, click on Manage my Microsoft account activity data. You will have access to a consolidated archive of your browsing history, search history, location activity, and more. Clear the data by going into each category.
Conclusion
It's true that for any service to succeed, it needs to learn about you to offer a personalized experience. But the concerns lie if service providers are capable enough to protect your data. Services can be breached, and it comes down to how far you're willing to tradeoff convenience for the safety of your privacy.
Take Control of Your Privacy Today!
Unblock websites, access streaming platforms, and bypass ISP monitoring.
Get FastestVPN