Best Password Manager for iPhone/iPad
Best Password Manager for iPhone/iPad
By Nancy William No Comments 10 minutes
Memorizing multiple passwords is a huge task, especially when you're handling multiple accounts or platforms. Writing them down on a notepad, also becomes a little tasking. The most convenient way to safely store all your passwords is the best password manager, but choosing one, especially for your iPhone or iPad might be tricky. You can now take the stress off because this guide highlights the best Password Manager for iPhone and iPad.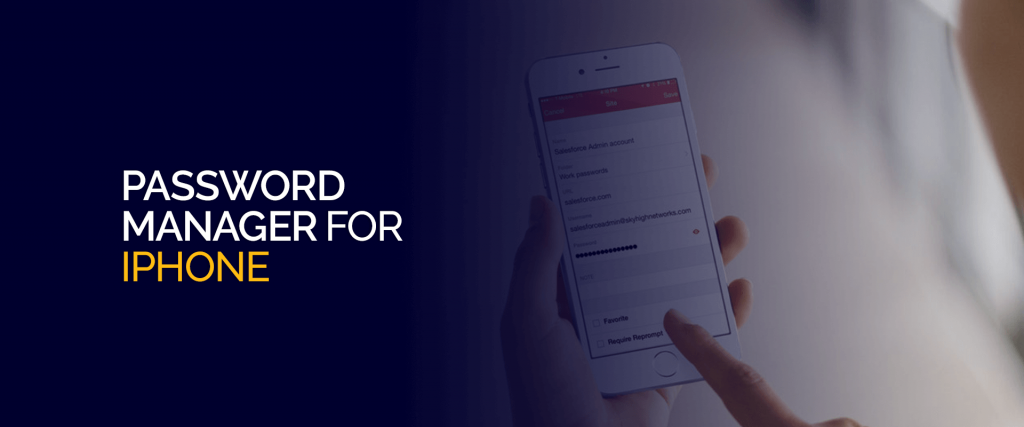 The providers on the list are also currently the best password manager for mac in 2021!
Quick summary – Best password managers for iOS (iPhone, iPad, mac)
Whether you need the best password manager for iPhone or the best free password manager for iOS, these 9 providers are currently the best! Some even offer free plans.
We constantly get recommendations to create strong passwords for multiple platforms and are often urged not to repeat them. Why? When you use one password for all your social accounts, what happens when hackers compromise them? They will instantly be able to take over multiple accounts using that same password.
Simple passwords on the other hand are susceptible to all kinds of cyberattacks.
Plus, no one is in the right mood to constantly have to memorize each password or manually enter them in every time. Also, creating and managing secure passwords is sometimes a task on its own.
These password managers for iPhone offer multiple perks. It manages all your sign-ins with tight security, provides a password-generating tool to help you create strong codes, and more!
Plus, the providers listed are not just the best password managers for iPhone or iOS but support multiple other devices. They're also better than iCloud Keychain, offering end-to-end encryption.
"FastestVPN is currently offering a once-a-lifetime deal of $40 for 5-years + FREE PassHulk Password Manager & 2TB Internxt Encrypted Cloud Storage! The offer expires towards the end of 2021".
Why should you use a password manager for iPhone, iPad, or Mac?
It's not easy remembering countless passwords from multiple platforms, nor is it safe to create weak passwords that are used for all your accounts. A password manager is one of the for-sure ways to secure multiple passwords in a secure vault. It also helps generate strong passwords and keeps them from leaking out. The only password you need to remember is the master password to get to your iOS password manager vault.
Plus, there was an experiment conducted by iOS developer Daniel Amitay, who took note of all the popular passwords that iOS users create. Sadly, these were the top 10:
"1234"
"0000"
"2580"
"1111"
"5555"
"5683"
"0852"
"2222"
"1212"
"1998"
Looking at this list, it's no wonder why many accounts get hacked easily. A password manager will help you create something stronger, without you having to take the trouble to remember them.
The best Password manager for iPhone in 2021 – Detailed Analysis
Listed below are currently some of the best password managers for iPhone, iPad, and mac. They also support Android, web browsers and other platforms! They've also been tested for overall performance ensuring you safe and secure keeping of all your passwords! Let's start with:
Dashlane – Currently the best password manager for your iPhone
Comes with a free plan
One-click password changer.
VPN
Auto-syncing
Apple Watch compatibility.
Unlimited password sharing
2FA login with TOTP apps, USB tokens, and biometric scanners.
Emergency access
Multi-factor authentication
Identity theft protection (for US users only)
Voice Control compatibility.
Dark web monitoring.
Price – $3.33/mo. for 1-year plan
Dashlane is currently the best iOS password manager in 2021 for many reasons. The security levels are high, supports iOS devices perfectly, and comes with an array of the most advanced features compared to the other managers in the market.
This password manager is especially great for those users who are completely new to the software – it's simple to use and install. The Dashlane free plan allows you to store up to 50 passwords over one device, with access to 5 account holders.
That's a lot considering the plan is free. Imagine what the premium plans offer in comparison! You will have no issues syncing your password vault across your devices. Other than that, the provider also offers VPN access, which is what sets it apart from the rest on the list.
1Password
Two-factor authentication
Safety travel mode
Unlimited device usage
Family sharing dashboard (Family plan).
Digital Wallet
Hidden vaults (Travel Mode).
1 GB document storage, unlimited passwords, and more!
1Password Watchtower ( receive alerts for compromised codes or weak passwords)
Dark web scanner
One-time password generator
14-days free trial
Price – $2.99/mo. for 1-year plan
1Password is also another one of the best password managers for iPhone or iOS devices that work reliably even today. The 1Password Watchtower feature mentioned in the list above is one of its many highlights. Within this features' bundle includes password auditing and breach monitoring tools.
Using this, users will be able to determine the difficulty and uniqueness of a password. The software comes with 2FA and more for your security and privacy. The tool even goes as far as to monitor dark web forums and databases that have been breached to make sure all your logins are completely secure.
The family plan allows you to share passwords, secure notes, credit card details and more. Plus, with the family plan, you will be able to invite up to 5 guests for limited sharing of passwords. All-in-all, there is a 14-day free trial that you can use to test the tool out!
Keeper
KeeperChat (Encrypted messenger)
Dark web monitoring for leaks or data breaches
Up to 10-100 GB cloud storage.
Password sharing
Multi Factor authenticator
Password auditing.
Use and access on unlimited devices
Face and fingerprint login
Emergency Access
Price – $2.91/mo. for 1-year plan
Next on the list for the best iOS password managers, we have Keeper. What we love about this tool is its KeeperChat encrypted messenger tool. You will be able to send and receive encrypted messages, videos, and much more on multiple supported devices like iOS (iPhone/iPad,) Android, Windows and others.
What's also great about it is the fact that these messages are only on for a particular time – it self-destructs sensitive messages when you prompt it to. There are multiple password manager plans to choose from, each offering its own set of features.
The free plan is limited, allowing password storage on one device. The premium plans help secure your login info, generate new passwords, and also allow you to sync passwords across multiple devices other than your iPhone.
Bitwarden
Zero-knowledge encryption
Secure password generator
Two-step login
Free cloud hosting
Open sourced
Unlimited devices
Unlimited syncing
Apps from multiple platforms other than iOS
Unlimited vault items
Bitwarden Send
Price – $10 for 1-year
Bitwarden, other than known as one of the best password managers for iPhone, is widely known as the best free password manager overall. It's because all the highlighted core features you see in the list above, are all included in the free plan too!
Other than that, its premium account offers many other unique features giving you more freedom to secure your passwords online. The best part is that the premium account costs just $10 for a year! That's way cheaper than most yearly prices, since it costs less than $1 a month!
RoboForm
2FA compatibility with TOTP apps and biometric logins.
Password auditing.
Password generator
Safenote stores down passwords and notes safely
Windows, iOS, Android and other apps password saver
Credit card safe storage
Best form filling tool with one click access.
Emergency access.
Cloud backup.
Price – $15.50 for 1-year
RoboForm is not just one of the best password managers for iPhone, but offers apps for other devices too! It uses strong encryption and multi-factor authentication to safeguard user passwords and other data that they may enter. The free plan is great, but it doesn't offer as many perks as the premium plans.
The premium plan's auditing feature is great! It works reliably to make sure none of your passwords leak or are on the verge of compromisation. On the other hand, its emergency access feature also allows its users to choose an emergency contact for access to the password vault, just in case you can't seem to.
Are password managers safe for iPhone or iPad?
Of course, not every software or tool is 100% secure, it just isn't possible. However, the password managers for iOS enlisted above are known and tested to be some of the safest. For safer access to these software, apply for two factor authentication and use a VPN for double the security. FastestVPN operates using AES 256-bit encryption and offers other features for online protection.
What is an iCloud Keychain?
If you're an Apple user, then you've probably heard about iCloud Keychain. It's Apple's data management system that handles all the passwords and other sensitive data that you enter. For instance, when you sign up for a service and fill out a form with your username and password, the iCloud Keychain latches on and keeps it stored. However, some passwords are often used on multiple devices other than iPhone, which is why using any of the iOS password managers on this list is recommended.
Can I use an iPhone password manager on other devices?
Yes, you can. While some password managers don't allow access to multiple devices, all the providers enlisted on top offer access and apps to multiple other devices other than iOS platforms. Even if you choose a password manager out of this list, make sure it supports iOS, macOS, Android and other operating systems.
What happens when you forget your Master password?
Even using the best password manager for iPhone requires a master password. But, what happens when you forget it? Every password manager has a vault where you save practically all your social, bank, and sensitive passwords. It contains some pretty sensitive data, which is why retrieving or resetting your master key won't be so easy.
There are only a couple of password managers that allow you to reset your master key, but most don't permit it – for obvious reasons. If you lose your master password to your iOS password manager, consider it gone for good.
You will need to recreate your account and save passwords right from the start. What you could do is write down the master code in multiple places where no one can retrieve it. Or, you could even use the option of fingerprint or facial recognition logins for your password manager vault.
To conclude
You now have the freedom to choose the best password manager for iPhone from the list above. Of course, there are many other providers available in the market, but these top 5 are currently the most reliable. They each offer either a free trial or a free account too!

Take Control of Your Privacy Today!
Unblock websites, access streaming platforms, and bypass ISP monitoring.
Get FastestVPN