Paid VPN vs. Free VPN: 6 Things to Consider
Paid VPN vs. Free VPN: 6 Things to Consider
By admin No Comments 7 minutes
Using VPN services when connecting to an outside network has always been about keeping our data secure and private. The interest in using VPN services grew after the decision by Congress to roll back net neutrality rules meant to protect internet privacy and instead allowing the ISPs to sell our data without our consent. While VPN is always suitable for untrusted networks, like the ones at coffee shops and airports, But after the decision by Congress, we all must now think about our home network as untrusted as well. As a result, people are slowly turning towards VPN service providers. If you search through the app store and Google play, you will find a lot of free VPN applications. A free app sound great isn't it? The real question is: are free VPN services reliable enough to be trusted for our home network, or do we have to look for a paid VPN provider? What the benefits of free versus paid VPN? Here are some things you need to consider before you decide on getting a free VPN or a paid VPN.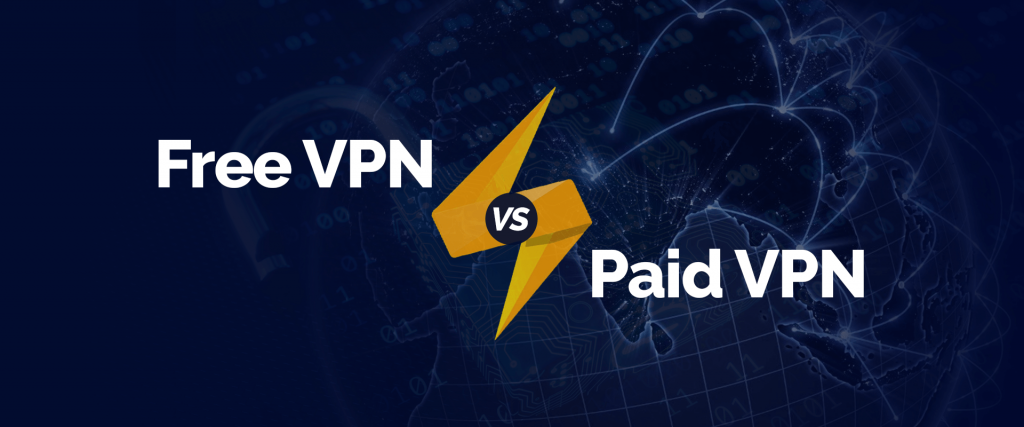 ---
---
1. Connection Speed
Let's face it, you're not the only one who is trying to get a VPN for cheap. But what happens when that free VPN service gets so popular that their servers get too crowded?
The one thing that most people hope for is to get a VPN service for cheap. But what if that free VPN service gets popular and their servers become crowded?
It is really difficult to keep up with the network demand. And many free VPN providers lack the money and resources to keep up a quality infrastructure. Meaning that if you choose a free VPN service, you may face random disconnections and not have a fast VPN connection.
In comparison, paid VPN services usually maintain their network traffic. This means that they can handle thousands of connections at once without slowing down. This is due to a large number of servers paid VPN providers have installed in different parts of the world.
So, no matter where you are accessing the internet from, you will always get a fast VPN connection.
---
2. Server Selection
Since paid VPN provider have large number of servers available, they also have server coverage in more regions around the world than free VPNs have.
While some common point-of-presence (POP) are available from both paid and free VPNs, like London and New York, others are not. This is especially true when you use a VPN to access streaming content. For instance, Netflix user wants to access their US content, would benefit from free VPN servers in the United States. They may not even face buffering issues either. But when the Netflix users in Australia, Singapore or UK want to access Netflix, it will be more costly for them since installing servers in these countries will be expensive for a free VPN service provider.
So, if you're looking for a VPN provider that can offer you internet freedom without any restrictions and issues, then it is better to go for a paid VPN service.
---
3. Protocols Offered
Free VPN providers usually offer users the point-to-point tunneling protocol (PPTP). Though this protocol may be able to mask your IP address, it's a known fact that PPTP is also full of security risks. This is why it is recommended to not go for free VPN services no matter what features they are providing you.
On the other hand, paid VPN providers offer a variety of VPN protocols. Take FastestVPN for an example, the VPN protocols offered here include L2TP, OpenVPN (TCP, UDP), OpenConnect, IKEv2, and Xsec. Each of these protocols offers different levels of speeds and security so you can customize your VPN connection according to your needs.
---
4. Privacy Policy
Because free VPN providers don't charge for their services, they don't generate much revenue either. So how do they survive against paid VPN providers?
It isn't difficult to know that most free VPN providers make money through data mining. They may go through all the data and traffic on your device, log it and sell it to advertisers to make money. That's not to say that every free VPN provider does this. Actually, there are many free VPN providers that do not follow these tricks. But since they are providing free services, we can only hope that they don't follow those shady tricks.
When it comes to paid VPN providers, there are also some who log your traffic and some who don't. However, free VPN providers record your data to make quick money, whereas paid providers do that to protect their business, meaning that they won't sell it to any advertiser.
It is difficult to find a VPN provider that doesn't do such cheap tricks to make money, however, VPN providers like FastestVPN are log-less and certainly at the top when it comes keeping user's traffic protection and security. So, if you're going to pay for a VPN service, why would you choose a provider that keeps logs?
---
5. Customer Support
Just like providing consistent high speed to your customers, it is also important to provide 2/7 customer support. The kind of support a VPN provider offers comes down to what they can afford. Paid VPN providers usually offer better customer support. The money you are paying for a VPN service not only include anonymity and security, it also includes great customer support that you may require in future.
For example, FastestVPN has a 24/7 customer support available. So, if you ever face any issues related to their VPN services, even on holidays, you can contact them anytime. They will come and help resolve the issue as quickly as possible.
---
6. Anonymity
You may not require to sign up to use VPN by a free VPN provider. And even if it does ask you to sign up, you can simply use fake details to create your account. A paid VPN, however, will ask you for your correct details that are also used during the payment process.
In regards to anonymity, free VPN is clearly the winner, as you may not have to provide your real detail. But remember, even if you have given fake details about yourself, free VPN providers may still log your IP address and monitor your internet traffic. So, whether you are anonymous to other or not, your IP address will remain the same and may get logged by your provider for their own good. With a Paid VPN provider will offer you top VPN privacy protection features that a Free VPN may not as well.
---

---
Conclusion
Having your network traffic completely encrypted may slow down your connection speed, but that depends on the VPN provider you choose. You may face speed issues with a Free VPN provider but not with a paid one.
So, what you think is better: Free VPN or Paid VPN? Whatever you choose will affect the functionality of your VPN. If you are planning to get VPN services because you don't want your internet provider to snoop on you and allow you access to global content, then paid VPN is the right choice for you.