FastestVPN New Year VPN Deal – Get 3 Months for Free
FastestVPN New Year VPN Deal – Get 3 Months for Free
By Nick Anderson No Comments 4 minutes
It's almost time to bid farewell to 2022. This year has been more than thrilling, and the festivities are just about to start with our favorite time of the year! With that said, FastestVPN would like to add to the good times, giving your our exclusive FastestVPN New Year VPN Deal exclusive offer!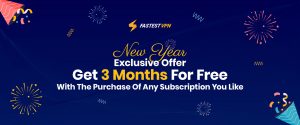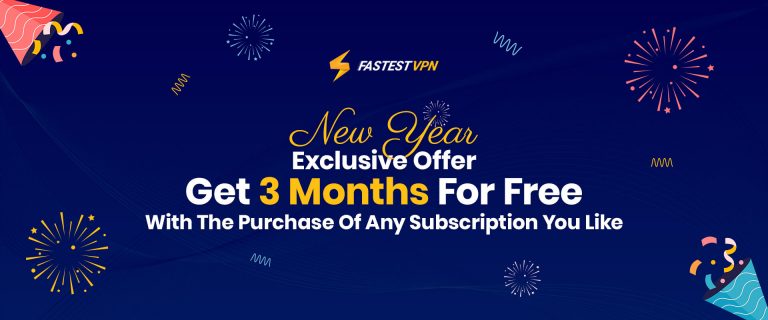 The year has been challenging for us, but we strive to give our users and customers the very best! From Spring Sale to the most recent Black Friday and Christmas sale, FastestVPN provides absolute value.
But before the year ends, we have one last sale left. FastestVPN is giving customers another opportunity to grab the fastest VPN at a discounted price. The New Year discount kicks off later this month and features a special deal. Customers will be able to get a FastestVPN Lifetime deal!
VPN is an essential tool to secure your identity on the internet. It encrypts internet traffic to prevent data from being misused by malicious users. Take advantage of the New Year discount to unblock any website easily by spoofing the location.
FastestVPN New Year Offer Gives you a Lifetime Deal
FastestVPN is back again with another deal. Get a FastestVPN Lifetime deal today. The New Year special deal is another opportunity for both existing and new customers if they missed out on the Black Friday/Cyber Monday deals.
The New Year special deal represents the full version of FastestVPN, complete with all the cutting-edge features that continue to define the VPN. It includes features such as AES 256-bit encryption, 550+ servers, 10 multi-logins, P2P-optimized servers, Malware Protection, Ad-blocker, and more. Here is the FastestVPN New Year VPN Deal offers:
93% off for the Lifetime Deal with PassHulk Manager & 2TB Internxt Cloud Storage
Connect Up to 10 devices simultaneously
FastestVPN enables you to connect up to 10 devices simultaneously using just a single subscription.
It is an incredible value to customers on top of what is already an amazing price for an unbeatable VPN experience. With just a single account, you can connect your TV, phones, tablets, and video-game consoles. You could split the expense with family or friends, thus making this New Year discount even cheaper.
Avoid Hackers
One of the fundamental pillars of a VPN is encryption. It's a way of scrambling data into an unreadable format. This data can be deciphered using a special key that is known only to the VPN.
This allows you to stay protected on the internet against hackers. In addition to encryption, VPN lets you protect your identity online by lending you a private IP address. This is also handy when you want to stay away from the Internet Service Provider's bandwidth-throttling.
Take advantage of these New Year special deals to secure yourself on the internet.
Access Any Content on the Internet
FastestVPN features a global network of 550+ high-speed servers scattered in different locations worldwide. What that means is that you have multiple choices for spoofing your location. Choose between the United States, United Kingdom, Canada, Australia, Russian, France, Germany, or China, and instantly defeat geo-restriction.
It will also come in handy when browsing through various special New Year VPN deals on the internet. Some New Year special deals may only be available in specific regions.
Here's Why You Should Avail This New Year VPN Deal!
When it comes to speed and reliability very few VPNs can match FastestVPN. And when comes to providing value, there's no competition.
FastestVPN was built on industry-leading features. In just a span of two years, FastestVPN has grown to deliver service to thousands of customers worldwide. The number of positive reviews left by customers paints a promising picture for new customers.
The New Year discount builds on the tradition of providing the best value to customers. The amazing features and the value proposition of FastestVPN have earned it recognition VPN in the market.
Take Control of Your Privacy Today!
Unblock websites, access streaming platforms, and bypass ISP monitoring.
Get FastestVPN