New Content Coming Your Way on Amazon Prime in 2021
New Content Coming Your Way on Amazon Prime in 2021
By Johan Curtis No Comments 5 minutes
On-demand streaming platforms have changed our lives for the better! Those days when you'd have to deep dive into a search on the web for your favorite movie or TV show are long gone. Now, with the emergence of such on-demand platforms like Amazon Prime, you can just open the app, search for your desired content, and it pops right up!
Introducing Amazon Prime
Amazon Prime is basically a subscription-based streaming service provider.  Amazon Prime claims to be readily available throughout the world, however, it is still unavailable in certain locations such as Mainland China, Iran, North Korea, and Syria.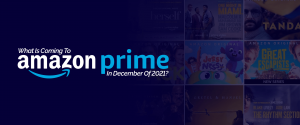 How to Subscribe to Amazon Prime?
The subscription process is fairly easy, all you need to do is visit their website, click on 'Start your free trial,' and fill in the details.
Amazon Prime costs only $12.99 per month, and it also has an option of $6.49 for Prime Student members.Along with monthly subscriptions, from 2018, Prime has also introduced annual billing. You can opt for the monthly package or you could opt for $119 per year. For Prime Students, it is also $59 per year.
The Amazon Prime video also comes with a 30-day free trial and the option to cancel anytime you want. With all the services they're providing, and the loads of content you're getting, we'd say this is a great price!
Can Amazon Prime be Accessed Worldwide?
Even though Amazon Prime claims to be available in almost all regions, it does contain geo-restricted content. This means that either the entire application, or selected content might not available in your region.
Since some movies or series have licensing contracts, they are usually available in limited regions and cannot be viewed worldwide. The Amazon Prime library available to users within the USA usually differs from the library available to users worldwide.
That is how geo-restricted content works. It is only available in selected regions or locations and users outside that particular region cannot access such content from elsewhere without using a VPN. Read more about this in the later sections of the article.

What's New on Amazon Prime in 2021
Like every other famous streaming platform, Amazon Prime updates its content library annually with loads of new content including movies, documentaries, series, soaps etc. which is why we recommend you stay updated.
Considering everyone's staying home and practicing social distancing during this pandemic, there couldn't be a better time to binge-watch your favorite shows and all the new stuff coming.
Here's a list of what's coming:
Movies Releasing on 1st Jan 2021
Escape from Alcatraz (1979)
Eve's Bayou (1997)
Face/Off (1997)
Frankenstein And The Monster from Hell 1900 (1977)
A Night at The Roxbury (1998)
Arachnophobia (1990)
Bloody Sunday (2002)
Broken Arrow (1996)
Brothers (2009)
Girl Most Likely (2013)
Good Luck Chuck (2007)
Chaplin (1992)
Coneheads (1993)
Confessions of A Shopaholic (2009)
Cloverfield (2008)
Donnie Brasco (1997)
Signed, Sealed, Delivered (2013) (Hallmark)
Signs (2002)
Soul Food (1997)
Gunfight at The O.K. Corral (1957)
Gun Duel in Durango (1957)
In & Out (1997)
Jazz (2001) (PBS Documentaries)
Kiss the Girls (1997)
Last of The Mohicans (1992)
Legion (2010)
Love the Coopers (2015)
Like A Boss (2020)
Major League (2015)
Places in The Heart (1984)
Peggy Sue Got Married (1986)
Pride (2007)
Push (2009)
Premonition (2007)
The Brass Legend (1956)
The Brothers McMullen (1995)
The Cooler (2003)
The Devil's Own (1997)
The Firm (1993)
The Interview (2014)
The Legend of Bagger Vance (2000)
The Longest Yard (1974)
The Peacemaker (1997)
The Quick and The Dead (1995)
Regarding Henry (1991)
Ride Out for Revenge (1958)
Salt (2010)
St. Elmo's Fire (1985)
Starman (1984)
Star Trek Beyond (2016)
The Sons of Katie Elder (1965)
The Town (2010)
The Truman Show (1998)
Tyler Perry's The Family That Preys (2008)
Vampire in Brooklyn (1995)
Virtuosity (1995)
Walking Tall (1973)
War
When A Man Loves A Woman (1994)
Where Hope Grows (2015)
Wonder Boys (2000)
Series Releasing on 1st Jan 2021
I Survived . . . Beyond and Back: Season 1
Rocco Schiavone: Ice Cold Murders: Season 1
Changing Body Composition through Diet and Exercise: Season 1 (The Great Courses)
Beecham House: Season 1 (PBS Masterpiece)
Bringing up Bates: Season 1 (Up Faith & Family)
Baby Looney Tunes: Season 1 (Boomerang)
Commandments: Season 1 (Topic)
Ancient Civilizations of North America: Season 1
Simply Ming: Season 14 (PBS Living)
Dexter: Seasons 1-8
Texas Metal: Season 1 (Motor Trend)
The Universe: Season 1 (History Vault)
Releasing on 6th Jan 2021
Releasing on 7th Jan 2021
Releasing on 8th Jan 2021
Herself – Amazon Original Movie (2020)
The Silencing (2020)
Releasing on 15th Jan 2021
One Night in Miami – Amazon Original Movie (2020)
How Can You Get Amazon Prime Without Restrictions?
If you want to access all geo-restricted shows or particularly the shows or movies available within the USA while you are somewhere else around the globe, you will probably need a VPN.
Most people think downloading just any VPN and connecting to a USA server will do the trick, that is hardly ever the case. To be able to view all major movie or show titles and get access to the full Amazon Prime library, you need an efficient VPN that can break through international/regional firewalls within Amazon Prime.
If you're looking for such a VPN, we'd suggest you try FastestVPN! FastestVPN owns the best of security features and ensures 100% privacy. It also particularly mentions that the VPN can break through Amazon Prime's firewalls and provide you with immediate access to your desired content.
Conclusion
We've listed almost everything Amazon Prime is releasing this year, this month for you. If you think the fun stops here, that's definitely not the case. Amazon is regularly updating its library and adding new stuff, so a lot is yet to come.
However, as mentioned before, you might not be able to access all the movies/series mentioned above due to geo-restrictions, so make sure to connect and subscribe to FastestVPN to get full access and stream to your heart's content.

Take Control of Your Privacy Today!
Unblock websites, access streaming platforms, and bypass ISP monitoring.
Get FastestVPN