Myths You Should Know about Safely Gambling Online
Myths You Should Know about Safely Gambling Online
By Nancy William No Comments 6 minutes
Online casinos are growing popular around the world. But not everyone believes in playing slots and poker through a mobile device. For some, gambling is best experienced in a lavish Las Vegas casino.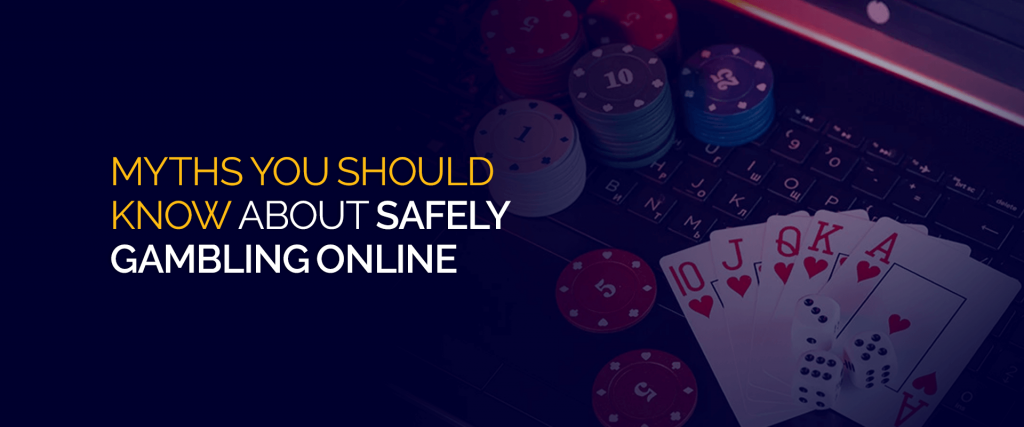 The most cynical breed of gamblers believe online casinos are inferior at best and untrustworthy at worst. But are they correct? Is there truth in the myths you've heard about online gambling?
The 7 myths on safely gambling online
If you're not too sure about whether online gambling is safe, here are 7 myths that may change your mind:
Myth 1: Casinos are Illegal—Check if your State Allows It
People dismiss the legality of online casinos far too many times. In truth, online casinos can be legal or illegal depending on where you live. In the US, online gambling legislation is a matter of state concern.
Each state determines whether to legalize sports betting and online casinos. New Jersey, Pennsylvania, West Virginia and Delaware legalize both forms of gambling. However, many states legalize either sports betting or online casinos but rarely both.
To find the best NJ online casinos, look for recommendations on review sites like scams.info. Casino review websites do the hard work of ranking operators for you. That way, all you need is to pick one of the suggested casinos and create an account.
Myth 2: Online Casinos are Unsafe
Many people who avoid online casinos fear losing their data, privacy and money. It's a genuine concern. But it's hardly anything to worry about in this era of advanced security technologies.
The standard online casino comes with a website encrypted through Secure Socket Layer (SSL). This protects your data from hackers while you deposit or play casino games. Additionally, modern casinos provide password protection, Two-Factor Authentication and other security measures to keep your security guaranteed.
Now, we are not saying every online casino on the Internet is safe and trustworthy. There's always the risk of falling prey to a scam. To stay safe, take time to review a website for security measures before you create an account.
Myth 3: You Can't Win at Online Casinos
All casinos have winners and losers. The story isn't different for online casinos. These operators have games of chance like slots, roulette and video poker. They also provide card games like blackjack and poker.
Slots and video poker use math to create winners and losers. The best online casino games use RNG software that payout over 95% of wagered money. For comparison, the average Las Vegas slot pays out at 88%.
Regarding card games, you can now play baccarat, poker and blackjack online with real human players. You can see and talk to them through a video link. In doing so, you'll know when you win and lose.
Additionally, the Internet is jam-packed with testimonials from people who've won loads of money gambling online. For example, England ex-soldier Jon Heywood, won over $19M playing online slots in 2015. The BBC did a story about him.
Myth 4: Casinos Rig Games
This point is related to the myth about not winning at casinos. Some people agree you can win at online casinos. But they share the misconception that most games are rigged, rendering it impossible to make a profit.
Like many myths about online gambling, the belief that online casinos rig their games started in the early days of the industry. Back then, legislation was minimal and casino scams were a norm.
This means there was a time when you couldn't trust online casinos to provide fair games. Those days are gone, though. And there's proof. For starters, the modern casino requires a valid license to operate.
License providers often audit casino games to verify they're safe. What's more, there are independent auditing firms like eCOGRA and iTechLabs that do the same job. This ensures you have a fair chance whenever you play games from trusted software developers.
Myth 5: Online Casino Bonuses are Bogus
In Las Vegas, a bonus means free spins on slots, a free game at a poker table or comp points you can redeem for free drinks and accommodation. Online casino bonuses work a little bit different but this doesn't mean they're a sham.
You see, there's no room for free drinks, free shows and hotel room accommodation at online casinos. However, you can earn betting credits, free spins and loyalty points. These freebies are worthy real money, meaning you can cashout your potential profits.
The biggest problem some people have with online bonuses is that they have withdrawal terms. Let's say you claim a welcome bonus and use it to win $2000. You can find conditions like:
40x wager requirements
$1000 withdrawal limit
Only slots contribute to wager terms
30-day fulfilment period
Casinos add conditions to bonuses to protect themselves from losses. But we'll admit—some conditions can be excessive. This doesn't mean all offers are fake. Instead, take time to find quality bonuses and you'll have a great experience using them.
Myth 6: Online Casinos Encourage Minors to Gamble
If you're worried about gambling online because they welcome underage players, you shouldn't. By law, every online casino must verify the age of its customers. This means all players at online casinos must upload documents to prove they're adults.
Nowadays, you have to provide proof of address to avoid fraud. And if you're a high roller in some European countries, you must provide proof of affordability. Not everyone loves these measures. But they help ensure only adults of sane minds gamble online.
Myth 7: Online Casinos Promote Terrorism
People accuse online casinos for all sorts of mischiefs. But this has to be the most erroneous myth about the industry. Online casinos do not promote terrorism or financial fraud. Here's why.
Let's start with regulation. The UK, New Jersey, Malta and other regulators have their eyes on casino sites at all times. They investigate these firms occasionally to ensure they do not encourage any criminal activities.
Secondly, online casinos have nothing to gain from terrorism. If a site had known links with a terrorist organization, it would collapse sooner or later. That's because search engines like Google would blacklist it. And its customers would soon leave.

Take Control of Your Privacy Today!
Unblock websites, access streaming platforms, and bypass ISP monitoring.
Get FastestVPN