What Are NFTs? 3 Ideas on How You Can Market NFTs
What Are NFTs? 3 Ideas on How You Can Market NFTs
By Nancy William No Comments 4 minutes
Let's say you're shopping online for digital paintings, and you just bought one for a handsome amount. You're given a digital token that is unique; one that no one else has, which is the only way to prove that you now own that art piece.
You're probably thinking that's wishful thinking? We'll it now exists through something called NFTs. You've also heard of Bitcoin, as the number one digital currency taking the world by storm, but now, NFTs are making its rounds on the internet. They're the sure answer to buy and have proof of digital collectables.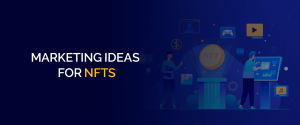 However, there are ways for the common folk to now create NFTs, to make purchases to their goods easier and achievable. Although, creators are not sure of how to market their NFTs. This guide will show you some ways for you to market NFTs through various mediums.
3 Ideas on How You Can Market NFTs
If you have managed to create your first NFT, then congratulations! Doing so can be difficult, so to get through the ups and downs and come out on the other side is a big achievement. Now that you are ready to sell your NFT, you will need to make sure that you are marketing it effectively.
There are many ways that you can market your NFTs, but only a few of them are effective. In this guide, we've discussed some of the best ways for you to market your NFTs through suitable and reliable mediums, starting with building a community. Here's how:
1: Build a Community
When you are selling your NFTs, you don't exactly need a huge audience behind you, but the audience you do have should be a dedicated one. This means that they are an audience who are heavily invested in what you are doing with your work and, as such, look forward to receiving regular updates about it and getting access to new products as well.
The best way to do this is to build a community and one of the best ways you can build a community is by having a strong presence on social media. You can update them about the NFTs you are creating, and open a direct line of communication with your customers too, which should help you with gaining their trust and loyalty.
However, the first step is always the hardest. You need to prove to the community that NFTs are the future and to stir interest in them strong enough to structure the community.
2: List it on a Popular NFT Site
If you are only just getting started, and don't have much of an audience to promote your work to, then you should consider listing it on a popular NFT marketplace. There are several excellent resources available for you to take advantage of, so be sure to do your research and choose the one that you think could work for you. A good option is OKX.com. On this site, you can Create NFTs, list them to sell, and buy them from other creators.
3: Make Good SEO Content Related to Your NFT
Content marketing and SEO have already been proven to be effective marketing tools and this applies to the world of NFTs as well. When you can generate organic traffic, this is an excellent way to measure just how big your NFT marketplace is and generate sales on your NFTs too.
To generate sufficient traffic to your site, and potentially get some sales, you should be creating content that will rank highly on search engines and, as such, will drive people towards your website. Simply providing some updates on your business and the world of NFTs, you will be able to ensure you rank higher on Google for specific keywords that pertain to the world of NFTs.
Conclusion
Once you have created your first NFT, you are going to need to try to sell it, and the best way to do this is with a solid marketing strategy. If you are wondering what some of the best marketing practices available are for your NFT collection, then be sure to consider some of the above. Good luck with your NFT. On another note, to ensure that you are always protected while marketing NFTs, always connect yourself with the best VPN. This way you can also reach the global NFT market that is blocked in your country.
Take Control of Your Privacy Today!
Unblock websites, access streaming platforms, and bypass ISP monitoring.
Get FastestVPN