How to Make a Teamspeak Server
How to Make a Teamspeak Server
By Nick Anderson No Comments 6 minutes
Whether it's competitive e-sports or casual multiplayer gaming, one of the keys to victory is communication between teammates. Voicechat allows teams to exchange real-time positions of enemies and maintain tight coordination that ultimately lands a successful match.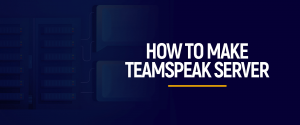 There are many voice chat software, but not all of them are equal. When it comes to reliability, quality of audio, and performance penalty on hardware, very few have stood the test of multiplayer gaming. As gaming communities have evolved and grown to a stage where platforms such as Twitch exist, gaming-focused voicechat software provides a unique balance on those three fronts. One of them is Teamspeak.
We'll show you how to setup a Teamspeak server for multiplayer gaming.
What is Teamspeak and Why is it Popular
Teamspeak is a Voice-over-IP (VoIP) that allows people to communicate via voice. It is aimed towards gamers and has made a name for itself in the multiplayer gaming arena. The reason for its popularity is thanks to the three factors that we discussed: reliability, voice quality, and low-performance overhead. It provides private access to those who wish to establish a voicechat server for any particular game. On top of all that, it provides a secure way to connect.
Teamspeak is different from other VoIP that you might be accustomed to. It is a software that can run on your virtual server; it will not use Teamspeak's servers as a central server to host connections between players around the world. Teamspeak allows you to setup a private voicechat server and access through its client. In simple words, it allows you to use the technology to build a voicechat lobby on a server that you own.
The benefit to it is that you get complete control of your private server. It can host multiple players at once and allow only those of your clan to join in.
How to Setup a Teamspeak Server
Teamspeak is an application that first needs to be installed on a server. The server will act as the central host to which all other friends will connect. There are two parts to Teamspeak: the server and the client application.
The server part is something that you'll have to arrange before beginning anything. You can either setup a server on your Windows or Mac computer or rent a server.There are several server hosting solutions on the internet. What you need to be looking for is a Virtual Private Server (VPS) hosting with at least 1GB of RAM. A VPS is a block of computer that allows you to host any website or application. The Secure Shell Host (SSH) is an encrypted communication interface that allows you to execute commands on your VPS remotely. A private key protects your server from unauthorized access and ensures that only you have access to it.
Once you have a VPS up and running, we need to setup Teamspeak software on it. You'll need to enter each command one-by-one through the SSH interface.
Setup Teamspeak on a Linux Ubuntu Server
Log in to your VPS via SSH using PuTTY.
Enter your password or phrase that you have set for the private key.
First, we'll need to ensure that the VPS is up to update:
sudo apt-get update
Add a new user and choose your credentials:
sudo adduser –disabled-login Teamspeak
Now we need to install Teamspeak on the VPN:
sudo wget https://files.teamspeak-services.com/releases/server/3.12.1/teamspeak3-server_linux_amd64-3.12.1.tar.bz2
sudo sudo tar zxvf teamspeak3-server_linux_amd64-3.12.1.tar.bz2
Enter the newly created directory:
cd teamspeak3-server_linux_amd64
Accept the license agreement:
touch .ts3server_license_accepted
Run this command to start Teamspeak:
sudo ./ts3server_startscript.sh start
Note down the login name and password and the token. You will need this to connect to the server. Now comes the second part, which is to connect to the server with Teamspeak client.
Download Teamspeak client from here.
Install it, run Teamspeak, click on Connections>Connect.
Now enter the IP address of the VPS server, the servername in the nickname, and password click on Connect. You will now be required to enter the token key.
You are now connected to your private Teamspeak server. While you are at it, you can disconnect and check out the few public servers available. Many would appear as locked they require a password, but a handful of servers should be public for you to use.
Also check out how to setup VPN on Linux.
Setup Teamspeak Server on Windows
You can also setup Teamspeak on your local PC running Windows, and grants others to join in.
Download Teamspeak server from here.
Install the program, then run it.
Note the Login name, Password, and Server Admin Token.
Run Teamspeak client and connect with the credentials you just noted down. If you don't know your device's IP address, then click on Start Menu >type cmd and run it >type ipconfig, and note your IPv4 address.
Enter your token key to finalize the connection.
Setup Teamspeak Server on macOS
Download Teamspeak server from here.
Extract the package.
Open Terminal on your Mac, and type the following command to accept the license agreement:
set TS3SERVER_LICENSE=accept
Enter the Teamspeak directory by using:
cd Downloads/teamspeak3-server_mac
/.ts3server
Now Teamspeak will start. On the next screen, you will see the token key.
Use the token key and your IP address to connect via the Teamspeak client.
Conclusion
Teamspeak is a beloved way for gamers to connect and chat while playing their favorite online multiplayer games. Its low resource usage is one of the reasons why it will be a perfect companion for you. If you desire a hosting your clan with a virtual server, then check out the various hosting options online. Go with the trusted VPS providers. You can start as low as $5/month for a VPS configuration that can easily handle Teamspeak.
Take Control of Your Privacy Today!
Unblock websites, access streaming platforms, and bypass ISP monitoring.
Get FastestVPN