ISP Privacy Issues and How to Protect from these Issues
ISP Privacy Issues and How to Protect from these Issues
By Johan Curtis No Comments 5 minutes
The issue of privacy is one that continues to rage on within many circles today. There is a reason why hackers are begin painted in a bad way and there is a reason why the United States of America wants Edward Snowden so bad that she would do anything to get him arrested. It all boils down to the issue of privacy and there is absolutely no one that wants privacy to be taken with light fingers. However, it is quite unfortunate that many people and companies continue to disrespect the privacy of people in general. This blatant disregard for the privacy of people is usually because of a desire to gain wealth or more power. In some instances, such disregard of privacy concerns may be good if the intent is to get wind of terrorist plots to create a terror attack. However, the aim of disregarding privacy is usually more profit oriented than altruistic. It is vital that we examine the privacy concern with Internet Service Providers who seem to favor the act of disrespecting the privacy of many customers in favor of profit making. How are they invading your privacy?
---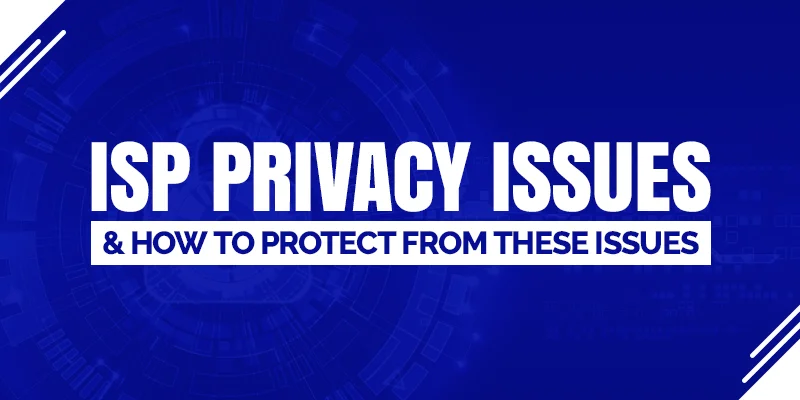 ---
Record of browsing activities: For many internet users who innocently keep on browsing online sites without taking precaution, many ISP companies install cookies into the person's device that tracks and monitors the internet activity of the person. Say for instance, if you have had a wen history of checking through gaming websites without any natural caution taken, you can be assured that your ISP has compiled a dossier of you. The issue with this is that that dossier is then sold to some gaming companies who will automatically begin to show you ads even if you are browsing on other websites.
Selling your data: This was one of the problems that Facebook faced in the past because they were accused of selling user data to Cambridge Analytica. It is quite terrible that ISP would stoop low in order to gain profit, and what is more appalling is that many legislative and executive arms of many countries are not doing much to counter it. There are some techniques you can adopt in order to avoid being monitored by your Internet service provider at any point in time. They include:
Pick an ISP that respects your privacy: There are so many ISPs that engage in the respect of the privacy of their customers to a large extent. In order to efficiently identify them, you can engage in a mini research of your own and then check the reviews that people have left for the ISP company you intend to choose. If you are not tech savvy, you can request for help from tech experts who will explain how to spot better ISP companies
Opt-out of supercookies and other ISP tracking. When you are engaging in your browsing, you have the option of choosing to retain supercookies or opting out. Some companies put those supercookies in order to allow them continue to spy on your activities online. If you have been ignorant about this, you can choose to opt out by asking a tech person to help you out.
Visit websites and services that offer secure connection: Many times, people forget to check the validity of the websites they visit and this opens them up to potentially devastating attacks from hackers. In the same way, without browsing through a secure connection, the ISP company can easily monitor your browsing history and continue to keep the dossier without any hassle. The general question which novices ask is this, how am I able to recognize a secure connection? The answer is that secure connections make use of HTTPS rather than other letters. When you notice that the website is not using it, you are exposed.
---
Make use of VPN.
A VPN is a Virtual Private Network that has become important lately due to the fact that ISP companies and some country governments seem to be unrelenting in their aim to spy on citizens and customers alike. Simply put, a VPN gives you the opportunity to cloak your initially address and browsing history as well. However, it is vital that you follow through with some basic advice when choosing a VPN, which this review can help you with. First, make sure that you choose one that is not free. There are many free VPN out there that claim to perform the same tasks that normal ones do. However, what they end up doing is that they collect personal information from the users and proceed to sell off that information. The second very important tip that should be known is that the person should go for a VPN that has being in service for a long period of time. The more the VPN is popular, the stronger it is and more trustworthy it has become. It is also important that you go for a VPN that does not log traffic at all. Those that log traffics may end up building dossiers of your online activity and selling them off for profit.