Is WeChat Safe to Use?
By Johan Curtis 1 Comment 5 minutes
Every day there's a new app launching, a new social media platform to keep in touch with the world, or a new chat application so you can connect with whomever you want. We're sure you're all aware of WhatsApp, the most famous messaging app across the globe.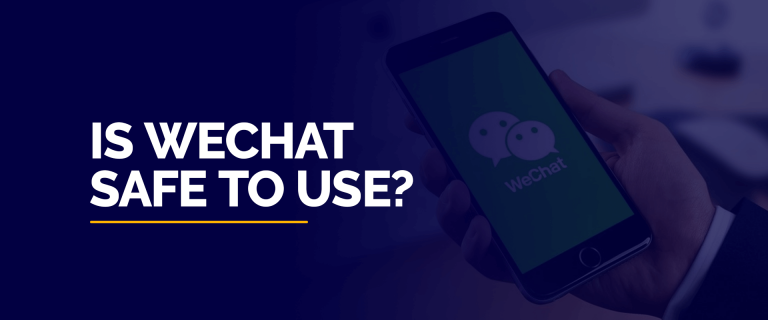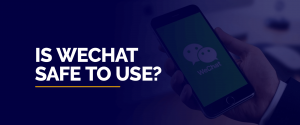 WhatsApp is probably the most reliable messaging application out there. Unfortunately for some, WhatsApp is blocked in certain regions by their governments such as China, Saudi Arabia, etc. these locations have placed blocks on such apps and only allow particular messaging applications to operate in their regions, which may or may not be monitored by the government.

What is WeChat?
WeChat is a Chinese developed multi-purpose app by Tencent. The app is popular   for its chat feature worldwide. Within China, people use it for other purposes such as online payments, mobile payments, social media, booking and scheduling an appointment, etc.
Even though it was launched in 2011, it blew up and gained much recognition in 2018 and became one of the world's largest mobile app with over 1 billion active users. It is available on multiple software programs such as Android, MAC, iOS, and Windows.
  Features of WeChat
WeChat is mainly known as a messaging app over the world. However, it has multiple other uses for its local users. Ever since the app is released, several features been added to it.
Here are some of the features you get by installing WeChat:
WePay: This feature successfully replaced credit or debit cards with its WePay or Wallet feature. It lets you transfer money within the app.
Text Messaging: Enables you to send messages to anyone you want.
Sharing Location: Share your real-time location with any of your contacts.
Shake and Look Around option: Find people who are nearby you.
Read Articles: Go online and read articles by public users.
Send Virtual Envelopes: Send virtual cash red envelopes to anyone in your contacts
Pay Bills: Transfer money and pay your bills online through the app.
Get Access to Public Services: Get access to public services like doctor's appointment, consultation and more.
Access to Third-party Features: Enjoy booking a ride, ordering  food, or shopping from your favorite shop.
Security Risks within WeChat
WeChat may seem like a great app with such diverse features. However, since it falls under the jurisdiction of the Chinese government, there are certain privacy concerns.
We're outlining a few for you:
There is a high risk of the government monitoring your messages. In most cases, people got arrested in China for speaking ill of the government through messages. Moreover, most of the time, if the user's message is against the government's censorship policy, those messages are censored without the user ever finding out. Censorship, however, is not applied to international users, but the threat is still there.
Similarly, along with monitoring, your information is constantly recorded by the app developers who can easily forward the information to any third-party applications, including the government.
Messages are not end-to-end encrypted, which means that hackers can hack your chats easily.
Many states already blocked WeChat due to the allegations that the app got spyware within , which records all users' activity .
How to Overcome the Security and Privacy Threats on WeChat
Already registered to WeChat ?Make sure to follow the  right safety measures to ensure maximum security.
Here's how you can do so:
Create a Secure Password: Create a difficult and unique password for your WeChat account, one which is not similar to any of your other handles. This will keep your app private and secure.
Logout Every Time: WeChat normally keeps you logged in every time you close the app by default. It is generally quite unsafe because anyone can access your account from your device when you're not around. Make sure to log out each time after using.
Connect to a Secure Network: We suggest that you only access WeChat when connected to a known and secure network. Avoid using public Wi-Fi on WeChat since they're vulnerable to hack attack.
Avoid using WeChat "Shake" Feature: the "Shake" features basically lets you find people near you or lets you meet new people who are also using this feature. Even though it seems like a cool feature, we would advise against it because it exposes your location and also allows random strangers to access your profile.
Adjust Privacy Settings: WeChat's default privacy settings are not the safest. It is best if you visit the Privacy Settings page and set them according to your preference.
Use a VPN: It will not only make all your online activity anonymous, but also prevents you from hacking attempts. Connect to FastestVPN for a secure and private experience.
Conclusion
WeChat took over the market by storm. With its availability and incredible features, it seemed like a promising application, much like WhatsApp. However, over the years there have been many security threats found within the app which is why some regions such as India have even blocked the use of the application within their state.
While our main suggestion would be to avoid using such an application, which poses a risk to your privacy. However, to keep using it, the least you can do is follow the precautions above as best practices.

Take Control of Your Privacy Today!
Unblock websites, access streaming platforms, and bypass ISP monitoring.
Get FastestVPN