Is VPN Legal in Germany
By Christine Margret No Comments 6 minutes
Being cautious online is what we all deserve for our online protection, and that's one of the prime reasons why most countries of the world allow VPNs.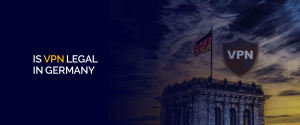 But are VPNs also allowed in Germany? That's what you will explore in this blog. I will also show you the VPN legalities and illegalities in Germany. Therefore, make sure to give this blog a good read.
Are VPNs Legal in Germany?
The short answer is Yes. VPNs are absolutely legal in Germany. There is no explicit law that denies using a VPN in Germany.
A VPN is an excellent protection tool. It encrypts your traffic and protects it on the web, and prevents exposure of sensitive information to third parties.
So, it is clear that VPNs are legal in Germany, but any unlawful activity will be considered illegal, even after connecting to a VPN.
Is Streaming with a VPN legal in Germany?
Only legal means of streaming are allowed in Germany with, or without a VPN. It means that if you're using a VPN to stream copyrighted content, then it will be a copyright infringement, which is illegal in Germany.
Moreover, streaming platforms like Netflix and Disney Plus don't allow VPNs for getting around geo-blocks.
Hence, you should always read the terms of service of each streaming site before connecting to a VPN for streaming.
What VPN Activities Are Illegal In Germany?
A VPN encrypts your traffic and hides your IP address so that no one can monitor your private information. Many businesses use VPNs to keep their home networks secure and private.
However, there are some activities that you cannot do in Germany even after connecting to a VPN.  Here's what is illegal in Germany with a VPN:
Accessing pirated websites for streaming copyrighted movies
Downloading or sharing copyrighted material
What Happens If I Stream Copyrighted Content in Germany?
If you are streaming or torrenting any copyrighted files, and your activities are visible to your ISP in German, then you will be in serious trouble.
In Germany, content creators like Netflix and Disney Plus are connected with European Law Firms. These firms are responsible for monitoring and tracking users' IPs.
The main objective of these firms is to track users who stream illegal content via torrenting and other sharing websites.
Once they get your IP address, they easily contact your ISP and ask about your address and details. Here, your ISP is bound to provide them with all the details.
Then, these law firms send you a hefty penalty, almost 500 to 1500 euros depending on the content you were streaming.
Therefore, you should always stream paid content using authentic streaming sites like Netflix, Amazon Prime, and Disney Plus.
Is There Any Way to Torrent Safely in Germany?
Yes, there is a safe way to torrent in Germany. European Law Firm monitors your IP address and contacts your ISP for the details to penalize you. However, if you hide your IP address, and keep your activity private, then you can do safe streaming and torrenting in Germany.
A secure VPN for torrenting will protect you by keeping your activities concealed, but it cannot protect you from malicious torrents on torrenting sites. You can always torrent safely and privately with the tips below:
Download and install a paid VPN service that is not headquartered in German. (FastestVPN is the best option. It is a Cayman-Island-based VPN and is not obliged to share users' details with governments, or third parties).
Turn on the Kill Switch feature of your VPN (Not all VPNs have this feature. Therefore, make sure to pick a VPN with a Kill switch. FastestVPN offers a kill switch at the lowest price)
Connect to a server location that supports P2P file sharing
Once your VPN is connected, head over to the torrent website and start downloading
That's it! Everything is now encrypted and you can do torrenting safely.
What Should I Stream With a VPN in Germany?
In Germany, you should always stream paid content. Even if you are connecting with a VPN, still you should stream from trusted and paid streaming services, like Amazon Prime, Netflix, and Disney Plus. You first have to pay for the subscription, only then you can stream with a VPN on these sites.
With a VPN, you can unblock other countries' catalogs of the same service. For instance, US Netflix has the best TV shows and movies that are not available in Germany.
You can connect to a US VPN server, and watch US Netflix in Germany without any problems. However, if the streaming site detects your VPN, then it may suspend your IP/account upon violation of the terms of service. Make sure to always read the terms of the streaming service before using a VPN.
Which is the Best VPN to Use in Germany?
Your VPN should be trusted, reliable, and safe for streaming movies and torrenting in Germany. To give you a clue of what to look for in a German VPN, I am highlighting the essentials features of a VPN below:
Select a No-logs VPN- Your VPN should not keep a log of your browsing activities
Get a secure VPN- your VPN should be Headquartered in a country that has no connections with the International surveillance alliance
Go for a VPN with faster-downloading speeds to enjoy uninterrupted torrenting/downloading.
Why Should You Use a VPN in Germany?
You should always use a VPN in Germany or anywhere. A VPN is the best tool for your online protection. With a VPN, you can be safe while streaming copyrighted content.
Though FastestVPN doesn't encourage streaming pirated content, sometimes streamers mistakenly open links that contain copyrighted content.
A VPN will mask your network so that no one can trace what you're streaming. Also, you can unblock and access many of your local websites and applications safely, even on a public network.
Conclusion
Now you know that using a VPN in Germany is one hundred percent legal, but doing illegal activities is absolutely not. If you're traveling in Germany, then you should always use a VPN for online protection of your data, but on the other side, you should respect the country's streaming and torrenting policies. Don't stream content on free sites. Use legitimate sources to stream content and enjoy your trip to Germany.
Take Control of Your Privacy Today!
Unblock websites, access streaming platforms, and bypass ISP monitoring.
Get FastestVPN