Is Quora safe to use? The Essentials to Know
Is Quora safe to use? The Essentials to Know
By Nick Anderson No Comments 7 minutes
Is Quora a safe and authentic source for getting information? How do you tell whether anything you read online is factual or if it's simply a joke that's getting a lot of upvotes from people who found it funny?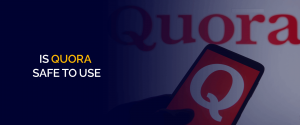 Since its debut in 2010, Quora has been a valuable resource of information for its users. It's a user-driven platform where anyone may post queries and get answers from other users. If you type a query into Google, you'll probably get a Quora answer on the first page.
However, whether is Quora safe is still a question ever since the website has been called into doubt by many users in the wake of a data breach in 2018.
But the fact is, as long as, you know what you're searching for, Quora is a safe website. It's a great place for individuals to voice their opinions on different topics, and you can verify the piece of brief information about your answer by further researching it on google.
When asked, "What is Quora?"
Users often provide a definition of this website as a renowned Question or Answer platform, or "Quora" for short, was founded by Adam D'Angelo and Charlie Cheever, two alums of social networking giant Facebook. The objective of the site was to let users post questions, and get answers from, other users.
The discussions cover a wide range of issues. You may find information on anything from how to drink water to how to invest in Crypto.
The cool thing is anybody can contribute the aid of helping others. Some replies may be interesting and relevant to the topic, while others may just put the flavor of sarcasm. Thankfully, there are moderators on hand to weed out the irrelevant questions and answers, but they are not enough.
How does Quora work?
In addition to its original question-and-answer format, Quora now offers a number of social media-like features. Users may upvote their favorite questions and answers, see other users' activity feeds, post any media content on their accounts, and can also send private messages to each other. You simply need to be at least 13 years old having a Google account, social network account, or email address to use Quora.
What is the purpose of Quora?
Quora is a website where users may post questions and get answers from others who have expertise in the field. With its massive user base of over 100 million people every month, Quora is a great place to learn about other perspectives.
It is so basic, you can simply put a question about how to use a VPN or which is the best VPN.  You will get multiple answers, each of which would be differently informative. This allows you to choose the solution that works best for you and put it into practice.
Is Quora safe to use?
The answer to this question is totally conditional on the user's intention of visiting the site. Quora might be an excellent resource for learning and grasping information. But there are always two factors for anything. Yes, Quora can also spread negativity and false results at times, since it is completely user based.
Data breach at Quora in 2018
As reported by Quora, a security breach exposed the personal information of around 100 million users. According to the firm, "measures have been made to address the problem, however, the analysis is underway and they will continue to make security enhancements."
As a precaution, the business had blocked any Quora accounts that might have been hacked. Furthermore, they have also invalidated the old passwords.
Since Quora does not record users' names when they post anonymously, the company said that any anonymous questions or answers posted before the incident were safe.
How to use Quora safely
If you already follow basic cybersecurity practices such as using a VPN, then you shouldn't be worried about being secure on Quora. Don't give out too much personal information or post photos of yourself or your home. Get a basic understanding of how to spot a phishing email and avoid falling for a social scam. A hacker might infect your system with malware if you don't know these things, especially if you're a younger user. Therefore, we usually prefer and suggest everyone get the best VPN for surfing online.
How to Use Quora Without Signing In
Is it annoying that you have to sign in every time you want to check out a new article on Quora? Sometimes you want to read articles without their showing up in your customized feed, or you may not want Quora to know that you are reading a certain question or answer.
There's a straightforward answer to this problem to avoid the login process, just add ?share=1 at the end of the URL. You must also be connected to a VPN to be extra secure while surfing in your browser.
Is Quora safe for kids?
Quora has recently demanded that its users use their actual names instead of a pen name or alias. If you use your actual name online, you will greatly increase your risk of being cyberstalked. Resultantly, hackers might easily track down a user of Quora on Facebook or another social networking site.
Quora's lack of parental controls and unsafe search options are further problems on top of security flaws. Parents should monitor their children's internet use and talk to them about the risks associated with social media and other online platforms.
Quora is no more dangerous than any other social media platform or discussion forum for a child who is aware of the hazards and dangers posed by other individuals online.
How can we safeguard kids on Quora?
Although Quora is generally safe for everyone, some care is still advised when using social platforms.
One of them is making sure something is true by looking it up in many places.
Restricting content according to age groups.
Avoid and never open any emails from unknown senders.
The most important step is to connect to a VPN or switch to the private mode in your profile settings.
How does a VPN work with Quora?
In order to remain anonymous while researching and interacting with people online (so long as you don't use your actual name), a VPN may be the way to go. When using a virtual private network (VPN), both your actual IP address and your online activities are concealed from prying eyes. FastestVPN is the best option for anonymous web surfing.
Pros of Quora
Cons of Quora

It increases the branding of your business.
It is free to use.
It has the answer to every question.
It can gather a range of users on a specific topic.

You will have to research/recheck the answers.
The enrollment process is typical.
Conclusion
Quora is a great way to try out specific topics before committing to one exclusively. Spend more time on user's generated questions and answers.
We may voice our opinions on sites like Quora, with the expectation of receiving feedback from fellow users who can then verify the veracity of claims. Quora may have both practical and amusing applications.
The conclusion is that Quora is secure if you know what you're doing. If someone has fewer upvotes on an issue, you shouldn't take their viewpoint as seriously or share your personal information with them.
Take Control of Your Privacy Today!
Unblock websites, access streaming platforms, and bypass ISP monitoring.
Get FastestVPN