Is PayPal Safe?
By Nancy William No Comments 6 minutes
Is PayPal safe? As one of the top payment tools online, it is always good to know whether your online payment preferences are safe and secure to use. It's especially necessary to look into since you're dealing with your Credit card information or sensitive data.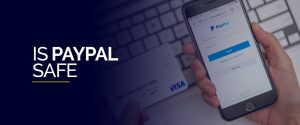 Table of Contents
What is PayPal?
Before getting into whether PayPal is safe, let's first talk about the basics. For those who are new to online transactions or methods of online payment, PayPal is one of the leading modes of online payments.
It's created as a means of quick and easy sharing and receiving of money/funds online, to and from one user to any service. PayPal money can be sent to family members, friends, businesses, or auction sites like Auction.com, eBay, or even used as a safe method for buying security software like the best VPN service.
How does PayPal work?
As mentioned above, PayPal is an online monetary transaction tool that you can use to send money to friends, family or to services from anywhere in the world. Signing up for a PayPal account is free, and only requires an email address, where you will need to choose the type of account you need.
Once that's done, you only need to enter in the email of a recipient that you need to send or receive money from. Even though signing up with PayPal doesn't need much details, there is still an option available where you register your credit card or bank account details with the PayPal account. With this, you will be able to make online payments through the PayPal option of "Send and Request Money."
If someone needs to send you money, all they need to do is enter the email address that is linked to your PayPal account. All money that is deposited or sent to you, will be credited as PayPal balance. The choice of either sending it to your bank account or leaving it as a balance is yours.
The great part about PayPal, is that even if you've registered with your credit card or other sensitive details, it's not visible to others except you. Well, at least that is what the PayPal policies say. So, is PayPal safe?
Is PayPal safe?
According to the PayPal policies, they've mentioned that when you send or receive money using PayPal, neither the sender nor the reciever gets a hold of any credit card or bank account details. This is to ensure that you can make online purchases without worrying whether you know the receiver or not.
Plus, they've mentioned that if you were to make any online payments using PayPal, all transitions are protected by something called the PayPal Purchase Protection. There's even a refund policy available just in case the items you've purchased online haven't reached you. However, all complaints need to be filed within 180 days of purchase to be considered eligible.
PayPal has been around for years, and is preferred way more than using credit cards and other means of online payments mostly because of its safety. If PayPal wasn't secure enough, it would be in and out of the picture in no time.
However, many still ask, is PayPal safe? Yes, it might be, but it's only as safe as you need it to be. There are still some precautions that you need to take as well.
Even though the PayPal policies ensure complete encryption and protection of all data, how is PayPal safe from external threats? Yes, all data might be secured, but that is only a possibility if you're connected to a secure network.
The moment you make any purchases using PayPal while connected to free WiFi or unknown networks, that in itself is a huge threat. These vulnerabilities can cause hackers to read your information. It's one of the many reasons why we recommend connecting to a reliable VPN like FastestVPN that offers online protection among other features. Plus, even though it's not at large, there are also quite a few PayPal scams to stay clear of.
In short, yes, PayPal is safe, but you need to take active precautions while using it.
Kinds of payment transactions that PayPal offers
There are two kinds of PayPal services:
PayPal Friends and Family
PayPal Goods and Services
The services are the same, where you can send money to friends or family from anywhere in the world, and vice versa, and where you can also buy things online using your PayPal account. There is, however, one small distinct difference. For PayPal friends and family, you will be charged a small fee everytime you send money, whereas for PayPal goods and services, the seller will have to fill in the fee.
PayPal as a payment option for FastestVPN
As mentioned above, there are many areas that you could consider using PayPal for, and one of them is for buying a VPN service like FastestVPN. This provider offers the PayPal option mostly because of how safe it is, compared to other online payment methods like Credit cards.
However, even though this is one of the safest payment methods, there is something also called the PayPal and VPN problem. Yes, a VPN will help create secure connections and help detect threats when connected to a public WiFi, but chances are that using a VPN to access PayPal might be illegal.
If you head over to the PayPal user agreement section, there are quite a number of points stated that are under restrictions. One such point mentions that using a proxy or any anonymizing security software is considered restricted/illegal with the PayPal service. So, make sure you go through all the legalities under the PayPal policy to avoid any obstructions. A few PayPal account holders even filed complaints mentioning that they weren't able to get into their PayPal accounts while using a VPN.
This means PayPal is still running rounds on trying to improve overall security if they were able to detect users who were connected to a VPN.
FAQs
Can you get scammed with PayPal?
Yes, you can. The PayPal service itself is marked as safe and secure to use, however, that doesn't mean you can't be victim to scammers over PayPal. There are many criminals waiting to steal money not only from the receiver, but from the sender too. There are PayPal scams revolving around wrong shipping addresses, overpayment, fake emails, phishing attempts and more. However, there are still procedures that you could take to lower or avoid the risks altogether, like:  First look for red flags before making any payments. Anything out of the ordinary If your shipment value is high, make sure you thoroughly check billing addresses and other details. Ask for a confirmed delivery status signature. If you join the PayPal Seller Protection Program, you will be reimbursed for all losses caused by fraudulent activities.
Are there any risks that come with using PayPal?
As mentioned above, PayPal is a secure service, but the risks that come with it are through other means. For starters, you shouldn't have to worry about PayPal storing your data through its encrypted servers. However, because the information is stored, there are other threats like phishing crimes that you could fall victim to. 
Is PayPal safer for buyers or just sellers?
PayPal is safe for both buyers and sellers. The service strives to ensure safe and secure transitions done from both corners. 
Will I get a refund from PayPal if scammed?
If you suspect that you've been scammed through PayPal services, all you need to do is file a complaint within 180 days of purchase. If the complaint is left pending for more than 30 days, PayPal automatically refunds the money back to your account. 
Is PayPal free?
Signing up for PayPal is free, and purchases made by people in the US are also free, but that changes for international users. Anyone living outside the US, who makes transactions or purchases using their credit cards, or sellers; get charged a certain fee.
Take Control of Your Privacy Today!
Unblock websites, access streaming platforms, and bypass ISP monitoring.
Get FastestVPN