What is ApkPure, and Is It Safe to Use?
What is ApkPure, and Is It Safe to Use?
By Christine Margret No Comments 7 minutes
When it comes to Android applications, Google Play Store has some restrictions. For example, you cannot install country-specific apps. Similarly, it's not possible to access and use discontinued gaming applications.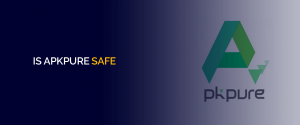 However, ApkPure is a platform that sets you free from all these Google Play restrictions. In this blog, I will discuss in detail what is ApkPure and is Apkpure safe.
I will also cover how Apkpure works, and if apps on Apkpure aren't safe, then what security measures you can take to prevent security malfunctions?
What is ApkPure?
ApkPure is a website where you can easily download all open-source Android applications. The best thing is that, unlike Google Play Store, ApkPure doesn't screen or discontinue restricted apps.
It means that you can even download country-specific or restricted apps from ApkPure, which are otherwise not available in the Google Play Store.
Though the Apkpure platform offers various free or shareware apps for downloading, the platform itself doesn't follow rigorous security protocols to verify applications, so apps on Apkpure may have malware or vulnerabilities.
Apkpure was launched in 2014, since then it's been working as a good source for downloading games, files, iOS and Android applications.
Shortly, if you want to install apps outside the Google Play Store, then Apkpure is a platform you should visit. But, is downloading from Apkpure safe? That's what we will find out in this blog.
Is APKPure safe?
APKpure is indeed a useful platform where you can find high-quality apps for downloading. Even restricted apps are available to use. However, ApkPure is an open-source platform, and it also contains apps with malware which can even abuse or misuse your data.
Third-party app stores never ensure complete safety just like App Store, or Google Play Store do. Hence, you should always avoid using external or unauthorized sources for apps downloading.
Even if you use Apkpure for downloading apps, always follow strict security measures that I will outline later in this blog.
But, before getting to that let's dig into the pros and cons of ApkPure,
Pros And Cons of ApkPure
In this section of my blog, I will highlight some benefits and disadvantages of ApkPure. Firstly, I will discuss all the benefits of Apkpure, then I will continue writing about the disadvantages of Apkpure.
ApkPure Benefits
One of the main benefits of Apkpure is that you can even find geo-restricted and older versions of apps that are no longer available on the Apple Store, or Google Play Store.
Release Apps Update Before Everyone 
Play Store has several security protocols, tests, quality assurance sessions, and tests that need to be done before releasing each app's update. The process takes longer whereas, Apkpure doesn't follow these rules and rolls out apps update without taking too much time.
No Approvals are Required to Release an App 
ApkPure is an open-source platform, and due to its open-source nature developers are free to upload apps without any approvals.
Cons of ApkPure
It's not wrong to say that its merits are its demerits to some point. And to better understand that lets quickly look at the disadvantages of ApkPure.
As you know that app release or update in Apkpure is super fast because it doesnt go through any testing or approval process. The same thing increases the security gaps. Just like official app stores, Apkpure doesnt have vetting procedures for applications which make them risky. Some Apkpure apps may have malware and if your install these apps the hacker can easily take control of your device and even misuse your data for cybercrimes.
Security Patches are Missing 
Since Apkpure has older versions of applications, these apps lack updates and the newest security patches. Therefore, there is a great chance for such apps to be exploited.
Age-Restricted Apps are Available Openly
Certain types of apps are age-restricted in Google Play Store. However, Apkpure doesnt ban age-restricted apps, which means kids can easily access inappropriate applications.
How to Check If the Downloaded APK Files Are Safe?
In case, if you download any app that is not available on Google Play Store, then always uninstall that app from your device as soon as you have used it. It's not recommended to keep an unverified app in your device for a longer time.  Moreover, if you wish to verify app from Apkpure, then you can do it with two methods.
Install APK Extractor from PlayStore
Each app on PlayStore and APKPure has a unique signature, and SHA-1 cryptographic computer security algorithm to verify the file integrity.
With the help of file signature and SHA-1, you can easily verify if the Apkpure app is authentic, or the developer has modified it.  Simply, install the same app from Google Play Store, and Apkpure, then follow these steps:
Here are the steps to verify Apps from Apkpure:
Go to Google Play Store, find and install APK Extractor
Open the APK Extractor app, and extract the apk file of your chosen application
After extracting the Apk file of the app, install the same app on your device from Apkpure
Next, open APK Signature Verification, and one by one upload the APK of the app installed from Play Store and Apkpure
The signature of both APK files should be the same. If it is not the same, then it means the app from Apkpure is not original and has been modified.
That's it! Now you should also check if your downloaded app from Apkpure is safe or not. To scan your apkpure app, follow the second method.
Use VirusTotal to Scan the File
In this method, you will only use the Apk file downloaded from Apkpure. With virustotal, you can easily scan if your Apkfile is safe to be downloaded on your device or not.
It will scan the file from top to buttom, including scan for viruses, threat and malicious content.
Here are the steps to scan Apkpure APK File:
Open VirusTotal  and click on the option Choose file
Select APK File from your device and Scan
If nothing is detected after scanning, your file is safe to download.
Is APKPure Legal?
Yes, it is legal to use. APKpure doesn't have pirated or cracked applications. They only have free apps. Moreover, it allows app owners to remove their applications whenever they want. To control copyright infringement, Apkpure also allows developers to submit DMCA and take down apps that are published without the developers consent. This is what makes it a legal platform.
How to Prevent Security Issues with ApkPure?
You should always use authorized platforms such as PlayStore to download applications on your device. It is the safest way to install applications without harming your device.
However, if for whatever reason you use apkpure for downloading apps, then keep these security measures in place to prevent security malfunction.
Scan the downloaded file for malware and viruses with a high-quality Antivirus software. Use a VPN to ensure maximum protection. VPNs like FastestVPN offers malware protection feature that ultimately protects your devices from malicious content.
Our VPN detects malware and informs you about it so that you will not direct on malicious webpages, applications or websites unintentionally.
How to Download and Install Apps from APKPure
Since Apkpure is not an official app store, therefore installing an app requires a few more steps than Google Play Store, or Apple App Store.
Here's how to install an App from APKPure:
Open the official Apkpure website
Select and download the app you want
The app's apk file will be saved in your default downloader folder
Click on the file and then install it
Next, open up the app and click on the menu icon
Manoeuvre to the software you like under apps and games
Next, tap on the install button to download the app on your device.
Note: If you are downloading for the first time, then don't forget to turn on apps from unknown sources on your device.
FAQs
Is Apkpure only available for Android?
Yes, it is available on Android only. But, it also offers app for iOS section that redireds you to the official Apple App Store.
Is Apkpure legit?
Apkpure is a legit platform for downloading applications, but it is an unofficial website, and it might contain malicious apps that may infect your device.
What is APK ?
APK is an Android file format required for installing software on Android system. APK refers to the Android Package.
Is Apkpure a virus?
Apkpure itself is not a virus. However, it might have apps that contain virus and can be installed on your device upon downloading. It is because Apkpure is not a secure platform for installing apps on your device. It is better to download apps from trusted app stores like Apple App Store and Google Play Store.
Is APK download legal?
It is absolutely legal to download applications from Apk files. However, installing pirated and restricted software is not legal.
Does Apkpure have cracked applications?
Apkpure have cracked apps. These apps might be changed, or modified by removing certain features. Most of Apkpure apps are modified by removing copy protection feature that allows an app to be sent without valid authorization.
Conclusion
The answer to your question, is Apkpure safe has been answered finally. Apkpure is not as safe as Google Play Store. It is advised to always use authentic sources for downloading applications on your device. However, if you use Apkpure then ensure the following security measures mentioned in this guide.
Take Control of Your Privacy Today!
Unblock websites, access streaming platforms, and bypass ISP monitoring.
Get FastestVPN