What is Real Debrid – How to Install Real Debrid on Kodi
What is Real Debrid – How to Install Real Debrid on Kodi
By Johan Curtis No Comments 5 minutes
We have all been at the point when we tried to download something off file sharing websites but it just wouldn't keep up with your internet connection. It's because the good file hosting websites limit the bandwidth offered to their free users, and in order to enjoy full speeds, you need to pay for the premium subscription.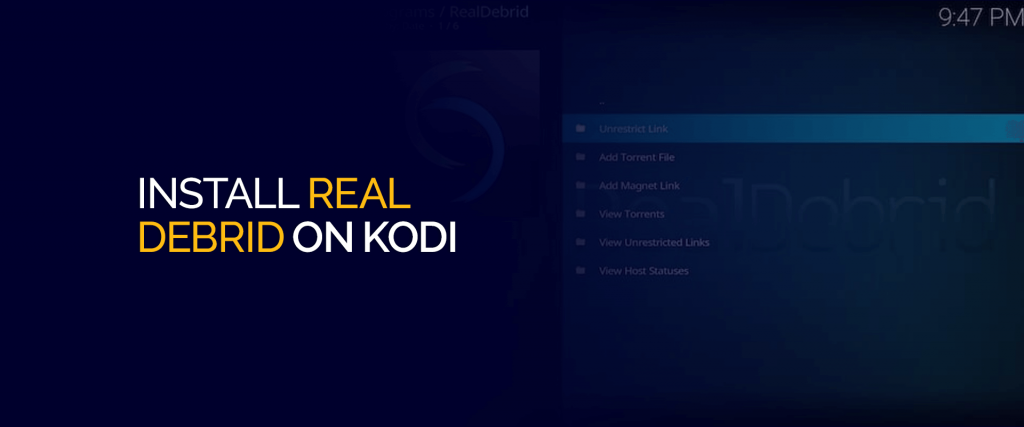 It's quite a limiting experience, especially when you are streaming off Kodi. Since Kodi relies on add-ons and those add-ons rely on sources that are available to stream, it's often frustrating due to slow buffering and lack of HD quality sources. Real Debrid is designed to take care of the problem.
Continue reading to learn about Real Debrid in a bit more detail, and how you can install Real Debrid on Kodi.
Real Debrid Explained
Real Debrid is described as an "unrestricted downloader" by its creators. It's not actually a speed booster, it just allows you access to premium hosts such as Rapidgator. So, effectively, what you get is an unrestricted experience.
But it is not free. Real Debrid operates its own servers that host the links, and through which you download/stream content.
Real Debrid Pricing
The service requires you to sign-up in order to use the inventory of dozens of premium hosting links. Real Debrid offers four packages, here they are:
15 days – 3 EUR
30 days – 4 EUR
90 days – 9 EUR
180 days – 16 EUR
All packages come with the following features:
Up to 1000Mbps download speed
Streaming via HTML5
No advertisements
No queuing
Simultaneous downloads
Unlimited traffic
Supports download accelerators such as Internet Download Manager
AES secure downloads
Plugins for Chrome, Firefox, and Jdownloader
DLC, RSDF, and CCF decrypter
How Does Real Debrid Work on Kodi?
Kodi is a media streaming application that gives you access to content through add-ons. These add-ons are basically apps, and there are hundreds of them. Kodi comes preinstalled with a couple of them – officially – but an overwhelming majority is available as third-party add-ons.
Third-party add-ons such as Covenant allow users to stream movies and TV shows. The add-ons collect sources from the internet for you. Some add-ons give you the option to select from a list of sources, others just pick the best one for you.
Adding Real Debrid to add-ons that support it opens up the door to sources that would otherwise not be available to you. This also includes the opportunity to stream through high-definition sources.
Next, we'll show you how to install some popular Kodi add-ons and how to install Real Debrid on Kodi.
Install Neptune Rising on Kodi
Before we go ahead and get Real Debrid working on Kodi, let us install an add-on first that works with it.
Launch Kodi
Head to Settings > System
Go to Advanced tab, turn on Unknown Sources option is it's disabled (if Advanced is not visible, keep clicking on 'Standard' until it becomes visible)
Return to Settings, go to File Manager > Add Source
Click on <NONE> then enter this URL: http://legionworldtv.com/zips/
Click OK
Return to Settings, now go to Add-ons > Install from Zip File, and pick the zip file you just added
Return to Add-ons, select Install from Repository > Legion World > Video Add-ons > Neptune Rising
Hit Install and confirm OK to install all dependencies
Once installed, Neptune Rising will be available through Add-ons tab at the home screen
Install Real Debrid on Kodi
With a supported add-on installed, it's time to get Real Debrid working on Kodi.
Launch Kodi
Go to Settings > System
On the left panel, click on Advanced. If it is not visible then click on Standard until it changes to Advanced
Go to Add-ons, click on Manage Dependencies, find URLResolver from the list, and click on it
Click on Configure
Select Universal Resolvers, click on Priority, set it to 90
From the same Universal Resolvers menu, click on Authorize My Account
You will have an authentication code in front of you. Now you have to open https://real-debrid.com/device in a web browser and enter the code. You will see "Application allowed" confirmation on successful authentication.
That's it. The next time you use a supported add-on such as Neptune Rising, you'll see some new links for your movies and TV shows.
Why Should You Use VPN for Kodi
Kodi has hundreds of add-ons that let you stream content. The problem arises when you use add-ons that stream copyrighted content. The DMCA, in particular, actively works to prevent copyright infringement. Your ISP is also monitoring for such activities.
Using Real Debrib gives you access to premium hosts that provide high-quality streaming but it does not guarantee that you'll remain protected and away from copyright infringement.
VPN stops ISP intervention by masking your identity with a virtual IP address, the VPN server assumes responsibility for routing your internet traffic. Hence, your activities remain hidden from the ISP and third-parties. Not only does VPN protects your identity, but it also secures your internet connection as well. FastestVPN utilizes AES 256-bit encryption for the toughest encryption possible for transmitting data over the network.
Because VPN allows you to spoof your virtual location, it can be used to bypass geo-restricted or access blocked content on the web. There is every reason to use a VPN for Kodi.
Conclusion – Real Debrid on Kodi
With all that said, the question you need to ask yourself is how badly you want high-quality sources for watching movies and TV shows. For many, the SD quality and some HD 720p sources will suffice, but enthusiasts are unlikely to settle for anything less than HD 1080p.
Regardless of which route you take, a VPN is recommended. As we've explained, Kodi's third-party add-ons rely on free sources available on the internet, so it's entirely possible that those sources don't have the authority to offer the content up for streaming.
Take Control of Your Privacy Today!
Unblock websites, access streaming platforms, and bypass ISP monitoring.
Get FastestVPN