Install Mobdro APK on FireStick & Android Devices
Install Mobdro APK on FireStick & Android Devices
By Nancy William 4 Comments 9 minutes
Mobdro is a digital app designed specifically for an endless entertainment experience. It features one of the biggest live stream libraries available via an app. Mobdro TV features live TV links spanning categories like Movies, TV shows.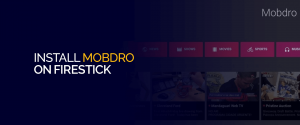 Movies enthusiasts are always on the lookout for the best app that delivers free and high-quality content. Mobdro TV delivers on those two fronts by fetching live streaming links from all over the internet. It's incredibly convenient than to search the internet yourself. With Mobdro TV, You get to watch the live stream in high-definition without looking it up.
It's a one-stop destination for your IPTV needs. Wondering how to install Mobdro on FireStick? Read on as we explain it to you.
What is Mobdro?
Mobdro is one of the best live TV streaming apps with high quality streams. It lets you look up your favorite movies/shows and finds the best live stream available on the internet.
The app is available on Android only due to the fact that it's distributed only through the Mobdro download website. It requires you to manually install the app using Mobdro APK download file, also known as side-loading.
The even better thing about Mobdro on FireStick is that it's regularly updated. All reported bugs and issues get addressed in due time. Unlike other apps and websites that may get abandoned eventually due to copyright, Mobdro continues to live on.
How does Mobdro TV Work?
Mobdro TV itself doesn't host content. Instead, it fetches live streaming links from third-party websites. Once you search for a movie, TV show, or a live event, Mobdro TV will look for free streams of the event and hand it on a platter to you. Get access to hundreds of live TV channels from all over the world without the exhausting exercise of searching yourself.
How to install Mobdro APK on Firestick and Android
Mobdro is not available anywhere else except the official website. The download will be in APK form that you'll need to sideload on your Android device. Luckily for you, that Fire Stick is built on Android OS, but you will first need to enable the apps from unknown sources. With just a few short steps, we can get Mobdro up and running on Fire Stick or any other Fire TV device. Let's get started:
Step 1 – Enable Apps from unknown sources
Open your Firestick and select the "Settings" option, click on "My Fire TV" or "My Fire Device."
Click on "Developer options" and then enable "Apps from Unknown Sources."
When prompted with a message, click on "Turn On."
Now, you'll need to download the Mobdro APK file.
Step 2 – Download the Mobdro APK
To download the Mobdro APK, you'll first need to download the "Downloader" app from either the Amazon App Store, or the Google Play Store.
Download and install the downloader app and launch it on your device.
Click on "Allow" > "OK"  choose the browser, and then search tab, and then enter the Mobdro URL.
Click on "Go" and then on download.
Step 3 – Install Mobdro on Firestick
Go to the downloader app and click the "Home" button.
Key in the Mobdro URL ly/mdroapk, download the app and click the install button.
Next, click on "Done."
Go to the Downloader file and click on the "Mobdro" app. Then select the "menu" tab, and click "Delete."
We deleted the APK file to create space, especially since you now have the Mobdro app downloaded and installed. The process is complete, and you can enjoy the streaming services on the Mobdro app.
Install Mobdro on Firestick via ES File Explorer
Launch your Fire TV, go to "Settings" then "System" and then on "Developer Options."
Enable the "Apps from Unknown Sources."
From the home screen, go to "Search" and type in "ES Explorer."
Download and install it.
Launch the ES Explorer app.
From the ES Explorer menu, go to "Tools," then "Download Manager" which is found on the left-hand menu.
Click on "+ New"
In the "Path" field, type https://www.mobdro.to/mobdro.apk  and click on "Ok."
For the "Name" field, enter in "Mobdro."
Click on "Download Now."
The file should now begin to download.
When complete, click on "Open file" to install it on your Amazon Firestick.
Go back to your Fire TV home screen and launch the Mobdro app.
Just in case you need visual instruction on how to download and install Mobdro on Firestick, here's a youtube video you can refer to.
Is Mobdro Legal?
In short, no. While Mobdro TV collects free streams from the internet, they itself might be in violation of copyrights. Because Mobdro TV doesn't hold rights to stream the content, you will be penalized for streaming such content.
Copyright laws may differ from country to country, but it's a unanimous law that streaming content without the explicit permission of the owner or without owning rights to the content will lead to penalty – or jail time in severe violations.
It's well known that apps and websites like Mobdro that offer free online streaming are under several copyright violations. It's highly recommended that you always use VPN (Virtual Private Network) with Mobdro on Fire Stick to prevent ISP monitoring. It masks your identity on the internet and also unblocks geo-restricted streams. FastestVPN not only protects your identity, its AES 256-bit encryption secures your internet traffic.
Safely Stream Free Live TV Channels Online with Mobdro on Fire Stick
Like we said up there, VPN is a must. Not only does it protect your identity online and against ISP intrusion but it also unblocks Mobdro TV streams that would otherwise not play in your region.
VPN assumes the responsibility of your internet requests. It grants you a private IP address by connecting you to one of its servers. And because your ISP server is not forwarding internet requests, it cannot understand your identity while you use that private IP address.
FastestVPN is built on the cutting-edge of VPN technology. It not only protects you from the ISP but also provides a smooth surfing experience with Ad-blocker and Malware Protection. It's recommended that you use VPN for Mobdro on Fire Stick.
Can I use Mobdro on Kodi?
Yes, Mobdro on Kodi works. There's an app which you can easily install. It offers the same range of functionality as the one for Fire Stick.
What is Firestick?
Amazon Fire Stick is a digital streaming device primed to deliver the best entertainment right to your television. It transforms your display into a smart machine, enabling it to run digital apps. Even though many TVs sold today are Smart TVs, there are many that aren't fully smart or lack the trait entirely.
Fire Stick is the size of an average thumb drive and plugs directly in the HDMI port of your display. Remote control is included in the package, allowing you to lay back and relax while you scroll through apps like Netflix, Hulu, YouTube, HBO, and much more.
How to Access Mobdro TV Channels for Free?
You can find the Mobdro in Apps & Channels section. For easy access, you can move it to the Home screen. You can access this section by holding down the Menu button on your remote and selecting Apps from the menu it brings up.
Mobdro will be one of the last apps in the list, you'll have to navigate down using the directional buttons on the remote. It's not very convenient for every time you want to access Mobdro. You can bring the app to the front easily. Let us explain how.
Move Mobdro Firestick Home Screen for Easy Access
Mobdro appears at the bottom of the list in apps. Follow these steps to move it to the front row:
Press and hold the Home button on your Fire Stick remote
Click on Apps from the menu that pops up
Highlight Mobdro by navigating through the directional buttons on the remote
Now press the Menu button and select Move to Front from the menu that pops up
You can also place the app on a specific location by choosing Move instead from the pop-up menu
Bonus: How to Install & Use Mobdro APK Download on Windows with BlueStacks
You may have heard of Bluestacks. It's a popular Android emulator for Windows, which as you'd expect, runs games built for Android on a Windows PC. We can use the same emulator to run Mobdro on Windows.
Bluestacks features Google Play Store right through its client. Here's how to install and run Mobdro on Windows PC with Bluestacks:
Download Bluestacks through its website and wait until the installation has run its course
Launch Bluestack
Type in Mobdro in the Search for Apps and Games field location on the top right corner
Click on Mobdro and let it install
Once done, you'll be able to enjoy free IPTV through Modbro TV on your Windows PC.
Just in case Mobdro is not working
There are rumors of the famous Mobdro third-party streaming service being discontinued. However, if that is the case, there are other Mobdro alternatives that you can use that also make the best Firestick streaming apps today:
Mobdro alternatives 2021
Redbox Free Live TV
Xumo TV
Ola TV
Swift Streamz
Enjoy Free Live TV Channels on Mobdro TV
There are many apps and websites that claim to offer the best live streaming experience. Having tried nearly all of them, I can safely say that Mobdro TV offers a really good experience.
The categories cover everything from Movies, TV, Documentaries, Kids Movies, and more. You'll be able to access live TV channels from around the world. But you should definitely use FastestVPN with Mobdro TV to avoid running into geo-restriction issues.
It's worth noting again that Mobdro APK download is only available for Android devices. Fire Stick is built on Android OS, that's why we can easily side-load the Mobdro APK download file onto the device. iOS users will have to stick to alternatives. One of the best things about Mobdro is that the developers continue to update and add more features to the app.
With the steps outlined in this guide, you can install Mobdro on FireStick as well as other Fire TV products.
Take Control of Your Privacy Today!
Unblock websites, access streaming platforms, and bypass ISP monitoring.
Get FastestVPN