Instagram Phishing
By Nick Anderson No Comments 5 minutes
Phishing is a serious concern; it lures unsuspecting users to malicious links with the purpose of hijacking credentials or other types of data. Social media users are a frequent target of phishing attempts. As a leading social media platform with more than a billion active users worldwide, Instagram is one of the biggest targets for hackers. If you are an Instagram user or use any social media platform, there is a dire need for you to learn how to prevent phishing on Instagram.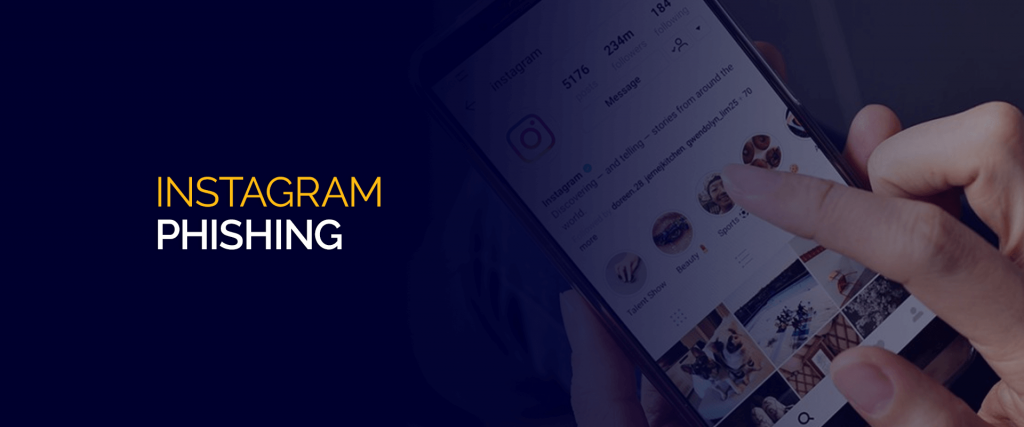 A Brief Explanation on Phishing
Phishing is a fraudulent technique of luring a user to reveal personal information. Hackers use phishing to target users to steal sensitive information such as credentials to hijack accounts. Since Phishing is just an attempt to trick a user by creating a false scenario to catch your attention, it can be used for any number of purposes. Phishing is behind many malicious attacks, whether it's for stealing credentials or making a user act on something.
A quick example is how malicious actors send fake emails to users, alerting them that their account has been suspended or has seen unusual activity and needs urgent attention. The sense of urgency makes the user bypass suspicion and click on a malicious link that takes the user to a login page to reset the password. The fake login page looks real but is actually a trap. Once the user enters the credentials, the hacker obtains them and can access the user's account.
Tips on How to Prevent Instagram Phishing
The first towards preventing phishing is to identify phishing. It is easy to fall prey to hackers when something is very important, such as a bank account. But take a step back and evaluate the message before clicking on or downloading anything. Ask yourself the important questions:
Is the email address of the sender legit?
Does the email contain grammatical or spelling mistakes?
Is the URL in the email taking you to a different domain?
Is the email asking you to download a file to view the rest of the message?
These are some of the questions you should ask before taking any action.
Hackers can access your Instagram account by sending you emails regarding your account. It could be a password reset link or an alert about an unauthorized login. The hacker will ask you to immediately change your password by clicking on the link provided. It will be a phishing web page designed to look like Instagram's password reset page.
Most phishing pages go only as far as making the login fieldwork; the rest of the page will have dummy menus.
Emails aren't the only way hackers can access your account; they may target you with malware. Instagram DMs are a way for people to interact with each other. If you receive a link from a stranger, don't click on it, especially obfuscated links. Make your Instagram account private or set it to receive DMs only from followers and block DMs from other people.
Lastly, choose a password that is unique to your Instagram account. It is one of the best security practices that helps towards preventing unauthorized logins. Unfortunately, many people pick one password, usually a simple one, and reuse it across multiple accounts. It allows hackers to carry out what's called credential stuffing. If credentials are compromised, hackers will use those credentials on other accounts, hoping they will match.
Enable Two-Factor Authentication
If you are not using Two-Factor Authentication (2FA), you are missing out on a huge security feature that can prevent unauthorized logins. Two-factor authentication adds a second authentication method to verify that it's you. It could be a one-time passcode (OTP) sent to your registered device, an authenticator app, or biometric verification.
The principles of two-factor authentication state that the second method will be based on something that you own or something that you possess naturally.
What to Do if Instagram Account is Hacked?
The first thing a hacker will do is change the password if it gains access to your account. The second step will be to change the email address to prevent password reset requests from reaching you. Once the hacker has changed the two settings, there will be no way for you to log back in.
Usually, hackers overlook changing the email address, so you might be able to regain access to the account by requesting a password reset. However, once you are certain that you are locked out, reach out to Instagram and explain the situation.
Instagram has a section dedicated to hacked accounts and what you should do if you lose access to an Instagram account.
Conclusion
While this blog covers how to prevent Instagram phishing, it can be applied to all social media accounts. Two-factor authentication is one of the best security practices that will significantly bolster your account's security against hacking attempts. If remembering complex passwords is difficult, choose from the best password managers to store your credentials in a safe vault.
For a limited time, FastestVPN is offering PassHulk's password manager and Internnxt's cloud storage at no additional cost when you subscribe to a VPN plan.

Take Control of Your Privacy Today!
Unblock websites, access streaming platforms, and bypass ISP monitoring.
Get FastestVPN