10 Steps to Improve Security on Your Android Phone
10 Steps to Improve Security on Your Android Phone
By Johan Curtis No Comments 8 minutes
With technology on the rise and the digital era emerging stronger than ever, each day we become more and more reliant on our phones.
Mobile phones have now replaced many things such as alarm clocks, notebooks, televisions, and the list goes on. If you're living in the 21st century, you are bound to own a cell phone; a smartphone, to be exact.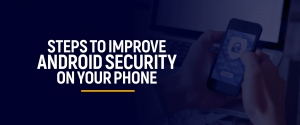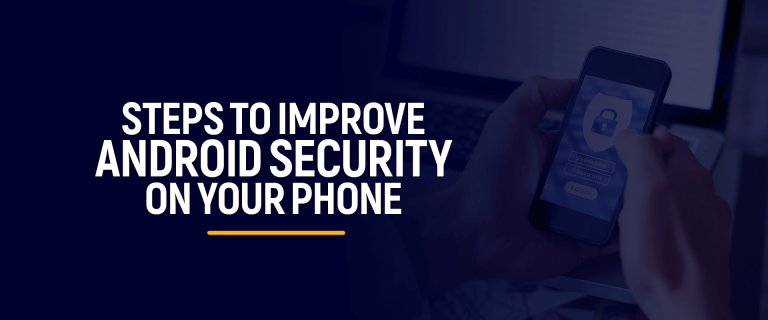 Android phones are extremely popular among the public and are widely trusted. Relying on a phone to keep your data confidential comes with the responsibility of improving android security on your phone yourself.
Almost every day, a new user purchases a phone and begins storing pretty much their entire information on it. We've all been there. Most of us use a notes app to store passwords and confidential credentials. We have several apps downloaded that require such sensitive information, and we enter such info without assessing the potential security risks.
The question that we should be asking ourselves is, "is my android phone secure?" and if not, how can it become more secure?
Today, we've found you some ways for you to improve android security on your phone.
Is your Phone Completely Safe?
Much like your desktop, your android device is also highly vulnerable to security breaches. Even though Android developers go to great lengths to try to secure your phones, it does not eradicate the fact that data breaches still happen.
This answers our question that no, your phone is not entirely safe and secure even with basic security activated.
How can your Phone be compromised?
There are several threats to your Android device; a few of the very common and recurring type of which is unprotected Wi-Fi. When you connect to a public network, you're exposing your data to hackers.
Similarly, malicious software is a major threat to phones. The most common way of downloading malicious on one's phone is usually done through phishing or untrusted applications. You download an app that looks interesting. Once you launch it, it is most likely to add some sort of malware onto your phone. Or you click on a certain link that looks pretty genuine but immediately asks for your credentials or asks you to download a file. Once downloaded and executed, malware gets installed onto your phone.
Moreover, your phone is also susceptible to several kinds of spyware, which could easily give way to any hacker trying to locate you, read your texts, or even access your camera and see what you're doing!
How to Improve Android Security
Better safe than sorry, here are 10 steps on how to improve Android security:
1- Add a Screen Lock
Beginning with the basics, the first thing you should when you acquire a phone is password protect it. Even though fingerprint and facial recognition may sound interesting, the best way to keep your phone protected is the good old passcode.
Android phones present you with three options; a numeric passcode, an alphanumeric passcode, or a pattern. You can opt to choose either one of these options and set up a code. In our opinion, the best is still an alphanumeric passcode, and for added protection, go to security settings and turn off the "Make Passcode Visible" option.
2- Two Factor Authentication
If you're new to this, two-factor authentication is when you try to access a particular account. Before logging you in, it will either send a text or email to the designated person with a special one-time passcode that has to used as your second key before you log in.
It is a very useful feature, and should always be kept on to avoid attempts of hacking. If you need to activate two-factor authentications, here's how you can do it:
Open settings
Head over the Google section of the settings
Tap Google Account
Select Security
Select Two-Step Verification and finish setting up
You're all set.
3- Block the "Unknown Sources" Feature
It is always sensible to block all apps from untrusted sources. They can be a form of malware, which, once installed, will corrupt your phone.
Here's how you can disable downloads from untrusted sources:
Open Settings
Go to security settings
Look for the "unknown sources" option and tap disable
This way you can avoid strange apps
4- Install an Antivirus Application
As we've already established, your phone is quite susceptible to hacking and viruses. It is probably for the best that you download an efficient antivirus program so that you can prevent any attempts of a virus being installed on your phone.
Just visit your PlayStore and download an antivirus application from a well-known application such as Nod32, Avast, etc. these apps offer protection and will keep you safe from any suspicious activity.
5- Install a VPN
While you're at it, we'd suggest that you install a VPN. A VPN is one of the essential applications that you should have on your phone.
We believe that an effective VPN is a must-have. FastestVPN will not only secure your internet browsing, but it will also provide you with guaranteed privacy. It ensures that no one spies on your online activity and enables you to access any restricted content. So make sure to subscribe to FastestVPN, here's how:
Subscribe FastestVPN
Open FastestVPN and get connected to any server of your choice
Open your internet browser and begin browsing.
6- Google Play Protect
This is a built-in security feature on all Android phones. Normally, it should be automatically activated, but you should give it a look just to be sure.
Play Protect will regularly perform thorough scans of your phone and inform you if it detects any sort of suspicious activity or malfunctions in your applications.
You can make sure Google Play Protect is enabled by opening your security settings and selecting "Google Play Protect" then making sure that it is activated by clicking on all the toggles.
7- Find My Device
This is a very useful tool in case of emergencies. It is a built-in feature in Android phones. It can be used to locate misplaced mobiles, lock, or even erase the entire data on a certain mobile phone.
Similar to Google Protect, this should be enabled automatically. However, to double-check, visit security settings, tap the "Find My Phone" option and check whether or not it is activated.
If you ever need to track your device, just visit android.com/find and track your phone. All you have to do is have access to your Google account to track down the last known location of your phone.
8- Smart Lock
The invention of Smart Lock has made security easier for us, by introducing this feature, Android has made accessing your phone a lot more convenient. Basically, with Smart Lock, now you can keep your phone unlocked in trusted places.
For example, when you're at home, you can choose to keep your phone unlocked so that you don't have to keep unlocking it or when you're connected to a trusted Bluetooth device such as while playing music in your car.
We suggest that you don't keep your phone unlocked for too long as it could be risky if left unattended. However, if you wish to activate Smart Lock you can do so by visiting security settings and tap screen lock to open more options.
9- Lockdown Mode
With the new software updates, Android came out with a new feature known as the lockdown mode. As the name suggests, lockdown mode means to put your phone in lockdown such that no one will be able to access it until and unless they manually enter a passcode of your choice.
It is great for emergencies, such that if you are ever in trouble and being blackmailed into opening your phone, you could activate lockdown mode. That way, the only option to unlock your device is through manually entering a password.
You can easily bring the lockdown option to display by:
Go to the security setting
Select lock screen preferences
Press "Show lockdown option" and activate
If you ever need to go into lockdown mode, just hold your power button for a little longer than usual, along with the restart option a lockdown option will also appear. By clicking lockdown, you will enter lockdown mode, restricting anyone from accessing your phone through unlawful means.
10- SIM Card Lock
By activating a SIM card lock, you can prevent people from stealing any information stored on your SIM card, such as contacts. In this method, before starting your phone, you will be required to enter a SIM pin for your SIM to function.
Just go to your settings and choose "Select SIM card lock" and lock your SIM manually by entering a secret pin code.
Conclusion
The steps above will help you improve and maintain Android security on your phone. A note that we should all make is that no matter how trusted the developer, there are a few security measures that we should all take individually.
Don't forget to keep our solutions in mind when enhancing your security settings and make sure to subscribe to FastestVPN to ensure safe and secure internet browsing!
Take Control of Your Privacy Today!
Unblock websites, access streaming platforms, and bypass ISP monitoring.
Get FastestVPN