How to Identify a Tinder Bot
How to Identify a Tinder Bot
By Nick Anderson No Comments 5 minutes
Tinder is the leading online dating platform with more than 6 million users worldwide. As of 2021, it has reached a whopping 55 billion matches. The growth has been driven by the current situation where social distance is mandatory in the wake of the COVID-19 pandemic. When social places like restaurants, bars, and parks are observing a lockdown, platforms like Tinder are allowing people to stay in touch.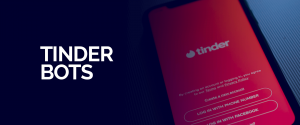 As with any active social platform, there is potential to become a target of cybercriminals. Online scams are nothing new, but dating scams are more likely to succeed because they prey on emotions. Tinder bots prey on unsuspecting victims by matching with them to carry out malicious activity.
How Does Tinder Work?
The idea of Tinder is to get people to match who have similar interests and look attractive to each other. Once you have signed up, getting started is easy. Your profile includes a short biography, photos of yourself, occupation, age, location, and sexual preference. Tinder will look for profiles in your region, giving you a choice to swipe left to skip or swipe right to like.
Similarly, the opposite gender will casually come across your profile while doing the same, and if you both like each other, it will be a match.
Over the years, Tinder has also capitalized on its popularity and people's willingness to learn who have secretly liked them by offering a Gold subscription. The Gold membership lets you see who has liked you so that you can quickly like back instead of waiting to come across that profile in your swiping session.
What is a Tinder Bot?
A Tinder bot looks similar to your profile. It has convincing photos and information to draw your attention and ultimately match with you. But, there is no active person behind that persona.
A bot is an automated program that carries out instructions for which it was built. Bots help automate tasks that would otherwise take very long to manually. In the case of Tinder, a bot can be programmed to swipe right on profiles automatically when they meet some conditions. A data scientist named Jeffery Li set out to do it when he created the first Tinder bot.
Li used data from Google for his dataset to train the model to predict his likes correctly. The bot named DATE-A-MINER learned from Li's interests and went to work.
The code is available on GitHub for anyone to use and modify accordingly. While Li's intention was born out of laziness, cybercriminals use such bots to lure people for malicious activities.
How Do You Spot a Tinder Bot?
Bots may appear as legit profiles, but here are some ways to test if your new match is a bot.
The person wants you to switch to another app
Soon after the first pleasantries have been exchanged, the bot will suggest that you take the conversation to another app, WeChat, for example. The person will try to make some excuses such as that it will be easier to exchange photos.
Sending links to other apps or websites is another surefire way to spot a bot. Once you match, the person will send you a link asking you to visit the link for photos or videos. The link will redirect you to malicious domains where the cybercriminal can do a number of things to get a hold of your personal information, like signing you up for an account to unlock access to photos and videos.
Bots have limited responses. They are trained on limited data and cannot operate normally in an unpredictable environment. Instead of asking typical questions, "Hi, how are you" try asking it questions that only you can understand. For example, say anything random like "what if the moon was blue instead of white?" and notice the response. A bot will be unable to answer that question.
However, the puzzled look on your match's face will at least confirm that everything is normal.
Nobody likes late replies, but when replies are instant on Tinder, there is something wrong. Bots can instantly send a reply that otherwise takes a human a couple of seconds.
Tinder allows users to link their Facebook, Instagram, and Spotify accounts. It allows visitors on your profile to check you out on social media platforms or your taste in music before swiping right.
Usually, bots don't have social media profiles linked to Tinder profile, which could serve as another sign. You try looking up the person on social media to confirm your suspicion.
Bots will use photos of other people to build a profile. You can confirm this by doing a reverse Google Image search. A little-known fact is that Google also lets you search through images. To do a reverse Google Image search, simply go to Google Images, and upload a picture.
Use the photos in the profile and run the search for any matches.
Reporting a Tinder Profile
Tinder allows you to report a profile if you find something offensive or it's impersonating someone. The option is visible when you expand a profile to see the biography and social links. Tap on Report and select Fake Profile once you have confirmed the person is a bot.
Conclusion
Knowing what a Tinder bot is a step towards protecting yourself from potential scams. The malicious links that bots distributed may contain malware that can damage personal information or your device.

Take Control of Your Privacy Today!
Unblock websites, access streaming platforms, and bypass ISP monitoring.
Get FastestVPN