How to Unblock TextNow Securely with a VPN Globally in 2024
How to Unblock TextNow Securely with a VPN Globally in 2024
By Nancy William No Comments 7 minutes
Are you wondering how to digitally secure your devices? In a world where digital tools and online activities are on the verge, security is also a concern. In apps like VoIP (Voice over Internet Protocol) like TextNow privacy is also a concern because of the factors attached to it. Such apps are prone to leak private information to public parties. Considering these risk factors, it's crucial to use security software with it. Other than that, there are many countries that block access to TextNow. Keeping both in mind, a VPN can help you unblock TextNow and keep your connection secure.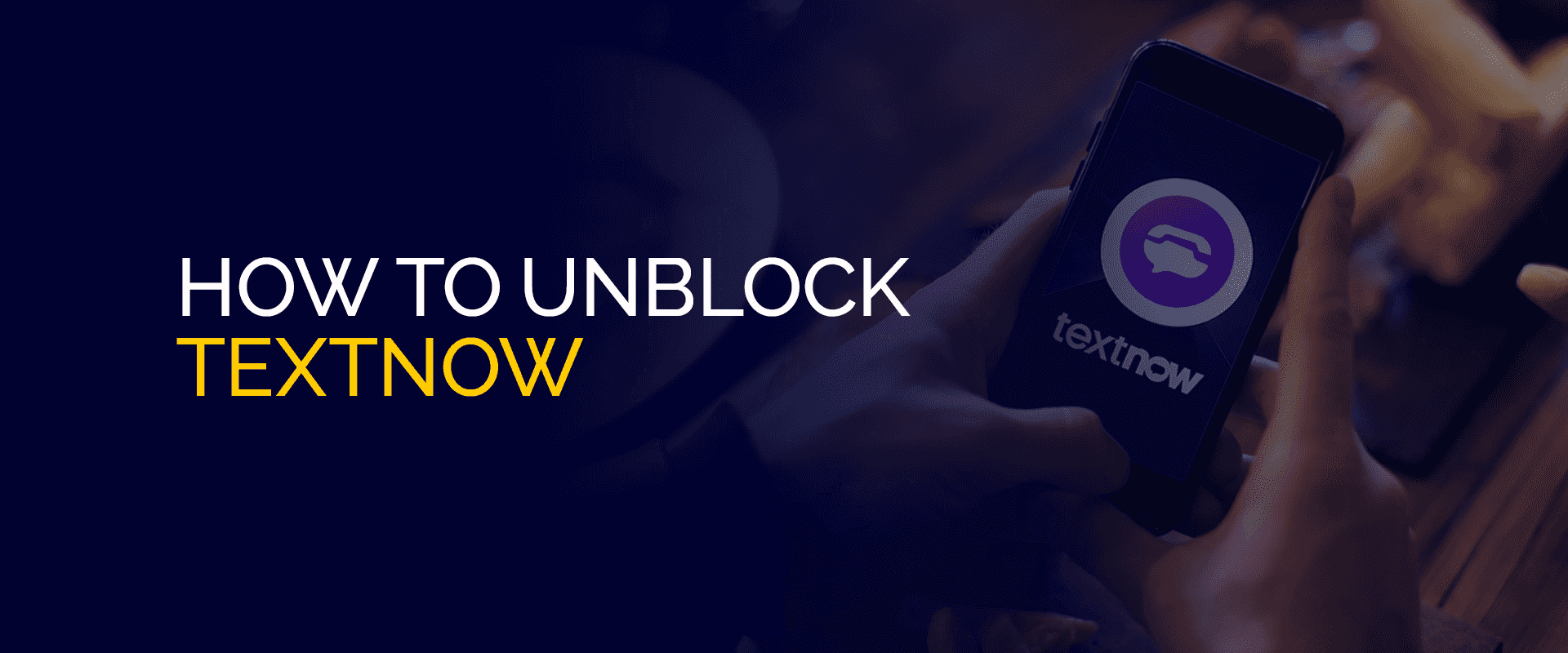 An Overview of TextNow
TextNow is a free-to-use app, which is a cloud-based mobile virtual network operator. The app allows one to make calls or send messages through a Wi-Fi connection across North America, and some other countries. It is an excellent source of information for anyone who uses communication services between the firms.
Being an important app, it comes with some lacking features such as its unavailability in some countries. However, if you are outside the geographical area of TextNow, a VPN can do the unblocking job. It is by far the simplest, and most sound solution to use TextNow.
In this article, we are going to discuss how you can make the best use of a VPN to access TextNow from any part of the world.
| | |
| --- | --- |
| Devices | Countries |
| iOS and Android | US, Canada, UAE, Australia, Bahamas, Hong Kong, Israel, Kuwait, Mexico, Netherlands, New Zealand, Singapore, South Africa, Taiwan |
| iOS only | South Korea, Montserrat, India, Grenada, Dominica, Cayman Islands, British Virgin Islands, Brazil, Bermuda, Barbados, Anguilla |
| Android only | Switzerland, Japan, Aruba |
Why do You Need a VPN for TextNow
It is evident that TextNow is inaccessible in many regions and only available in 28 places, while it is a very useful app. The app has also been blocked in schools and institutions which creates a hassle in between. These are the basic reasons that account for the reason to use a VPN for TextNow. Moreover, security is also another reason why integrating a VPN is important.
Also, by altering your location through a VPN you can add an extra layer of security to protect your TextNow chats and calls. It is important because personal chats and other information are exposed as a VoIP service, however, a VPN helps here. Even if you are within the region where TextNow is available, a VPN saves you from intrusive ads and attacks. You are freer to roam around and use the app with safety.
Furthermore, a VPN is a significant tool that allows you to unblock TextNow and use it from locations outside the USA. The app only works in some of the areas around the world. Well, a VPN helps in masking IP addresses with multiple server connections. So, whether you want to be safe from ISP throttling bandwidth or change the location, a VPN is at your service.
Does A VPN Make You Fully Anonymous?
A VPN has an extensive capability to keep you anonymous. Without a VPN your internet connection is fully exposed and every party involved can have a great look at every detail available. However, a VPN safeguards everything and keeps it encrypted by its strong protocols.
How does a VPN Work?
When you connect to a VPN either through a device or a network, an encrypted tunnel, or a public Wi-Fi. The VPN tunnel encrypts online activity and hides the IP address. The encrypts replace the IP address of the private server the user is connected to. The majority of the VPNs use AES-245 bit encryption which has been set as a standard in the VPN industry. Moreover, the VPN also uses internet protocols to keep the data safe in a vault. In any case, if a VPN is disconnected the Internet Kill Switch shuts down the entire connection, and diverts web traffic.
A VPN Buying Guide
So, when you begin to get your hands on a VPN, these are some factors that need to be prioritized,
Geo-bypassing
A VPN has to be comprehensive in its functions, so it is able to bypass all kinds of geolocation barriers. By breaking geo-location barriers, a VPN gets connected to TextNow and users can access the app from any part of the world. A VPN service needs to have its servers in major parts of the world.
Robust Security
The nobility of a VPN is judged on the basis of its security, what features it holds under its name, and how efficient they are. Some basic security features are what add value to the VPN.
Top Fast Connectivity
Someone who is looking to use TextNow requires an ultra-fast speed. A VPN has to be consistent in its speed, so no one has to face any kind of interruptions. TextNow requires a consistent connection so the users can make calls, and send messages from the get-go.
Customer Support
Customers can have any query at any time, and what needs to be served to them the best is customer support. A VPN provider should be able to tackle technical issues and queries.
DNS Testing and WebRTC Testing
Every VPN needs to fulfill these requirements to be added as a source of privacy. Among the storm of names available online, some ticks right at the list.
What Features Make FastestVPN the Best to Unblock TextNow
Since the journey has begun on using a VPN to use the TextNow app, it is also necessary to come up with a consistent, and reliable name by all means. An emerging name in the market, which is applauded for its services is FastestVPN. It marks all the points required in a VPN whether its features, customer support, protocols, pricing, or connectivity.
Here are some features that mark FastestVPN as the best for TextNow,
1. Military Grade Encryption
You will come across many VPN services claiming to offer military-grade encryption. However, most of them fail to do so. Unlike others, FastestVPN has a strong capability and provides its users with military-grade encryption. It is completely legitimate with robust technology. The FastestVPN protects data between the receiver and the sender with its 256-bit AES encryption. It is also verified by most of the security professionals around the world.
2. Multiple Device Connectivity
FastestVPN has incredible features, and now they also have upgraded their VPN to multiple device connection. You can connect the VPN to a mobile, computer, or any compatible device at once.
3. Global Server Network to Unblock TextNow
Servers are the most important part of any VPN. FastestVPN has a large server network that is spread around 95 countries with 60+ servers.
4. Security
FastestVPN intelligently keeps everything under a layer, keeping it away from the internet service provider, so that users can stroll around freely and privately. It is also a great level of security feature for TextNow users.
5. Ad Blocker
FastestVPN has an actively integrated ad-blocker that keeps away any kind of interruption, and pop-up ads.
6. NAT Firewall
The NAT Firewall keeps all kinds of unnecessary traffic away and provides intense security.
7. Interactive Interface
FastestVPN has a clean and fresh website interface that is designed while keeping user intent a priority.
How to Use FastestVPN to Unblock TextNow
Mobile phones are the priority when it comes to using an app like TextNow. However, FastestVPN can be connected to multiple devices at once.
Subscribe to FastestVPN
Launch the FastestVPN, and log in after signing up
Connect to the TextNow app, and change the server location to where it is available.
Install the TextNow app from the store
Now, text and call without any restrictions.
FAQs
What is TextNow?
TextNow is an app used to communicate through text and calls for businesses and individuals.
Are there alternatives for TextNow?
Users can also use Google Voice, TextMe, and TextPlus.
How much does TextNow cost?
TextNow is a free-to-use app supported by ads. Also, they offer a paid version of the app.
Is TextNow legal?
TextNow is created according to the local rules and regulations of the available geographical location. It is a completely legal app, used by millions.
Can I use a Proxy to unblock TextNow?
Some of the proxy servers promise to connect to the TextNow app, however, they do not. So, if you plan to connect to the app through a secure connection, get a VPN service.
Some Closing Lines
FastestVPN is the finest name in the line of VPNs to unblock TextNow globally. As it is restricted and comes with its challenges. However, it takes just a subscription to FastestVPN to break all kinds of hurdles. Install FastestVPN and connect to any device you want. It is compatible with all devices. So, whether you want to connect to an Android phone or OS.
Take Control of Your Privacy Today! Unblock websites, access streaming platforms, and bypass ISP monitoring.
Get FastestVPN