How to Setup VPN on Apple TV
How to Setup VPN on Apple TV
By admin No Comments 7 minutes
Increase possibilities and expand horizons of your Apple TV device with a VPN. Just setup VPN on Apple TV and never face location blocks again. Say goodbye to censorships and get rid of slow streaming due to ISP throttling or more.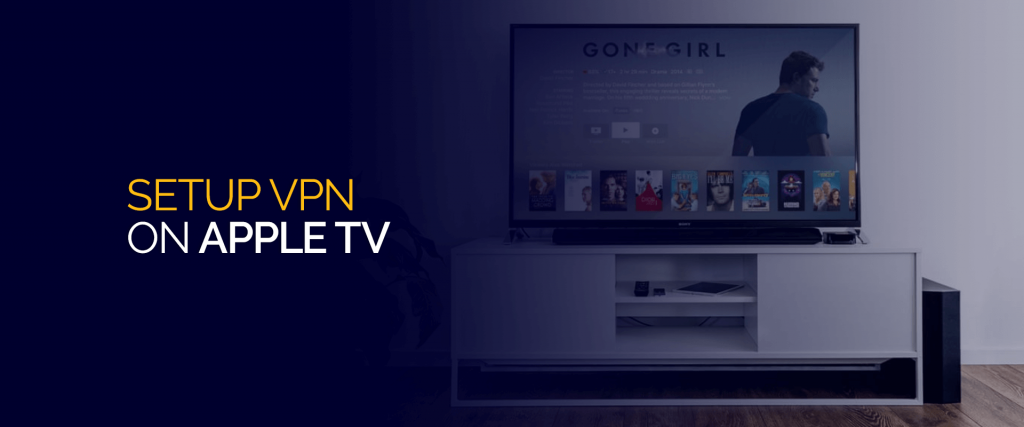 The setup process of FastestVPN on Apple TV is just a matter of a few clicks. Below is a comprehensive blog explaining how?
Why would I use a VPN on Apple TV?
Before diving into how to setup a VPN on Apple TV, let's first jot down WHY you need a VPN. As we all know, the primary purpose of a VPN is to provide security and anonymity. It not only does that but serves more in case of Apple TV and other streaming devices. Setting up FastestVPN on your Apple TV means getting access to geo-restricted video content from all over the world.
Like most leading VPN service providers, FastestVPN gives specific servers to get around video content or website blocks.
The reasons don't stop here. Whatever your reasons are, read on to setup fastest VPN on Apple TV easily without any trouble.
---
Connect Apple TV to a Wireless Router Running a VPN
To connect Apple TV with a router, the following are simple steps to set it up:
Make sure you have a VPN compatible router
Configure FastestVPN on a router
While configuring, choose the server location to unblock the content you want to watch
Connect Apple TV with VPN-enabled router
---

---
Connect Apple TV to a Laptop Running VPN & Acting as a Wi-Fi
This is a simple task for which all you need to do is the following:
Get a laptop with LAN or Ethernet connection
Subscribe to FastestVPN account
Get FastestVPN app for your laptop (Mac or Windows)
Enter username and password and have the app running on your laptop
Choose the US server and connect to it
Once connected, convert your laptop into a Wi-Fi hotspot
Connect your Apple TV to your Wi-Fi hotspot and you're sorted.
---
Setup VPN on Apple TV via Network Sharing Using Ethernet
For this to work, you need a computer to work as a VPN router. To start with the configuration, you first need to download FastestVPN app on your device. Your laptop will already be connected to the Wi-Fi network so now you just need to attach one end of LAN cable into your laptop with the other end in the Apple TV. Now connect to FastestVPN using the IP of your choice. Next, follow the steps below:
For Windows Users:
Go to "Control Panel" and click on "Network and Sharing Center"
Click on Change Adapter Settings
Go to Connection properties
Under the sharing tab, click on "Allow other Network users to connect through this computer connection"
This will enable your Apple TV device to connect to the internet via your computer with a LAN cable using the already running FastestVPN connection on the computer
For Mac OSX Users:
Go to "System Preferences"
Select "Sharing Option"
Go to "Internet Sharing"
From there go to "Share Your Connection from" select "Airport" mode
Now, go to "To computer using"
Select "Ethernet" so that your Apple TV device can use internet through your Mac device's LAN port
Switch your Apple TV on to take full advantage of your VPN to watch unlimited hours of unrestricted, online streaming via Apple TV
---

---
Can I use a free VPN for Apple TV?
You can try using a free VPN but it is already advised against using a free VPN for anything, let alone for Apple TV. For starters, a free VPN service is app based. So you cannot set one up on a router manually.
If you search hard enough, you might be able to come across and find configuration files for the OpenVPN server. But even if then you connect to it, it will be congested with free users who are probably using it for the same purpose – streaming video content.
With a free VPN it is quite likely that there are limitations to bandwidth and data caps which means that buffering will take up most of your time and you may also be cut off in the middle of a show.
A free VPN also doesn't let you choose your own protocol or server for that matter, unlike a paid VPN service like FastestVPN which lets you choose the server of your choice to access the content you desire from anywhere in the world.
Other than that, a free VPN service is a feeding ground of many as it collects a user's personal data and then sells that very information to third parties for personal gains.
Some free VPNs also inject tracking cookies or may download malware onto your device.
Just because a VPN is free, doesn't mean they are running for a charitable cause. They are out to make a profit, just as much as a paid VPN, except at the cost of your privacy. Instead of taking subscription money from the user, a free VPN provider makes the profit by two folds by selling your information to the highest bidder that comes their way.
---
VPNs to avoid with Apple TV
HMA
HideMyAss! Is a paid service but even then it has been given quite a few negative remarks in the past. It has said to provide information to authorities when asked, which clearly means it logs data. Other than that, a security vulnerability was also discovered in 2017 that depicted that hackers were allowed access to a user's laptop easily obtaining confidential data and information.
Hola
This is a peer to peer proxy service. The mechanism of this is such that other computers can connect to it when you are not using it. This obviously has serious privacy and security implications. Hola itself has exploited its users in the past – which is an evident abuse of user trust.
Hotspot Shield
The first reason to NOT go for this service is because it is a free VPN. Other reasons include the fact that the company uses shifty data retention and advertising practices. There have been complaints also that Hotspot shield hijacks users' HTTP requests and redirects them to their own affiliate websites. They are now also popularly known for injecting cookies and allowing mine browsing to sell data to third parties, making a profit of their own.
VPN Book
This is another free VPN, which makes it no immediately. VPN Book has an opaque privacy policy and it is not clear who is behind the service. The VPN servers that you will find here are said to be unreliable and not fast at all.
---

---
Kodi on Apple TV
Kodi users will be delighted to find out that Kodi can be now be installed and experienced on Apple TV 2, Apple TV 3 and Apple TV 4.
It is strongly recommended to use a VPN when using Kodi – be it any device – as Kodi is open-source and a reliable VPN (such as FastestVPN) will prevent hackers from carrying out attacks on the Kodi platform. It will also keep away ISP from snooping around or throttle your speed.
---
Conclusion
Arm yourself with FastestVPN and never have to encounter any digital nuisance. Enhance your streaming experience on your Apple TV without cable. Just set up VPN on Apple TV via a router and once connected, enjoy an experience like no other! Access content from the country of your choice on your Apple TV. For any queries, contact FastestVPN's support available 24/7.