How To Redeem Xbox Codes With A VPN
How To Redeem Xbox Codes With A VPN
By Nick Anderson No Comments 5 minutes
Are you an Xbox gamer looking to buy games digitally? You'll need to use a credit card or redeem Xbox codes to top up your digital wallet. This blog will help you understand how to redeem Xbox codes with a VPN.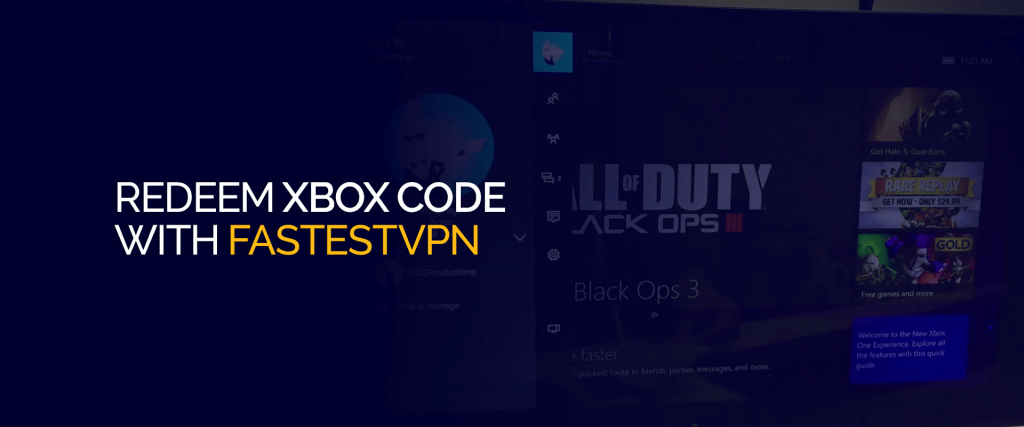 Xbox is one of the leading names in the gaming industry, with millions of active gamers worldwide. The Microsoft Store (formerly Xbox Store) is a digital platform for Xbox consoles to buy games and video content. You can either buy a game on disc or browse through the Microsoft Store and buy it digitally.
Buying games digital provides convenience as the game library rests in the cloud and moves to any new Xbox console.
What Is An Xbox Digital Code?
Microsoft sells Xbox Gift Cards for gamers looking to buy things online, such as games. As an Xbox user, you can either use your credit card or any other supported payment method or buy an Xbox Gift Card that will add funds to your digital wallet.
You may want to use this method to buy Xbox games digitally for multiple reasons. You may be living in a region where Xbox Live is not supported, which will render your credit card incompatible with making purchases online. Or you consider it risky to put your credit card online due to fear of a potential data breach that could expose your financial information.
Whatever the reason, Xbox Gift Cards are one of the go-to methods for buying something from the Microsoft Store.
What Is An Xbox Gift Card Used For?
An Xbox Gift Card adds virtual currency to a digital wallet for making purchases on the Microsoft Store.
You can buy Xbox Gift Cards in various price denominations. Buying cards directly from the Microsoft Store online gives you the flexibility to buy any value you desire. However, physical Xbox gift cards are also available and will be your only option if you want to avoid putting a credit card online. But they are available in limited price values which makes your options limited.
Adding funds in the wallet lets you buy anything from Xbox Live Gold subscription, Game Pass subscription, games, downloadable content, and movies online.
Is Xbox Gift Card Different Than Xbox Live Gold Card?
Both are digital cards, but they are different in what they offer. An Xbox Live Gold prepaid card adds the Xbox Live Gold subscription to your account when you redeem, whereas an Xbox Gift Card is a prepaid card that adds funds to your wallet.
Xbox Live Gold is a premium subscription for playing games online and accessing the Game Pass subscription. You can purchase an Xbox Live Gold subscription after redeeming an Xbox Gift Card, but not the other way around.
How to Redeem Xbox Gift Card Using VPN
Redeeming an Xbox digital code is a straightforward process. Buy any Xbox Gift Card online or physically through a participating retailer like Best Buy, and enter the code online to redeem it.
On the Xbox console, press the Xbox button and go to Store. Navigate to the Redeem section and enter your 25-character code. On PC, open the Xbox app, click on the Settings icon, and go to the Redeem page. You can also go to your Microsoft account and redeem the digital code.
However, Xbox codes are region-locked, meaning that a code bought in one currency or from one region cannot be redeemed in another region. If your Xbox account and console are set to the USA, you can only redeem a digital code in USD.
One of the many benefits of buying digitally is that you can avail yourself of regional pricing. Some regions are cheaper than others. Brazil and Argentina are some regions where Xbox digital codes are cheaper than others.
But you redeem cross-regional Xbox codes using a VPN to mask your virtual location. Here's how to do it:
Download FastestVPN on your device.
Connect to the VPN server that matches your digital code's region.
Open a web browser in incognito/private mode.
Go to redeem.microsoft.com and sign in to your Microsoft account.
Enter the 25-digit code. Redeem the code to add it to your account.
You should now have added the code's value to your account. If it was a Game Pass or Gold subscription, it should now appear in your subscription in your Microsoft account.
How to Redeem Xbox Game Pass Using VPN
Xbox Game Pass is a digital service that can be best described as Netflix for games. It grants you unlimited access to games for a monthly or yearly subscription.
Unfortunately, Xbox Game Pass has not launched globally. You can either buy a digital code online or use a VPN to buy the subscription from Microsoft Store. However, you will need a valid billing address and payment method for the purchase.
Conclusion
That's all! A VPN is a tool that protects your privacy on the internet, but it also opens the door to freedom on the internet. Geo-restriction is one of the obstacles that internet users face. You can bypass such obstacles easily while hiding your IP address by connecting to a VPN.

Take Control of Your Privacy Today!
Unblock websites, access streaming platforms, and bypass ISP monitoring.
Get FastestVPN