7 Ways to Protect and Promote Your Business
7 Ways to Protect and Promote Your Business
By Nick Anderson No Comments 5 minutes
Promoting your business is something that, unquestionably, you will have given serious thought to in the past. If you want to promote your business, then this is the page for you. But there's an equally important aspect of business: cybersecurity. It is equally important, if not arguably more important.
Setting up and promoting your business can be incredibly difficult, we know, but armed with this blog, you will be able to confront the world of marketing, and you will be able to promote your business. And when it comes to cybersecurity, certain practices will ensure that confidential information remains safe from intruders.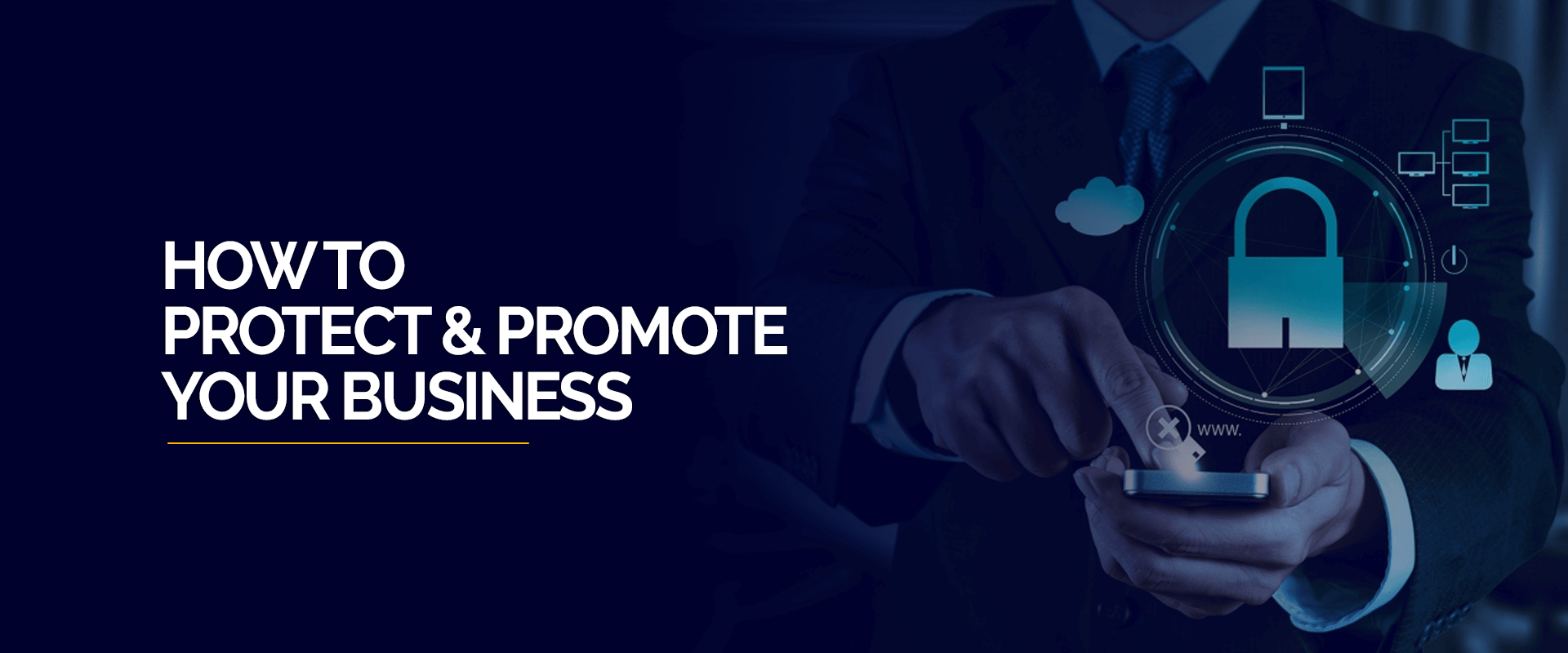 In this article, we are going to tell you ways that we think you build or strengthen the cybersecurity of your business, and creatively promote your business effectively.
How to Protect Your Business
⦁ Train Your Employees
Cybersecurity begins with the realization that certain threats exist that can cause harm to the operations and data of your business. As a business owner, you can only go a few miles to prevent it unless your employees follow the same practices.
Train employees by conducting sessions on cybersecurity and how it can trick businesses into sharing confidential information. For example, employees must be trained to recognize Phishing. So that the next time they receive an email requesting a funds transfer or to download an attachment, they will verify the sender and the transaction request internally.
⦁ Hire IT Staff
Let's face it, not everyone is tech-savvy to ensure that daily operations go smoothly. Even if you are a business with remote employees, you should have one IT person that is available on call if there's any troubleshooting required.
Your IT staff will be able to build defenses against external threats, and delegate access to resources to the right people.
⦁ Use a VPN
In the ongoing pandemic era, a Virtual Private Network has allowed employees to access resources available at the office, like a file server, remotely. A VPN maintains the privacy of your daily activities and allows access to company resources only to authorized people.
Moreover, the use of VPN as a security tool for encrypting communication on unsecure connections like public Wi-Fi protects you from Man-in-the-Middle (MITM) attacks.
How to Promote Your Business
⦁ USB Business Cards
USB business cards, over the last few years, have become incredibly popular. You can find tons of places for you to start purchasing flash drives in bulk if you do want to begin using USB business cards. USB business cards do not need to be expensive, and they show that, when you do give them to people, that you are professional, and that money is not an issue. When the person you have given the card to loads up the card on their computer, they will be presented with a slideshow about your business, as well as the opportunities that you offer them.
The plus side is that your personal USB drive does not have to plug into other computers that may contain malware.
⦁ Influencers
Influencers are an incredibly effective method of promoting and marketing your business. Influencers are people who have amassed huge followings on social media – they are veritable social media celebrities. Influencers will usually have thousands of followers – sometimes tens of thousands. The best platform for influencers is undoubtedly Instagram. Influencers will be able to promote your business very effectively – they will begin wearing T-shirts with your business's logo on them, as well as posting pictures of your business. Over time, their followers will begin to notice that they (the influencer) are an advocate for your business.
When they begin to notice that the influencer uses your business, they will be 'influenced' into using your business also. At the very least, if they do not, your web traffic will increase. Influencers are used quite effectively by businesses from all sectors. If you want to get started marketing your business and promoting through social media, then use influencers.
⦁ SEO
SEO marketing, while not necessarily conventional promotion, is still a good way for you to promote your business. Essentially, SEO marketing is when you play by Google algorithm's rules to help your business to rank higher on Google's search listings. SEO is very effective and is used quite widely nowadays. SEO, which stands for search engine optimization, can be very effective.
⦁ Sponsorship
Sponsorship is a very effective way to promote your business. You can promote your business through sponsorship quite simply – you need to begin by finding a person for you to sponsor. Once you have found them, have them openly tell people you are sponsoring them, have them wear your merchandise, and you yourself get involved in the local community and involve yourself in projects. Sponsorship is a great way for you to increase your business reputation with the right people promoting it.
Conclusion
As your business grows, your attention to cybersecurity of the business must grow accordingly. That includes hiring skilled IT staff, setting up a zero-trust rule, using VPN for authorized access, and such.
Take Control of Your Privacy Today!
Unblock websites, access streaming platforms, and bypass ISP monitoring.
Get FastestVPN