How to Optimize Your Site for Google Discover
How to Optimize Your Site for Google Discover
By Nancy William No Comments 9 minutes
Google Discover is a recommendation feed that generates potentially interesting content for users. Google's algorithms analyze the activity of specific people and, based on their preferences, offer a personalized selection of content from various sites. It can be news, informative articles, or videos. The recommendation feed appears only in the mobile version of the Chrome browser (when logged into your Google account). Users see it every time they open the main search page on their smartphone.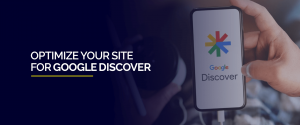 It's almost as if Google anticipates the behavior of its mobile audience and offers a search for interesting content for them. As practice shows, this model works. In this case, absolutely everyone wins: sites get their share of free traffic (with great behavior!) and users get relevant content based on their interests.
For a website owner, say for tonybet.com, the presence in Google Discover is a great fortune, but there is no direct influence on getting into this category. At the same time, there are general guidelines that increase the chances of the content appearing in the Discover feed. 
In this article, we've compiled all the latest information on the subject: recommendations from the official guidelines, the latest research, our observations, and the opinions of other webmasters.
How Does Discover Generate Feed?
The algorithms analyze the following sources to create a personalized content feed:
User activity on Google services: what the person searched for in a search, watched on YouTube or clicked on the same Discover.

Current location settings and movement history. This is an important factor that allows algorithms to pull in relevant content, such as news;

Topics that the user prefers and follows.
The accuracy of "hitting" a particular person's interests depends largely on the account's privacy settings.
Do You Need to Add My Site to Google Discover?
No, the algorithms pull in the content on their own. All you need is a website's presence in Google's index. However, you can not directly affect the display of materials in the recommendation feed. But you can significantly increase your chances for presence in this service by optimizing materials for its requirements, especially if we are talking about news sites or sites with a lot of "evergreen" content.
What Kind of Content Goes Into Recommendations?
Discover was launched in 2019 based on the Google Feed service. After evaluating the potential of Feed (its audience was 800 million), the search engine launched an improved version – Discover. The Google Feed was mainly related to the news. In the new service, the policy changed, but media content remained the priority type of content. 
Nevertheless, what distinguishes Discover is that along with news, it displays a significant share of so-called "evergreen" content, such as different kinds of informational articles, reports, and even eCommerce content. 
The main factor is not so much the type of content, but its relevance to the interests of a specific person. Separately, we should note a large amount of video content in the Discover feed, which is pulled mainly from YouTube but not only.
The Discover feed does not include adult-themed content. This applies not only to explicit 18+ content but most likely any other content "that contains images or videos of a sexual nature intended for sexual arousal." Due to the rather vague wording, it is not entirely clear where the boundary of permissible "adult" content lies. Nevertheless, just in case, it is better to refrain from publishing racy images in articles that are sometimes used to attract attention.
How to Write for Google Discover (And What Not to Do)
Google does not like clickbait or other attempts to attract the user's attention through manipulation, such as creating fake or hyperbolized headlines. You should also refrain from images that are irrelevant to the content. Hiding important information necessary for an objective understanding of the content is also considered unacceptable.
Materials aimed at getting into the feed should contain the name of the author or publisher. It is obligatory to specify the date of publication, and when updating old articles – the date of updating. References to sources are welcome in materials. 
All of these requirements are aimed at making the content more credible and increasing the credibility of the audience. Those who are aware of current Google trends have probably noticed that all of these requirements are very much in line with the E-T-A (Expertise/Authenticity/Authenticity) concept that Google has been following in recent years.
There is an opinion that Discover's algorithms give preference to content that is lighter in content. According to general observations, it is true that serious news analysis or "longreads" are less common here. This likely is one of the criteria the algorithms use to make the feed if not entertaining, then more of a leisurely format.
How often content is published on a site is probably not particularly important to Google as a factor for getting into Discover. Nevertheless, the more content on a site, the better the chances of getting into the recommendations feed.
What Topics Work Best in Google Discover?
It's difficult to identify any general patterns in this question because Discover is a personalized feed that directly correlates with users' interests – and they are different for everyone. However, some research2 and personal observations allow us to draw some conclusions. For example, most of Discover's feed is devoted to news content. On average, news takes up more than half of all recommended materials. And, as mentioned above, there is very little pure politics here. The priority topics are culture, society, and regional news.
As for the other topics, we can distinguish such popular themes as technology, finance, medicine, tourism, and DIY topics. Entertainment content works very well in Google Discover. It also often pulls in informational materials from eCommerce sites. According to my observations, Discover has an especially strong correlation between recommended content and YouTube views history. Moreover, the algorithms pull not only similar videos but mostly textual content relevant to the topics viewed on YouTube.
Technical Optimization of Content for Discover – What Does Google Say?
In regardance to getting into the Discover feed, they've mentioned in a few of their comments that Google representatives advise sticking to the following technical requirements:
Publications should be accompanied by high-quality, high-resolution images, at least 1200 px wide.
Everyone responsible for optimizing images on their pages (which is certainly correct) should pay attention to this point and possibly refrain from scaling header photos to less than 1200 px in width.
In image meta tags set the max-image-preview:large parameter
<meta name="robots" content="max-image-preview:large">
When using the accelerated AMP pages do not need to add this parameter.
It is NOT recommended to use your site logo as an image for your publications.
A well-designed micro-label and site map are NOT decisive factors for getting into the Google Discover feed.
Articles do not need to be supplemented with sexual images, even if they are not 18+ content and there is nothing objectionable in the photo in your opinion. Google's algorithms are more conservative on these issues, and most likely won't allow such content in the feed.
How Do You Optimize Headlines for the Discover Feed?
The official brief does not comment on this, but there are current observations that reveal some patterns on this issue. Specifically, there's a study that concludes the optimal header length in terms of CTR from an analysis of 5,000 URLs ranking Google Discover. 
According to this data, headlines that are not too long and also not too short – 15-25 words – work best in the feed. Once again, let's emphasize that we are talking specifically about the clickability of headlines by users (CTR). As a factor in getting on the feed, the length of <h1> is unlikely to matter.
What Is the Optimal Length of Articles?
Text size is very likely one of the factors for getting into the Google Discover feed. Referring to the results of the above-mentioned research, we can start from the fact that the most traffic from the recommendation system comes from materials of 500-1000 words. 
At the same time, articles of 600-700 words work with maximum efficiency. On the whole, these observations are quite consonant with the assumption that Discover gives preference to publications that are easier to understand. Although, at the same time, these recommendations are not a strict guideline for writing articles. First and foremost, you should focus on making sure that the material is of high quality and engages the audience well – this is much more important for getting into the recommendation feed.
To summarize
Google Discover is a powerful channel for attracting traffic to your site. Not everyone gets into the recommendation feed: the priority is given to large news sites, regional media, and less often to entertainment and informational sites. 
Nevertheless, there is no hard-and-fast pattern here: the feed can also include, for example, pages of service sites or stores. The search ranking does not influence the display of pages in Discover, which gives all websites an equal chance to receive their share of free traffic.
Click-throughs from Discover are inherently explosive. The material generates a lot of traffic once it enters the feed. However, it usually does not last long, you could say a maximum of 1-3 days. You can pull up old publications in Discover without making any changes to them.  Keeping your content up to date always increases the chances that search engine algorithms will notice you.
There is no way to influence your inclusion in the recommendation feed. Everything depends on Google algorithms here. But you can somewhat increase your chances by meeting the pool of requirements we listed above. You should write on relevant topics, optimize images, adhere to the recommended length of text and headlines. It's also wise to work on the mobile-friendliness of the site, and so on. Implementing these recommendations won't require much effort and won't go against the requirements of overall SEO optimization of the site.
Take Control of Your Privacy Today!
Unblock websites, access streaming platforms, and bypass ISP monitoring.
Get FastestVPN