How to Keep Your Digital Assets Safe
How to Keep Your Digital Assets Safe
By Nancy William No Comments 5 minutes
As we all become more comfortable with digital currencies, blockchain tokens, and NFTs a dark cloud looms—the uncertainty of whether they are truly secure. Given, those who have done their research into blockchain technology know the security perks of the system itself. But that doesn't mean we don't all worry every now and then — especially with the endless news of scams, rug-pulls, and hacks that emerge daily.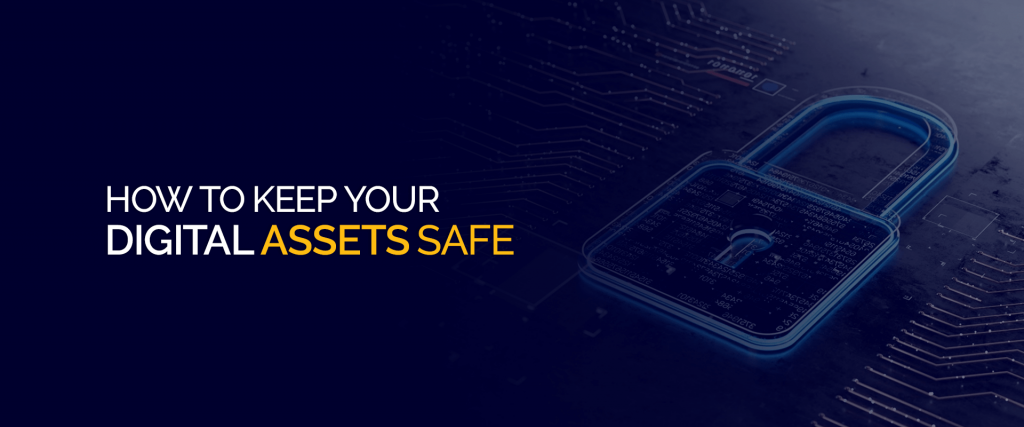 Let's take a look at a few key ways you can keep your digital assets and tokens safe, to help put your mind at least a little more at ease.
Key points to keep your digital assets safe
There are a couple of things you can do to keep your digital assets safe. They are:
Good Passwords; Yes, We're Serious!
You've been hearing this one for years, yet you still use that old banger of a password across a handful of sites—even those which hold lots of your financial worth. If that sounds like you, it's time to make a change.
Setting a complex, secure and unique password is a must when it comes to any online account to reduce the chances for your account from being cracked open.
This means creating a password of at least 12 characters, including a mixture of upper case, lower case, numerical digits, and symbols.
Of course, if every password ends up being an arbitrary collection of gobbledygook, they're going to be hard to remember. But that's where password managers come in.
Password managers have the ability to securely store your passwords, to be accessed by a unique master password. Meaning you can save thousands of unique passwords and only need to remember one.
If there is only one thing you can do to ensure your account's safety, it would be through a good password.
Two-Factor Authentication
Two-factor authentication (also known as 2FA) is a widespread security feature that requires you to confirm your login on a separate device when doing something important—like logging into your account or transferring assets.
Most modern websites, especially those dealing in digital assets, will require you to set up 2FA, meaning you're probably already familiar with it.
Although you can receive 2FA codes via text (SMS) we recommend using authenticator apps, as they act as an extra level of security. There are many modern authenticators which you can download onto your mobile, allowing you direct access to one of the best security features out there.
Keep Your Email Secure
While you may be able to keep your account secure, your email account can be a weak point. This is because your email address is often far more publicly available than any other of your data stored online.
Securing your email with a new password every few months, along with enabling 2FA, should be enough to keep your email safe.
Be Wary of Scams
Locking down your email account is one thing, but ensuring you don't fall afoul of any phishing, or other email-based scams, is equally as important.
If you're in the digital asset space, chances are you are familiar with companies such as Metamask, Binance, Coinbase, and more… Chances also are that your email's spam box is full of false emails featuring these big names.
At this point, we are all aware of email scams, whereby we receive mail that claims to be from a certain company asking us to "click this button" or "send funds here". Some scams are easier to spot than others, but as a rule of thumb we suggest checking the actual email address of any email you feel suspicious of.
And, even more, if a brand you know asks you to click a link related to one of your online accounts, instead head directly onto their site and log in to access the same information that way.
After all, there's no harm in being extra safe.
Ensure Your Device is Free from Malware
Malware, in the form of software, trojans, and files sitting on your computer without your knowledge can be a risk to your digital assets. Thus, ensuring your device is free from malware is paramount.
To do this, simply download anti-virus protection to scan your device regularly. It will allow you to ensure your device is updated with the most recent version of your operating system.
Use Whitelisting (If Available)
While we all want to lock our digital assets away in safe vaults, there will always be a time you want to send them between your accounts. When you do this, we recommend setting up whitelisting to your other addresses.
Whitelisting essentially is a safety feature that means you cannot transfer your funds anywhere unless a certain address is whitelisted. You can easily whitelist addresses by using multiple forms of authentication, with most services only allowing you to transfer to the new address after a certain number of hours (24 or 48).
This means that even if your account is the victim of a hack, your account will not be able to be drained.
Final thoughts
The rise of digital assets has marked the beginning of web3, meaning that we all have a lot to learn about web3. Security is one of the most important topics to educate ourselves upon, and with these tips, your digital assets have the best chance of staying secure.
If you're a gamer with Bitcoin or Shiba Inu in your wallet, consider heading over to Eldorado.gg, where you can get ahead in your favorite online games. If you're looking for gold, items, power leveling, or even a new Rust account, Eldorado is where you should be.

Take Control of Your Privacy Today!
Unblock websites, access streaming platforms, and bypass ISP monitoring.
Get FastestVPN