Kodi on Roku – Best guide to install Kodi on Roku
Kodi on Roku – Best guide to install Kodi on Roku
By Johan Curtis No Comments 8 minutes
Put two greats together and it creates an ultimate versatile source. The best example for this Kodi streaming service paired with Roku streaming device. What makes it so great is that you have full access to the device with the freedom to stream anything you want that comes with Kodi.
Kodi is not only the best application for entertainment but the most compatible too with any device!
The two giants, Kodi and Roku, put together for the best streaming experience without any cost! This 5-minute guide is articulated to help install Kodi on Roku. Skim through and get an easy solution to watch all favorite TV shows and movies for free.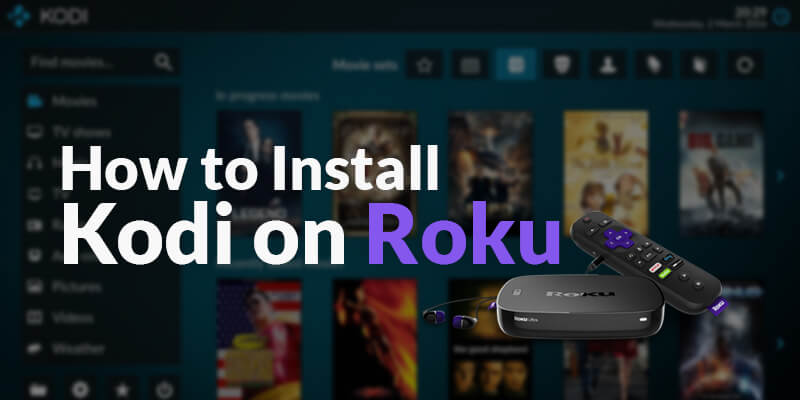 ---
---
How Does Roku Work?
Setup Roku on your TV in 3 easy steps.
Plug in Roku device on TV
Connect Roku to the internet/Wi-Fi
Launch Roku on your TV set and you're sorted!
---
How to Install Kodi on Roku
Kodi is a C/C++ application which is not supported by Roku as yet. This is why an official Kodi app for Roku isn't launched yet, however, there are still ways to install Kodi on Roku and that is through CASTING KODI ON ROKU. Setting up Kodi on Roku is pretty simple when you follow the guide as is, step by step.
Note: Make sure that you have configured your router with VPN and that your Roku and Android/Windows device are connected with the same Wi-Fi network.
---
How To Install Kodi On Roku – Streaming Stick, Ultra, Express & Premiere
To install Kodi on Roku streaming stick, Ultra, Express or Premiere device and watch your favorite movies and TV shows on your TV screens, here is what you need to do:
Press the Home button from your Roku remote
Click on Settings and Select System Update to confirm (for latest Roku version.)
Go to Settings > Screen Mirroring and Select Enable Screen Mirroring. Finally, press OK
Now Pick up your Android/Windows device and follow our device guides from below.
---
How To Install Kodi On Roku 4/3/2
Screen mirroring option is available on all Roku versions which mean getting Kodi on Roku wouldn't be a big of a task. Screen mirroring is the only way to install Kodi on Roku and you can use it to replicate your entire PC or Android screen on your TV.
To get Kodi on Roku, first, make sure Roku 4,3 or 2 and your PC/Android device is connected to the same Wi-Fi network. Here is what you need to do to activate screen mirroring on Roku 4,3, or 2:
From your Roku remote, Press Home screen
Now go to Settings > System and Select Screen Mirroring
Select the "Always Allow" option to activate
Follow the below guidelines to enable Screen Mirroring on PC/Android/Android TV.
---
Install Kodi on Roku via Windows PC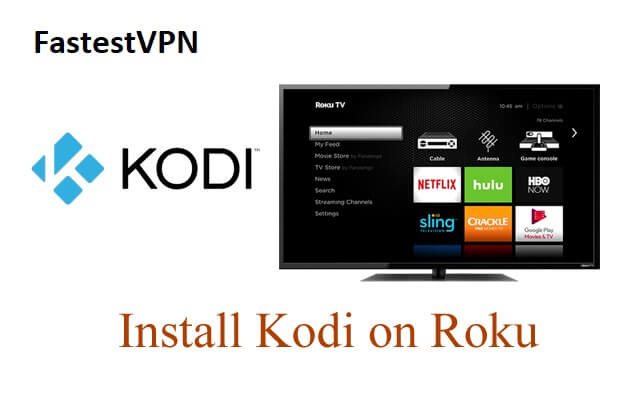 If you have a Windows Laptop/PC, mirroring your Windows Kodi screen to your Roku device will be very easy from here on. To cast Kodi from your Windows PC to Roku device, here is what you need to do:
Open your PC and click on Start Menu
On the search bar, type Device Settings
To add the new device, select Add Bluetooth or other Device > Everything else
now from the list, Select Roku 3 as your streaming device
After that, a purple screen will pop up on your Roku 3 indicating that you have installed Kodi on Roku successfully.
From here on, mirror content directly from Kodi to Roku device.
---
---
Install Kodi on Roku via Android Smart TV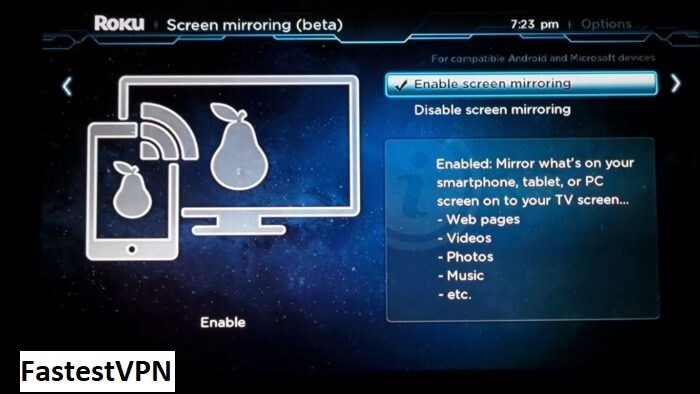 You can also install Kodi on Roku through Android Smart TV and watch your favorite shows and movies on the big screen. To get Koi on Roku through Android Smart TV, here is what you need to do:
Install Roku on your Android Smart TV
Go to Roku 3 Home by pressing Home button
Go to Settings
Click System Update to be sure that you have an upgraded version
Go to Settings again
Select Screen Mirroring
Now Click on Enable Screen Mirroring
Click OK
Now connect your Android smartphones to your Smart TV via screen mirroring using our Android guide from below and stream all media content you want via Kodi on your Roku device!
---
---
How to Turn on Screen Mirroring on Your Android Device
Screen mirroring feature is available on Android 4.4.2 or above versions. So in order to mirror Kodi from your Android devices to your Roku device you, ensure that you have an Android device with 4.4.2 version or above. Follow the below guide to turn on screen mirroring on Android and cast Kodi on Roku:
Go to Settings
Look for an option that says 'Display', 'Network, Cast', 'Connection', 'Smart View', 'AllShare Cast', 'Screen Casting' or 'HTC Connect' (there is lack of standardization in Android devices thus the differences in this step)
Once you find the mirroring option for your device, select the display you would want to connect to (Roku will show up when both your Roku and Android device are connected to the same Wi-Fi network)
Turn the Kodi app on and enjoy watching!
---
How to Turn On Screen Mirroring on Your Windows Device
Apart from Windows PC/laptops, you can also use your Windows smartphones and tablets to cast Kodi from your device to Roku. It's really easy, you just need to follow the below steps:
Note: For Windows tablet, set up a wireless display first, then proceed.
Go to Devices tab (formerly known as Control Panel)
Select Roku (make sure it is connected to the same network otherwise it won't show up)
Turn Kodi on and you're set to go to town!
---
Kodi Add-ons That Work Best On Roku
There are 1000 plus best Kodi addons that are available and working smoothly. Some of the add-ons that can be installed on Roku for seamless streaming of movies, TV shows, live sports, and TV are as follows:
Movies and TV Shows
Exodus (forks of the repo)
Covenant
Bob Unleashed
Gurzil
Genesis Reborn
123 Movies
Live Sports
Pure Sport
Atom
BOOM!
Stream Engine
SportsDevil
Planet MMA
Bennu
Sports World
Elektra Vault
Live TV
Maverick TV
StreamHub
cCloud TV
USTV Now
Stream Engine
Install these add-ons from the best Kodi repositories and enjoy anything ranging from the oldest stock to the latest.
---
---
Why a VPN is Necessary When Using Kodi on Roku
There are many reasons as to why FastestVPN connectivity is absolutely necessary. The first reason holds most weight because this is interlinked with primarily the main purpose which is to enjoy any content via Kodi on Roku.
The obstacle that's faced is that a lot of add-ons that you may want to install to stream desired content on Kodi are geo-restricted. You cannot stream the content if you are present outside the original location where the addon is based. FastestVPN helps you bypass any such geo-restrictions allowing you to watch anything you want without any hassle.
Another reason to get FastestVPN (even if the add-ons are not restricted), is protection. It may not come as a priority to many but cybercrime is real and prevention is a must! You are prone to hackers attacking your system or copyright agents tracking your activity making you vulnerable when connected to a Wi-Fi device 24/7. FastestVPN prevents spies from hacking into your system giving you full privacy and security.
To keep your Roku device and online activity safe, it is smart to get a Kodi VPN.
Setting Up Kodi on Roku with VPN
FastestVPN can be setup on Kodi or Roku in many different ways. The setup method is different for all depending on the device you use the streaming service on. To set up FastestVPN on Kodi, Roku or Kodi on Roku here's what you need to do:
Get FastestVPN subscription
Download and Install app for FastestVPN if you plan to use it on Windows, Android, iOS or Mac
If you want to use it on Kodi Box, Roku Device or Android TV, configure FastestVPN with the router
Connect to the server location as required by the channel/add-on you want to access
Enjoy streaming video content safely!
---
---
Conclusion – Install Kodi on Roku
Add Kodi to Roku and enhance your streaming experience by two-folds! Get Kodi on Roku and stream movies, TV shows, live sports and live IPTV. Kodi on Roku is a perfect source for your entertainment needs. Don't forget to get FastestVPN connection so you can enjoy content from anywhere in the world to your heart's content.