How to block websites on Different Devices and Browsers
How to block websites on Different Devices and Browsers
By Johan Curtis No Comments 8 minutes
Ever since the invention of the internet, we have been hooked! We have reached a point where some of our careers depend on it.
Even though the popularity that the internet gained has provided us with a countless amount of advantages, it also comes with its fair share of drawbacks.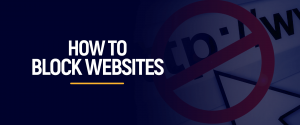 With the internet being such a diverse place, with a large variety of content; it is bound to display some things that you may not wish to see, or would not want your children or other family members to view. Don't you wonder if you could just block certain websites?
Well, no need to worry because we've listed for you a few of the best solutions on how to block websites. Keep reading for further information.
Is Restriction Necessary?
You may ask yourself whether it is necessary to restrict certain content. Or some of you may be delaying it thinking of the complicated process and the time it may consume.
We're here to tell you that even though you don't need to block websites, sometimes it may be the only option. You may be trying to keep a family-friendly internet browsing experience or simply because you do not want to view those particular websites again.
As far as the process is concerned, that is nothing to fret about; it is fairly simple and not very time consuming, just follow our steps.
Why Do You Need to Block Certain Websites?
There are several reasons why you may need to block websites permanently, a few of the major reasons why many users block certain websites are:
To Protect your Children
One of the most common reasons why users block websites is that they want to prevent their children from accessing that particular website. Kids are naive and don't entirely understand the concept of internet safety. In today's world, most children have access to a computer, whether it is for school or pass time.
It indicates that at one point or another, your child is bound to stumble upon a website that it is not meant for them, and may distract them from whatever else they were doing. Not to mention the amount of adult content that is openly available on the web, which is why it is smarter for parents to set up parental controls on their windows.
Stop Employee Distractions
If you're running a firm and most of your work requires a computer with an active internet connection, there's a possibility that you may need to make sure that your employees are taking their work seriously while online.
In which case, it is the best option to restrict certain websites that could be a cause of disruption to a smooth line of work.
Restrict Bandwidth Usage
In most cases, we happen to be sharing our internet connection with someone else. It could be family members, a roommate, or a visiting guest.
The problem with sharing the internet is that it could begin to cost you since people tend to visit bandwidth-heavy websites and download the type of content that could drain your download limit. To save yourself from exceeding your download limit and cut down bandwidth expenses, you should block any bandwidth-heavy websites so that access is no longer available.
To Prevent Downloading Malware
One of the many reasons that a user may wish to block a particular website is so that they are protected from potentially malicious software, which is why they opt to block those websites which come across as suspicious and a means of phishing.
Even though blocking is a solution to prevent such incidents, a more suitable option is to install an anti-virus for realtime protection. Make your security complete by adding a VPN on top. While the anti-virus blocks incoming threats, a VPN will ensure that your internet experience remains anonymous, and data is encrypted.
How to Block Websites
There are numerous techniques on how to block websites, no matter what device you own or what browser you're operating; we've got a solution for you!
Here's a step by step guide on how to block websites:
How to Block Websites on Windows
If you happen to be operating on a window's device, here are a few ways that you could follow to block websites.
How to Block Websites on Windows with a Website Blocking App:
There are many applications that you could find on the internet made for this use, our most recommended website is HT Parental Controls,
Here's how it works:
Go to HT-Vector.com and download HT Parental Control
Once downloaded, launch the extension
Go to the Website Blocking section
It will display a list of options, next to Banned Websites click on the Add option
Type the link of whichever website you wish to block
Press OK
The website is blocked, repeat for as many websites as you'd like.
How to Block Websites on Windows with a Host File
It may sound more complicated than it actually is, but you can block content through your window's hosts file. This way, whenever you enter a certain blocked domain, the hosts' file will redirect you elsewhere instead of loading that website.
Here's how you can do it:
Locate the hosts file in "C:\WINDOWS\system32\drivers\etc\hosts"
Open these files in your device's NotePad
Scroll down and look for "127.0.0.1 localhost"
Press enter, make a new line and enter  "127.0.0.1 website.com" (instead of website.com, mention the URL of the website you mean to block)
Save changes and close your notes
Restart your computer to implement changes
How to Block Websites on Windows with its Family Safety Feature
Microsoft/Windows has its very own safety feature, which will allow you to block specific websites; however, the user must not be an administrator for this to work.
Here's how:
Download and install the Windows Family Safety software
Set it up
Once it is ready, go to Control Panel> User Accounts and Family Security
Choose the user you will be blocking websites for
Enable "Family Safety" and click on "Web Filtering"
Select "Users can only use the websites I allow"
Then press "Allow or block specific websites for user"
Enter the URL's for the websites you wish to block and press "Block"
Keep repeating until you've done this with all the websites you wish to block.
How to Block Websites on Android
If you happen to own an Android device and are looking to block a few websites permanently, look no further we have just the way for you!
Since the methods above may not apply to an Android device, you can always visit your PlayStore to download an application that will allow website blocking.
An app that we would recommend is Google Family Link; it will not only allow you to block certain websites from your device but also provide you with the feature of limited access on particular websites. Furthermore, it will also restrict mature content from the PlayStore if you wish to do so.
This app is perfect for you to monitor your children's activity on the device and what they can view or not.
How to Block Websites on IOS
If you own an IOS device and wish to restrict or block certain content from your iPhone or iPad here's how you can do it:
Open Settings
Tap Screen Time
Select Content and Privacy Restrictions
Choose Content Restrictions
Tap Web Content
Click on Limit Adult Websites
You're good to go.
How to Block Websites on Safari Browser
Similarly, you can also block websites from your web browser, such as Safari. Here's how:
Open Settings
Select Screen Time
Tap Content and Privacy Restrictions
Select Content Restrictions
Tap Web Content
Choose Limit Adult Websites
Select Add a Website under NEVER ALLOW
Now type the URL of the particular website you wish to block
Press Done
Website blocked.
How to Block Websites on Chrome
If you are operating through the chrome web browser, here's how you can block websites with chrome:
Launch Chrome
Open Chrome Web Store
Search for "Block Site" extension, and press "add to chrome"
Add the extension
Check for the extension's logo on the top right corner of your screen
Visit the website you wish to block
Tap on the extension's logo
Press "block this site"
Now the website is blocked.
How to Block Websites on Firefox
In the event you are using the Firefox web browser, here's how to block a website on Firefox:
Open Firefox
Search for https://addons.mozilla.org/en-US/firefox/addon/block-website/. This will directly open the extension used for blocking websites
Once you're there, click on "Add to Firefox"
A popup will ask whether you want to add this extension, click on "Add"
Once done, press the three lines on the extreme right
Choose "Add-ons"
Then press "Extensions" from the menu displayed on the left
Once all your extensions are displayed, click on the Block Site extension
Press "Preferences"
Begin blocking the websites you prefer
Don't forget to press save before you leave.
Conclusion
We hope this helped you in how to block websites from different devices and browsers, be sure to follow all our steps for guaranteed results.
Also, make sure to subscribe to FastestVPN to maintain your anonymity while surfing and stay protected; it never hurts to take extra precautions!
Take Control of Your Privacy Today!
Unblock websites, access streaming platforms, and bypass ISP monitoring.
Get FastestVPN