How Bloatware is a Threat to Cybersecurity
How Bloatware is a Threat to Cybersecurity
By Christine Margret No Comments 5 minutes
Bloatware could leave your entire system being taken over. It can consume resources even while it's just sitting unused, and if not removed. Find out how to remove it and keep your device bloat-free.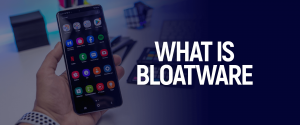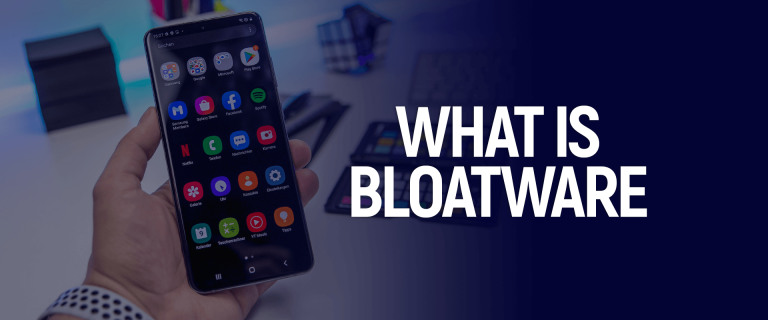 What is Bloatware?
Whenever you buy a new device, it comes with a host of unnecessary pre-installed software called bloatware. It takes up your hard drive space and slows down the speed.
Developers want to promote their apps and software to earn revenue. These programmers pay PC and smartphone manufacturers for installing their apps, video games, browser toolbars, and free versions of antivirus software.
Hence, redundant software applications make your device cluttered and sometimes prone to cyber-attacks.
Is Every Bloatware a Security Threat?
Every pre-installed program is not a threat. Some preloaded system apps can be removed easily.
However, web-based bloatware that bundles with third-party apps may expose you to higher cybersecurity risks.
This type of bloatware resides inside a software bundle and exploits your system with malware or adware.
How Bloatware Puts Users at Risk
Bloatware can put users' security at risk. Pre-installed third-party programs may contain malware; therefore, track users' online activities. If not all programs are malicious, still they will leave you frustrated with annoying ad pop-ups.
Besides spying on you, unwanted software unknowingly drains your battery and clutters your device.
Let's take an example of how bloatware can cause major security risks. Recently, a researcher from Google's Project Zero found an unsecured password management app, Keeper being installed on Windows 10.
For some time, Keeper's browser extension enabled websites to track login credentials.
The login credentials only exposed when users enabled its plugin while setting up the Keeper app or when activated it manually in the browser.
Soon the Keeper team noticed and updated the flaws. They brought a new version of the app with patched vulnerabilities.
Keeper's security flaws were patched in just a week, but thousands of other similar apps installed on different devices every day. Therefore, you have to be careful about all the potential security vulnerabilities while buying a new device.
How to Get Rid of Bloatware
Installing a trusted antivirus program is the best solution to the problem. It protects you from accidental downloads; hence, no malicious bloatware will access your device.
Similarly, using a VPN with malware protection can help you stay anonymous on the internet and move data with encryption. FastestVPN offers ad-blocker and anti-malware features that not only protect you from annoying ads but also provide an added layer of protection from malware and online threats.
How to remove bloatware
It depends on two factors. First, what device you're using. Second, what type of bloatware you want to remove.
Normal third-party pre-installed applications can simply be removed from your device settings. However, apps that are installed by the manufacturers cannot be uninstalled; you can disable applications from the settings menu or use the best bloatware removal apps.
Here's how to remove bloatware
Remove bloatware from Android
You can disable any unwanted app running in your Android device. The app can be disabled, but will not free up your storage space.
Open Settings menu
Click Apps and Notifications
Select any unwanted app
Tap "Disable"
The app will no longer run in the background.
Rooting will also help you to remove bloatware apps from the device, but it will make your phone vulnerable.
Remove bloatware from Windows 10
You can remove bloatware in Windows 10 by using the following approaches.
You can simply uninstall the pre-installed applications by moving to Apps and Features from the home menu. Select any apps, click right, and hit uninstall.
Windows 10 offers a special tool to help you remove bloatware. This program is designed to retrograde your system to its original sterile state with no bloatware.
You must check your hard drive before using this tool since it removes everything, including licenses, if you have any. The tool will only remove user-installed items, and it will not work for the native bloatware.
Another way to get rid of bloatware is buying bloat-free devices. Microsoft offers its line of Signature PCs with no third-party software. You can use bloatware removers or regularly uninstall unwanted native programs.  Also, buy a bloat-free PC and pay a few extra dollars.
Remove bloatware from iPhone
It's easy to remove bloatware apps from iPhone. Simply touch the app and tap on the cross (X) icon. You can also open the iPhone settings menu and go to iPhone Storage to select any bloatware app. Once you select the app, you can either Offload or delete the app. Offloading will take up some space, but deleting will completely remove the app from the device.
Conclusion
To avoid potential bloatware, security threats always download apps from the original source, i.e., Google Play Store or Windows Store. Regularly uninstall apps that slow down your device and use a trusted antivirus program and a VPN to save yourself from malicious bloatware.
Take Control of Your Privacy Today!
Unblock websites, access streaming platforms, and bypass ISP monitoring.
Get FastestVPN