Is Google Drive secure?
By Christine Margret No Comments 4 minutes
Google Drive is one of the most popular file storage services, but due to the past hacks in 2014, it's natural to have privacy concerns about the service. Since Google Drive has millions of users and almost 2 trillion saved files, it's worth knowing that is Google Drive secure?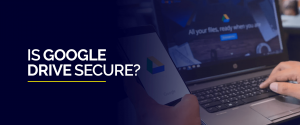 This blog aims to cover how secure is Google Drive, and how you can protect your security by being a Google user.

How Secure is Google Drive?
Google Drive is more secure today than before. In 2014, Google Drive used 2048-bit SSL/TLS key on its servers. Also, the cloud data used to be protected with 128-bit AES encryption. 
The Google Drive security standards were not much powerful at that time. In 2014, almost 5 million usernames and Google accounts passwords were leaked on a Russian site. 
However, today Google Drive is much more secure. It uses the advanced 256-bit encryption standard on its servers. 
Moreover, Google also uses TLS (Transport Layer Security) protocol when your data is in transmission. It is because data is vulnerable when it is transmitted from one server to another. Hackers can easily intercept and hack your files while they are transmitting. 
Thanks to Google's powerful encryption protocols, it's very hard to intercept or break Google's security during synchronization or file transmission. 
Yet, using Google Drive is not always 100% secure as there might be chances of threats due to some vulnerabilities. 
Let's understand how vulnerable your Google Drive can be and what possible security threats might emerge. 
How Vulnerable is My Google Drive?
All your files are indeed completely encrypted when they are transmitting to the Drive servers. However, the fact is that Google holds the decryption keys for all the files being saved on Drive. 
Whoever has the decryption keys can easily bypass security and get access to the saved files. In short, Google has the power to decrypt your files, making it easier for hackers to access users' data. 
Another big risk is that Google is obliged to comply with governments and law enforcement agencies. If any of your files are summoned, Google will not pay the penalty to break your privacy since it will not take it as a security breach. 
But, that's a rare case, and there are other significant risks associated—for example, software bugs. In November 2019, a Google Photos software bug was discovered that sent images and videos of users to other users. 
According to Google, only 100,00 users were affected by the incident. No platform is safe; there will always be a danger to the security and privacy of your data when one entity controls it. 
Now, let's explore what you can do to be more secure online while saving files on Google Drive. 
Ways to Secure your Google Drive Experience
Your Google Drive may be connected to several devices. It poses a threat for your Google Drive data. Any unauthorized access to one of the devices means your Google Drive data can be accessed.
Before uploading your files on Google Drive, make sure that files are well-encrypted. Encryption keeps your files hidden and unreadable even if someone successfully accesses them. 
FastestVPN provides the highest 256-bit AES encryption protocol to secure your data and routes it through a secure tunnel, making it impossible for intruders to intervene. 
Connect to the VPN  before uploading your data on Google Drive for further protection. Besides that, always remove browser extensions or apps that may have access to your Google Drive, and don't forget to keep a strong password. 
Lastly, always switch on two-factor authentication; it further strengthens your data security. 
To Conclude
Google Drive is a useful and feature-rich cloud service that you cannot stop using for sure. Although you might try other Google alternatives, the risks would be the same for a centralized service. Therefore, what you can do the best is to fortify your online security in the cloud with some prudent security measures like two-factor authentication, switching off automatic synchronization, and robust encryption with FastestVPN.

Take Control of Your Privacy Today!
Unblock websites, access streaming platforms, and bypass ISP monitoring.
Get FastestVPN