How to Get Sweden IP Address from Anywhere
How to Get Sweden IP Address from Anywhere
By Johan Curtis No Comments 5 minutes
Are you a huge Swedish TV fan? Don't you hate the fact that international streaming platforms use location blocks? It would be so much easier if we could get our hands on a Sweden IP address, as it would immediately make everything accessible.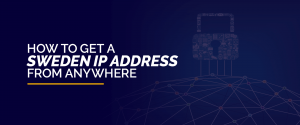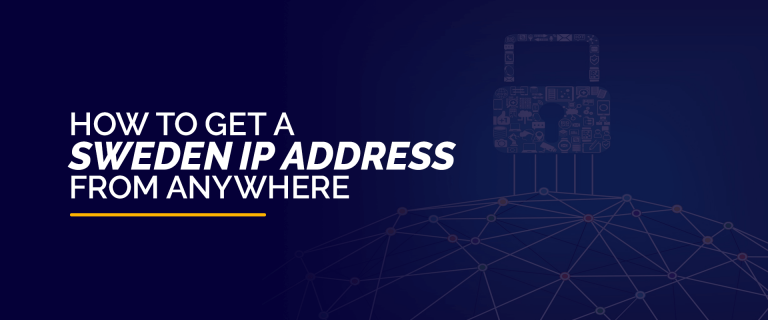 Not only streaming platforms but some Swedish websites or applications are geo-restricted and not available worldwide, which means that you will need to surpass the geo-restriction if you wish to access such restricted content.

Why Do You Need a Sweden IP Address?
Swedish TV is one of the best entertainment sources for most people; their channels are quite a hit. People all across the globe enjoy and demand watching Swedish TV; here are a few of the most-watched Swedish channels
SVT
SVT is a public non-commercial network which has many channels of its own ranging from news, general, sports to educational;
SVT1 (News) (DTT)
SVT2 (general) (DTT)
SVT24 (news, sports, reruns) (DTT)
SVT Barn (children) (DTT)
Kunskapskanalen (educational) (DTT)
SVT is Sweden's national channel funded by public taxes and is known for the quality content broadcasted on it.
TV4 AB
TV4 AB is probably the largest private commercial network in Sweden- it solely directs and broadcasts from Sweden.
TV4 (general entertainment) (DTT) (HD)
Sjuan (general entertainment) (DTT)
TV12 (DTT) (HD)
TV4 Film (movies) (DTT)
TV4 Fakta (documentaries) (DTT)
TV4 Guld ("classic" programming)
C More Sport (sports) (DTT)
Nordic Entertainment Group
Another one of the well-known private commercial networks is Nordic Entertainment Group
TV3 (general entertainment) (DTT) (HD)
TV6 (entertainment) (DTT) (HD)
TV8 (news and documentaries) (DTT)
TV10 (sport and documentaries) (DTT)
V Sport (HD)
V Sport Football (HD)
V Sport Hockey
However, the only problem with such Swedish channels is that they use geo-restrictions. This means that if you're not in Sweden, you won't be able to access any of the content offered through online streaming.
The Need for a VPN
If you wish to bypass such location blocks, you will need a VPN. A Virtual Private Network is a mode of connection that is used to protect and secure private and public networks. A VPN creates a private network over a public network. All data is transmitted through the VPN server and then to the destination, allowing you to mask your IP address and geo-location.
All this is done while keeping your identity completely anonymous online, making you untraceable for potential hackers.
How Does a VPN Work?
If you wish to access Swedish content and get your hands on a Sweden IP address, connect to a Sweden VPN server. You can then easily browse through the web as if you were a resident from within Sweden, and it will allow you to access previously blocked webpages and apps immediately. Also, once you connect to the Sweden server, there is a way for you to look up your IP address and get details on it.
How to Choose the Best VPN for a Sweden IP Address
The VPN must have the following features:
256-bit Encryption: If you want strong security to ensure that your online activity and data are always 100% private and secure, choose a VPN that employs 256-bit encryption.
Speed: One of the most important things about a VPN is its speed; uploads and downloads. You must ensure that your VPN is fast enough to allow you a seamless browsing session.
Multiple Servers: Another important but obvious factor is that the VPN must contain several geo-locations for you to choose from. It must have servers in Sweden for streaming Swedish content.
No-Logs Policy: The VPN you opt to use must have a strict no-logs policy. That way, your data will be completely anonymous and protected against hackers and the ISP.
Internet Kill Switch: This is an important feature when it comes to selecting an efficient VPN; the kill switch feature ensures that your identity is not compromised if you ever face a disruption in the VPN connection. The kill switch will automatically kill internet connectivity.
Free or Paid VPN?
A lot of people think free VPNs work the same as paid VPNs. But the reality is much different. A free VPN offers you limited services. Whether it is servers, bandwidth, speed, you will be restricted in more than one way. Moreover, free VPNs log every activity and sell it to advertisers. It's a huge privacy risk that you should never invest in. We always recommend using a paid VPN application.
The Best VPN for a Sweden IP Address
True to its name, FastestVPN is not only good with speed times, but it also has a wide range of servers. FastestVPN employs the latest security features, such as AES encryption and DNS Leak Protection. So, you can browse the web freely without having to worry that someone could be tracking or recording your internet traffic.
Here's how to connect to FastestVPN:
Open FastestVPN.com
Click "BUY NOW" on your top right
Fill out your details
Select a pricing plan
Finish subscription
Once done, launch the app
Login to your account
Connect to any Swedish server
Once you're connected, open whatever streaming channel you'd like
It is now unblocked. Enjoy streaming!
Conclusion
Using a VPN to change IP address is the easiest way to tackle geo-restrictions. It is also a great way to avoid censorship. FastestVPN supports all major platforms, including Smart TV. So whether you are watching favorite content at home or streaming through the phone while traveling, FastestVPN will bypass every roadblock. Moreover, you can connect and use up to 10 devices simultaneously with a single FastestVPN subscription.

Take Control of Your Privacy Today!
Unblock websites, access streaming platforms, and bypass ISP monitoring.
Get FastestVPN