How to Watch Game of Thrones Finale on Kodi – Season 8 (Spoiler-Free Guide)
How to Watch Game of Thrones Finale on Kodi – Season 8 (Spoiler-Free Guide)
By Johan Curtis No Comments 5 minutes
Before we begin, let us put your mind at ease that the guide is completely SPOILER-FREE and is safe for anyone who has not caught up with season 8 yet. As fans ourselves, we respect the excitement and genuine love of other fans around the world. Game of Thrones season 8 is a product of years of planning, everything has been leading to this.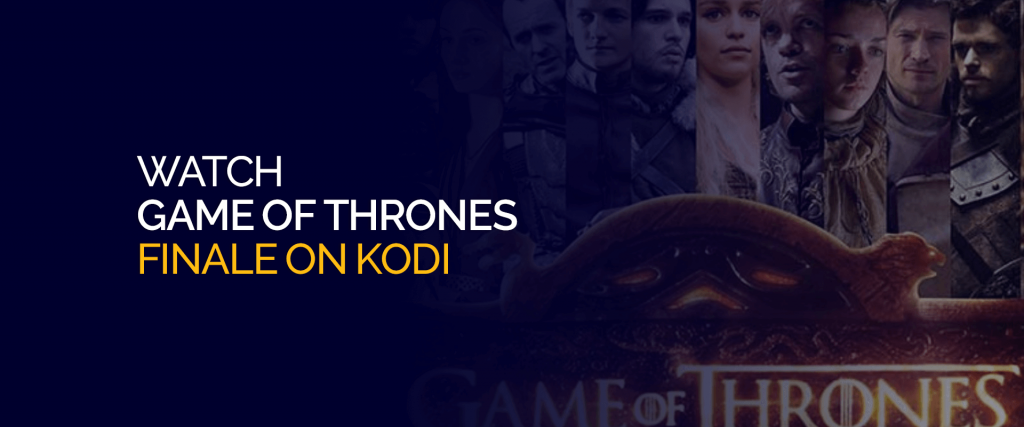 It goes without saying that you need to catch up with the previous episodes first before the finale which airs on May 19, 2019.
You can watch the official teaser for the finale here. WARNING: SPOILERS AHEAD!
---
Game of Thrones finale is available only via HBO. Tune into to HBO Now with VPN to watch it without any restriction. Always use a VPN when using third-party add-ons to protect yourself from ISP invertention.
---
Game of Thrones | Season 8 Episode 6 | Preview (HBO)
---
Watch Game of Thrones Finale on Kodi from Anywhere in the World
As before, Game of Thrones will air exclusively on HBO on May 19, 2019 at 9 PM Eastern Time. HBO is the only place where you can watch Game of Thrones live online in the United States. Similar to HBO in the United States, Now TV is the sole service delivering latest episodes of Game of Thrones in Australia.
There's good news. If you live in the United States and have an active subscription of HBO cable channel then you need not pay for HBO Now digital streaming service. HBO Go is the alternative which is free for subscribers of HBO cable channel. In this case, you would want to use HBO Go instead of HBO Now.
Since Kodi does not have official add-ons for HBO, you'll have to use a web browser instead.
But regardless of which platform you end up watching Games of Thrones on, you'll need a VPN to access it. That is because HBO Now and HBO Go are available only in the United States.
FastestVPN enables you to unblock any such geo-restricted stream no matter where you are in the world.
---
---
Watch Game of Thrones Finale on Kodi with Third-Party Addons
As we mentioned before, Kodi currently does not offer official addons for HBO Now and HBO Now. Instead, we'll have to rely on third-party addons. But don't worry, these add-ons are known to deliver the latest episodes after they have begun airing online.
There are several Kodi addons but we'll use Genesis Reborn. You can expect the finale to be available via the add-on after it has aired on HBO.
Follow these steps to get it working on Kodi:
Download FastestVPN app for your device or setup FastestVPN in your router with US IP address
Download Kodi Leia 18 on the device
Launch the app and connec to US server or connect this device to the router
Launch Kodi
Click on the gear icon to go into Settings > System > Add-ons
Turn on the option Unknown Sources
Return to Settings page and click on File Manager
Double-click on Add Source then double-click on <NONE>
Enter this URL in the field: http://lvtvv.com/repo/
Give it a name and click OK
Return to Settings page and click on Add-ons
Select Install from Zip File
Now pick the zip file you just downloaded and let it install
From the Add-ons page again, click on Install from Repository
Pick JesusBox repository from the list
Navigate to Video Addons and select Genesis Reborn from the list
Let it install
Once done, launch Genesis Reborn from Add-ons tab at the Home Page.
---
Watch Watch Game of Thrones Finale on Kodi on Kodi with HBO Now:
The only way to watch the finale live online is to use HBO Now or HBO Go. Download the app for your device or use a web browser to visit https://play.hbonow.com/.
Remember to turn on VPN before you do as it turn up as inaccessible if you're outside the United States. Though even if you were in the United States, it's always recommended to use VPN for security. FastestVPN utilizes AES 256-bit encrytion for securing data, leaving your data unexposed to third-parties.
---
---
Conclusion – Watch Game of Thrones Finale on Kodi
To conclude, all we will say is that you shouldn't miss the finale. If you consider yourself a fan, catch up with Season 8 to prepare for the finale. Excitement is all-time high, and rightfully so. Game of Thrones has had a cultural impact which very few TV shows have managed.
If you plan to watch Game of Thrones finale on Kodi it a little later, we cannot stress it enough that you should stay away from social media until then. Game of Throne's finale will be the center of attention next week.