How to Watch Game of Thrones Finale on Firestick – Season 8
How to Watch Game of Thrones Finale on Firestick – Season 8
By Johan Curtis No Comments 5 minutes
George R.R. Martin's award winning and best-selling book series "A Song of Ice and Fire" is brought to life as HBO uses its incredible repertoire of storytelling expertise to transform your screen into the medieval fantasy epic that is Game of Thrones. The story revolves around the struggle between two powerful families – kings, queens, knights, renegades, liars and honest men. It is a lethal game of cat and mouse, hunter and hunted where all players are vying for control of the Seven Kingdoms of Westeros, and to sit atop the Iron Throne.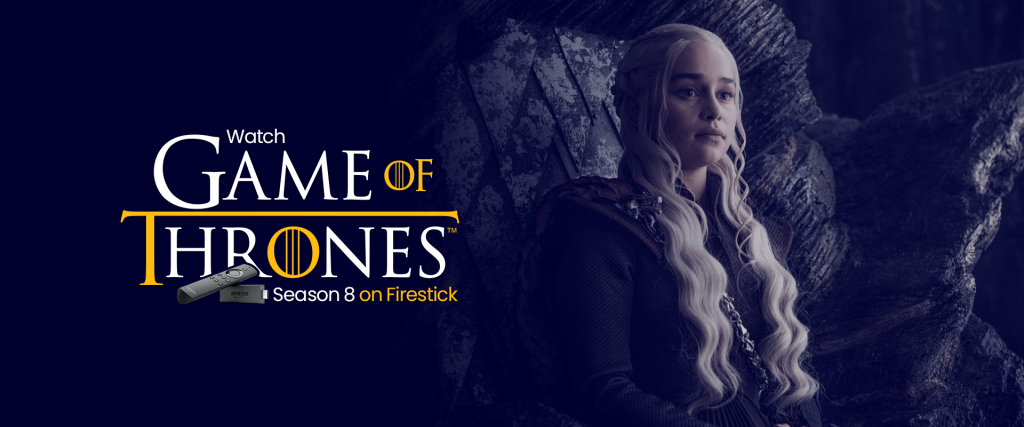 Now, in a series finale 8 years in the making, the Game of Thrones season 8 promises to bring more action, more fire and more ice than ever before while at the same time tying up as many loose ends as possible. Catch up with it all and watch Game of Thrones last episode on FireStick. After nearly 2 years waiting since the last season, the tale of Westeros will finally come to an end.
---

All of the episodes will be available to stream on the pre-decided dates online but given that HBO is geo-restricted outside of the US, you will likely not be able to watch any of the episodes should you find yourself outside the United States even if you do have a subscription. To watch any of the Game of Thrones season 8 episodes, from anywhere in the world, you can use FastestVPN. Not only will this protect your privacy but also protect you from any potential DMCA or copyright infringement notices.
Game of Thrones Season 8 Release Schedule
Games of Thrones is set to release the final 6 episodes of the series on pre-decided dates as per the schedule below. In this article, we'll show you how you can stream any of the episodes, as they are released through your FireStick device.
Episode 1 – April 14, 2019
Episode 2 – April 21, 2019
Episode 3 – April 28, 2019
Episode 4 – May 5, 2019
Episode 5 – May 12, 2019
Episode 6 – May 19, 2019
---
Watch Game of Thrones Last Episode on FireStick
Wherever you are in the world, here are some of the streaming services you can use to access Game of Thrones last episode on FireStick
HBO Now
First off is the official broadcaster for Games of Thrones i.e. HBO and it's broadcasting service HBO Now. Even though HBO Now is, in fact, geo-restricted outside of the US, if you want to watch Game of Thrones Season 8 live as and when the episodes are released, then this is the streaming service for you.
Here is how you can watch the show on HBO Now:
Download FastestVPN app that is compatible with your FireStick device
Connect to US server
Download HBO Now app on to you Firestick
Subscribe to HBO Now
Watch Game of Thrones last episode on Firestick
Bear in mind that you will need a monthly subscription of $14.99 per month. New users have the advantage of getting a 15-day free trial. Once you have that, it will be accessible on all major popular devices.
---
Hotstar
The second option you have available to you is in the form of Hotstar. It is an excellent platform for most streaming needs and is a far cheaper alternative to the other streaming services available at approximately $2 per month. If you cannot access your Hotstar account while traveling, use a Hotstar VPN. A VPN for Hotstar is the best way to safely access your account restriction-free from anywhere.
How to Watch Game of Thrones last episode on FireStick through Hotstar:
Download FastestVPN app that is compatible with your device (compatible with over 20 devices)
Connect to Indian server
Download Hotstar app on your device or visit the website
Subscribe to Hotstar
Watch Game of Thrones last episode on FireStick
Although the most glaring downside is that the episode will not be available live. Games of Thrones seasons 8 episodes will be available after almost an hour of the episode being released on HBO itself. Nonetheless, given the low price tag and the ease of access, it is a small price to pay.
---
What is a VPN?
A VPN will allow you to circumvent content restrictions and give you access to the live streams using any of the add-ons mentioned below. Not only will it give you this access, but it will also secure your connection and give you online privacy, which, in this case, is of utmost importance. Furthermore, ISP (Internet Service Providers) or copyright protection agencies will not be able to track your IP (Internet Protocol) addresses and therefore you need not fear any DMCA or copyright infringement notices.
Some of the features to look for in a good VPN include:
Wide-Range Device compatibility
Unlimited Bandwidth
Top Tier Security (encryption)
Good server availability
Fast Buffering and Loading
The list above is not exhaustive, but are a must in any VPN you use to watch the Game of Thrones season 8. One such VPN that has all of these qualities and more is FastestVPN. It has all the features you need to be assured of your privacy and security while you stream HD content.
---

---
Conclusion – Game of Thrones Finale on FireStick
Summing up, there are many ways to stream Game of Thrones the last episode on FireStick but not all of them are always available for you to use. Therefore, ensure you have the most privacy and security when accessing content online by using FastestVPN and the steps outlined within this article. Just follow the guide above and watch Game of Thrones season 8 last episode on Firestick device. At the end of the day, you will be able to enjoy the shows that you like as and when the episodes are released and nobody gets hurt.