How to get free WiFi near me
How to get free WiFi near me
By Nancy William No Comments 11 minutes
Most of us don't always have access to the internet or WiFi, especially while traveling or on the move. In the fix, you've probably wondered "how do I get free WiFi near me?" Well, even though there are around 350 million free public Wi-Fi hotspots in the world, the task of finding a safe source near you is not always easy.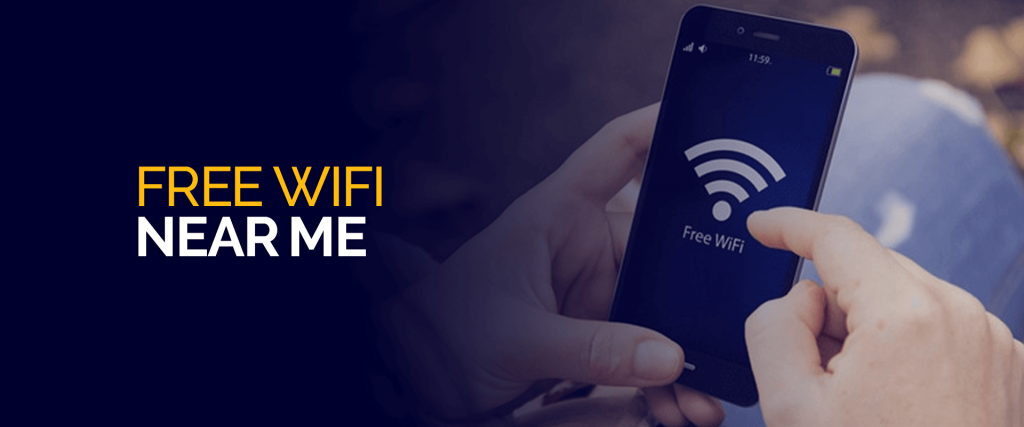 This guide will show you how to find free Wi-Fi hotspots through mobile apps, WiFi hotspots through ISP, through portable routers, or even at the most famous WiFi hotspot locations. Some of the sources even offer free wifi near you without passwords.
How to find free WiFi near you
If you're wondering, "How do I find free WiFi near me?" head to the guide below to get started. There are a number of ways for you to find free Wi-Fi anywhere around you, in fact, there are some popular locations you can head to, if it's close by. Other than that, you can find free Wi-Fi by tethering some connections within your smartphone, or by using a portable hotspot.
Here is how you can find a free Wi-Fi hotspot near you:
Free Wi-Fi hotspot access through ISP
There are a couple of ways to get a not-so-free Wi-Fi source while in the US, and it's through being a paying customer for a particular internet service provider. This method is called CableWiFi, a term coined by some of the more popular internet service providers. A few of them include Spectrum, Cox Communications, XFinity, and Optimum.
Once you're a paying customer and set up your internet connection at home via these services, you'll be able to find free WiFi hotspots throughout the country. That is one perk that comes with these service providers.
All you need to do is go to the internet service provider's page, and look for more information on how to find location maps or information on these hotspot outlets. When you find it, the free Wi-Fi network might be named by "CableWiFi" or by the company's name itself. For example, for Cox Communications, it'll be CoxWiFi, or for XFinity it'll be xfinityWiFi, and so on.
When you find it, simply sign in to your account using your username and password and start using the internet!
Finding free WiFi through mobile apps
It's a big help to keep these 5 mobile apps that directly lead you to free public WiFi sources. To add to that, you'll also be provided with login details just in case some of the sources require it. Here are the top 5 best WiFi hotspot detector mobile apps:
With over 100 million Wi-Fi hotspots for you to connect to, Wi-Fi Map makes one of the best apps for free WiFi. The good news is that the app also provides you with login credentials. The app has been tested out, especially since it's crowdsourced. Some of its key features include the ability to provide the free Wi-Fi passwords even though you're offline, a smart search detector, and map navigation. The Wi-Fi Map app can be found on both Android and iOS devices.
Created mainly for Android users who'd like free Wi-Fi anywhere, we have Swift WiFi. What we love about Swift WiFi is that it generates numerous leads to free wifi sources as well as highlights hotspots that are vulnerable.This allows users to turn their WiFi on depending on such situations. Other than that, you can check the speed of the network, and even share the hotspot with your friends or family.
Next, we have Wiman, which is slowly cropping to the top on being one of the best and largest hotspot databases in the world. With the Wiman app, you can find a large number of free WiFi hotspots anywhere in the world, depending on where you are. When you download the Wiman app on your smartphone, it will automatically direct you to hotspots in the area when you connect to the WiFi. The app also classifies these sources on what's the best or the absolute worst. It makes it easier for users to choose which one to connect to.
WifiMapper makes an excellent database app to find free Wi-Fi hotspots around you. The app is user-friendly and easy to use. When using it, it provides you with a long list of hotspots and information on them. Users can enter comments of both the Foursquare and WifiMapper of each hotspot and enter in their exact locations. It also shows how each hotspot source performs, making it easier for users to choose the best one. Other than that, the developers of WifiMapper aim to add the Wifi password sharing feature in the future paired with the offline maps functionality.
According to its description, WiFi Finder gets its users fast access to free WiFi hotspots wherever you go. To add to the list of perks, its offline feature lets you download the places you're visiting so that it can detect the easiest access to fast Wifi's anywhere. What's more, you will get a list of only verified Hotspots. Some of its key features include a speed test, offline usage, a filtered map of Wi-Fi's according to Hotel, Cafe, Restaurant, Bar, Store, and more!
Instabridge is a crowdsourced, free WiFi finding app that offers over five hundred thousand open Wi-Fi networks that are available publicly.The app also includes an auto-connect feature that allows you to connect to the nearest available public WiFI network automatically. All you have to do is make sure the app has the correct location. However, even though this is a pretty much safe option, best to have FastestVPN installed to avoid any mishaps.
Turn your phone into a Wi-Fi hotspot
For free WiFi, you can simply turn your smartphone into a free Wi-Fi hotspot while travelling. You first need to make sure you have a 3G or a 4G connection. This is best when you're on the go and don't have access to any WiFi or are afraid to connect to a public hotspot. Here's how you can enable it:
For Android users:
Open your "Settings."
Click on "Wireless & networks."
Select "Tethering & portable hotspot."
Click on "Portable Wi-Fi hotspot."
Create a strong passcode and then enable it to turn it on.
For iOS users:
Open your "Settings."
Click on "Personal Hotspot."
Create a strong password, and then enable the slide where it says "Allow Others to Join."
That's all!
Use a portable router
A portable router works like a charm and is one of the better options of getting access to a free Wi-Fi hotspot while traveling around. It works just like a home router, but with 3G or 4G instead of a cable. It's not that expensive, so consider getting one that offers faster speeds. You will be able to stream with it, make calls, check your social accounts and more. It's much safer than using a free public Wi-Fi hotspot.
Visit locations that offer free public WiFi hotspots
There are some cafes, restaurants and likely places that offer free WiFi so that you can get some work done, or complete your assignments. They are:
Starbucks
McDonald's
Dunkin' Donuts
Burger King
Local libraries
Walmart
Target
Marriott Hotel
Parks
Airports
Hilton Hotel
Malls
And so much more!
Even though these are some of the cheaper or free ways for you to find WiFi near you, it comes with risks. Make sure you're connected to a VPN to encrypt your connection. FastestVPN offers AES 256-bit encryption and other security features.
Why public and free Wi-Fi is dangerous
Choosing one of the many options on this guide to get you access to a free public WiFi hotspot might be a breeze. Sure, some of the options are safe, but it still comes with risks.
There are fake hotspots around you that are the ultimate attraction for bringing in new users to connect to it. This allows a hacker to infiltrate your device and cause havoc. There are many kinds of attacks that can take place, like pharming attacks, that can ruin both device and data.
This is why we urge users to connect to a VPN, especially if they're using free hotspots for unblocking online gambling sites or other risky sites.
Other risks also come with downloading unknown or vulnerable free Wi-Fi apps. Not all apps are safe options, which is why you need to be extra careful.
Use a VPN when connecting to a public WiFi
Before heading to how you can find a free WiFi hotspot or Wi-Fi host near you, you should know that most free sources often come with risks. Always consider using a VPN to protect yourself from tracking, hackers, surveillance, malware and many other issues.
To lead your device and data to safety when opting for sites that offer free Wi-Fi, use FastestVPN. It's easy on the pocket, and at the same time offers features for online security or protection.
What can a VPN do for you while using free WiFi or Open WiFi hotspots
No matter how trusted the network provider is, there is always a chance of hackers invading your device through vulnerable ports on the public WiFi you're using. In fact, that is just one of the many issues. A VPN is one of the best and safest tools to use while on a public internet, and here's why:
Great security
First and foremost, as stated earlier, make sure you're using a premium, risk-free VPN service provider. FastestVPN, for example, offers the best in cybersecurity, efficient bandwidth utilisation and data privacy. By using a VPN to cover your tracks, even if you connect to a fake or malicious network created by a hacker, the hacker won't be able to get through the robust security protocols. Otherwise, the hacker potentially has access to sensitive information and can also install malware.
Protects your data
Furthermore, Wi-Fi apps can potentially collect sensitive information about you, such as your IP address, location information, login credentials and so on. These could be shared with third parties for use in advertising and promotions if not something more nefarious. However, using FastestVPN should save you from all this given that it masks your IP and completely shields your data.
Protects you against vulnerable free WiFi apps
Moving on to Wi-Fi apps, make sure to avoid the obvious traps. Always go through the community opinions and any available feedback on the network you're going to use before connecting to it. Furthermore, the auto-connect features have some downsides in this regard. You may accidentally connect to a compromised WiFi. However, if you have a VPN installed, it shouldn't be a problem.
Ways to secure your connection while using the public WiFi
We discussed earlier the dangers of using free Wi-Fi without any protection. You need to use a tool for online protection against these vulnerable issues – we cannot stress this enough. Anyone with the right set of skills, can intercept a defenceless connection. When that happens, they can steal banking information, emails and more.
However, if you remain vigilant and do the homework, there is no need to worry. Here are some other precautions you can take to protect yourself:
Ensure the firewall is turned on
Some people tend to disable the built-in firewall because of the annoying pop-ups and other notifications. Sometimes security software tends to pick up on false positives as well which can be a real pain. However, in this case, make sure to enable it before connecting to any public Wi-Fi.
Ensure your network is set to "Public."
Usually, this is the first thing that your device will ask you when connecting to a new WiFi. If that be the case, make sure to select "Public Network" and not any of the other options. Choosing "Home" or "Work" is akin to leaving your front door open in a lawless town.
Use FastestVPN
FastestVPN, right now, is one of the best VPNs in the market. Its security backing is great, the speeds are up to mark – as testified by many users, and comes with international servers that you can mask your IP with. The silver lining? It's affordable!
FAQs
How can I get free WiFi today?
You can get free WiFi by using numerous free WiFi hotspots, free Wi-Fi hotspot access through ISP, through mobile apps for it, by turning your phone into a Wi-Fi hotspot, by using a portable router, or going to locations that offer free public WiFi hotspots.
How do I get free WiFi without paying anything?
There are some apps that offer lists of locations that come with free WiFi, and the login information for it. You could alternatively ask a friend or neighbour for their Wi-Fi password, or look for an area around you that is offering a free Wi-Fi connection. Either way, make sure you're connected to a VPN to stay safe from vulnerable connections.
Do VPNS give free WiFi?
No, VPNs do not give free WiFi. You need the internet to be able to use a VPN, there is no inbetween. What a VPN can do is allow safe passage to users while they're using a free hotspot or a free WiFi source.
To conclude
"Is there any free WiFi near me?" This guide answers your question. Other than the aforementioned suggestions, if there is anything we've missed, let us know in the comment section below!
Take Control of Your Privacy Today!
Unblock websites, access streaming platforms, and bypass ISP monitoring.
Get FastestVPN