How to get free WiFi near me
How to get free WiFi near me
By Johan Curtis No Comments 6 minutes
If you frequently discover that you're away from home or your place of work and have an urgent need to send files or emails from a laptop, you know the pain of not having a secure internet connection available to you. That is why here in this article, we discuss some of the ways you can answer the question "how do I find free WiFi near me?" and securing your connection using FastestVPN.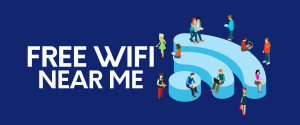 How to protect yourself when connecting to a public WiFi
Before we begin, keep in mind that public WiFi is fraught with danger. Even though the host may have some form of anti-virus in play, it is best to secure your connection using the software you trust. In this situation, consider using a VPN service such as FastestVPN. This particular company offer superior WiFi security and smart connect features that automatically pick the best available server at the touch of a button.
Finding free WiFi near you
Knowing how to find excellent free WiFI service is the key. You can try the following techniques for finding free WiFi near you:
Look for the nearest public space
Often public spaces such as parks, beaches and museums offer free WiFi to their visitors. If you happen to be near one or know how to get to one quickly, this is a good bet. However, make sure you have FastestVPN installed before you leave your home or place of work.
Look for a restaurant or café
If you'd rather sit someplace you can grab a coffee or a light snack, look for a café or bistro nearby. Places like this almost always have good WiFi and great food. You wouldn't want to make a mistake simply because you were hungry. Again, make sure you have FastestVPN installed or make sure it is the first thing you download.
Use an app to find the best free Wifi near you
If you do have mobile data active, you can try using apps like getWifi or WiFi map to locate places near you that offer free WiFI.
Instabridge
Instabridgeis a crowdsourced, free WiFi finding app that offers over five hundred thousand open Wi-Fi networks that are available publicly.The app also includes an auto-connect feature that allows you to connect to the nearest available public WiFI network automatically. All you have to do is make sure the app has the correct location. However, even though this is a pretty much safe option, best to have FastestVPN installed to avoid any mishaps.
Wi-Fi Map
Wi-Fi Map is also one of the few highly popular WiFi finding app available in the industry. Like Instabridge, it works on most mobile platforms with location technology (which includes pretty much every device on the market). The most significantfeature in this app is that it comes with a built-in map system with millions of Wi-Fi hotspots listed as well as the necessary login credentials.
Finding not so free WiFi near you
In case you'd rather avoid moving around but still need the internet connection for your laptop or PC, there is another option you can try. Simply turn your smartphone into a mobile hotspot. All you need to do is:
For iOS users
Similarly, go to Settings;
Then click on "Personal Hotspot";
It will ask you first to set up a password (make sure it's secure);
And just like before, slide the bar to begin.
Android users
Go to Settings;
Look for "Network and Internet";
Click "more";
Select "Hotspot and tethering";
Then click "Wi-Fi hotspot";
It will ask you first to set up a password (make sure it's secure);
Finally, slide the bar to begin.
Why using free Wi-Fi can be dangerous
Now coming back to the issue of protecting your device and your data when using public WiFi. No matter how trusted, the network provider is, there is always a chance for a third-party, such as a hacker, to get through and cause a problem. Here are some of the reasons why a VPN is the best choice:
First and foremost, as stated earlier, make sure you're using a premium, risk-free VPN service provider. FastestVPN, for example, offers the best in cybersecurity, efficient bandwidth utilisation and data privacy. By using a VPN to cover your tracks, even if you connect to a fake or malicious network created by a hacker, the hacker won't be able to get through the robust security protocols. Otherwise, the hacker potentially has access to sensitive information and can also install malware.
Furthermore, Wi-Fi apps can potentially collect sensitive information about you, such as your IP address, location information, login credentials and so on. These could be shared with thirdparties for use in advertising and promotions if not something more nefarious. However, using FastestVPN should save you from all this given that it masks your IP and completely shields your data.
Moving on to Wi-Fi apps, make sure to avoid the obvious traps. Always go through the community opinions and any available feedback on the network you're going to use before connecting to it. Furthermore, the auto-connect features have some downsides in this regard. You may accidentally connect to a compromised WiFi. However, if you have a VPN installed, it shouldn't be a problem
Other ways to secure your WiFi connection
As discussed earlier, the dangers of connecting, unprotected to free Wi-Fi cannot be stressed enough. Anyone with the right set of skills can intercept adefenceless connection can stealbanking information, emails and more. However, if you remain vigilant and do the homework, there is no need to worry. Here are some other precautions you can take to protect yourself:
Ensure the firewall is turned on
Some people tend to disable the built-in firewall because of the annoying pop-ups and other notifications. Sometimes security software tends to pick up on false positives as well which can be a real pain. However, in this case, make sure to enable it before connecting to any public Wi-Fi.
Ensure your network is set to "Public."
Usually, this is the first thing that your device will ask you when connecting to a new WiFi. If that be the case, make sure to select "Public Network" and not any of the other options. Choosing "Home" or "Work" is akin to leaving your front door open in a lawless town.
Take Control of Your Privacy Today!
Unblock websites, access streaming platforms, and bypass ISP monitoring.
Get FastestVPN