7 Ways to Fix AirDrop Issues
7 Ways to Fix AirDrop Issues
By Nick Anderson No Comments 4 minutes
You may face difficulties in getting AirDrop to work with your device. The issue may be something simple to something that requires a little bit of your attention. We'll walk you through how to fix AirDrop issues.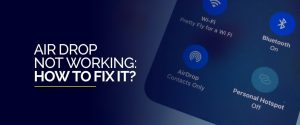 What is AirDrop?
AirDrop is a feature that allows you to connect two Apple devices and share data wirelessly. It can be used to send photos and documents to a Mac all without needing a cable. It syncs effortlessly and provides a convenient way to share and view files from an Apple device.
It was introduced in 2011 as part of iOS 7 and Mac OS X 10.7. It has since been an integral part of the Apple ecosystem experience. When people talk about the Apple ecosystem, they mean the seamless integration of Apple devices together, and AirDrop is one aspect that makes it come alive. It's as simple as connecting an AirDrop enabled device to a compatible device and beaming content to the device.
What Devices Support AirDrop?
AirPlay requires that both devices support the feature. Since it's an exclusive feature, it only works between Apple devices. It should not be confused with AirPlay which is another wireless feature that allows you to stream content from an Apple device to a compatible device, such as a TV or speaker.
AirDrop works on iPhone, iPad, iPod Touch, and Mac. But there are a few caveats. AirPlay requires that you are running iOS 7 minimum on iPhone, iPad, or iPod Touch. Older iOS versions are likely to have more issues that were fixed in later versions. So, the higher the software version, the better. For Mac, you need to be running OS X Yosemite minimum.
How to Use AirDrop
Using AirDrop is simple; the device just needs to be discoverable to receive a file wirelessly. For example, on iOS, open a photo or video that you want to share. Click on the share icon on the bottom-left corner and select AirDrop. Choose the device with which you want to share it. On the other device, a prompt will appear with a preview of the photo/video to accept or decline it.
On macOS, click on the file, scroll down to Share, and select AirDrop. Pick the device with which you want to share. On the other device, a prompt will appear to accept the incoming file.
AirDrop can be used to send anything: photos, videos, documents. The only downside is that it works between Apple devices only.
How to Fix AirDrop Issues
The prerequisite to use AirDrop is compatibility between devices. Check for the software version. Older devices running previous iOS/OS X versions don't support AirDrop.
1. Place the Devices Near
Devices sending and receiving via AirDrop have to be within 30 feet of distance. It is possible that your AirDrop issues are due to long distances. Since it uses Bluetooth to pair with another device, both devices need to be in a certain range.
2. Turn on Wi-Fi
Although AirDrop uses Bluetooth to pair to the device, you also need to have Wi-Fi enabled on both devices. Ensure that both Wi-Fi and Bluetooth are enabled on both devices and placed within range.
3. Turn on AirDrop
Your device needs to be discoverable if you want to receive AirDrop from others. On iOS, go to Settings > General > AirDrop > select Contacts Only or Everyone based on who you are connecting with. On macOS, go to Finder > AirDrop > Allow me to be discovered by, then select Everyone.
4. Restart Device
A device restart might fix the issue where you are unable to send files to the device or find nearby devices. For good measure, restart both devices.
5. Reset Network Settings
This option will remove all saved networks, so make sure that you have your Wi-Fi password backed on KeyChain.
Settings > General > Reset > select Reset Network Settings.
System Preferences > Network > Wi-Fi > highlight a Wi-Fi network and click on the minus "–" icon to remove it.
6. Turn off Mobile Hotspot
Apple recommends that you turn off the mobile hotspot on your phone to use AirDrop. This might fix the AirDrop issues that you are facing.
7. Disable Airplane Mode and Do Not Disturb
AirPlane mode disables network connectivity, which means that you will not be able to send or receive anything through AirPlay. Do Not Disturb may prevent any incoming notifications about an AirDrop from a nearby device.
Conclusion
We have reached the end of our guide on how to fix AirDrop issues. If you still face any issues, the issue might be an incompatible issue or a software issue. In the case of the latter, update your device to the latest software version and try again.

Take Control of Your Privacy Today!
Unblock websites, access streaming platforms, and bypass ISP monitoring.
Get FastestVPN