FastestVPN Spring Sale 2022 – VPN Deals with Up to 93% Discount
FastestVPN Spring Sale 2022 – VPN Deals with Up to 93% Discount
By Johan Curtis No Comments 4 minutes
Spring season is here. It marks the time of new a new beginning for the flora around us. The trees we see shed their leaves in autumn come full circle and show their true colors. It's a time of natural transformation.  However, to add to the spirits of the season, FastestVPN is now offering you the biggest and best Spring VPN sale for 2022!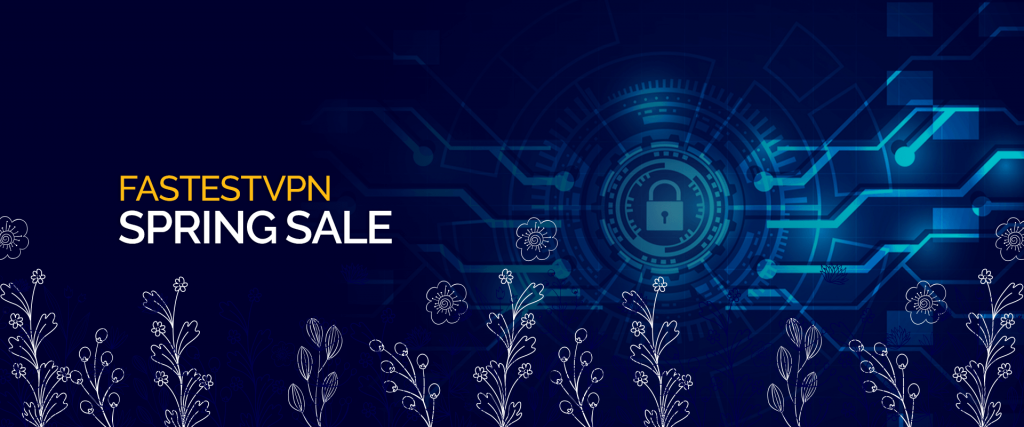 The season signals a new beginning, and we are keeping up with that notion. FastestVPN is back to mark this season with FastestVPN spring sale, giving our customers the chance to try out the fastest VPN in the market.
FastestVPN Spring Sale VPN Deals 2022
With the FastestVPN spring VPN sale, we are here to provide you with the best discounts and deals in VPN technology at affordable prices. We are committed to providing the best prices in the market with unmatched value.
You can choose from multiple FastestVPN spring sale packages, each providing a different price point to cater to all kinds of customers. If you're someone who wants to try out the FastestVPN spring sale at a price that's accessible take a look at our 1-Month package for just $10.
It doesn't stop there, our 5-Year package in FastestVPN spring sale provides exciting value. When you break down the price, it costs just $0.83 per month!
If that's not enough, FastestVPN lets you connect up to 10 devices simultaneously. And if you'd like to add more devices to the list, you can get them for $8 per device on top of the FastestVPN spring sale deals.
Take a look at the complete list of packages and discounts provided as part of FastestVPN Spring Sale. Choose what suits you best:
Why Use a VPN?
The importance of a VPN in today's digital world cannot be overstated. It has become crucial in a time when we connect multiple devices, devices that withhold our personal information. And likewise, the level of potential threats has increased.
VPN is a way of securing yourself in the online world. In a traditional scenario, every internet request that you make goes through the ISP's server. This puts your privacy at the mercy of your ISP. But unlike what they may say, they have full access and authority to track and record your user activity.
The DMCA actively works with ISPs to crack down against users who do illegal activities, such as downloading copyrighted content. But despite that, the idea of your online activity being recorded is scary itself.
VPN lets you connect to its server with a private IP address. This effectively masks your identity on the internet, allowing you to browse the internet anonymously. But VPN's protection goes far beyond that. FastestVPN uses the military-grade AES 256-bit encryption technology which encrypts your online traffic, preventing any third-party from sniffing the data packets being sent over the network.
A VPN is most crucial when using unsecure networks like public Wi-Fi hotspots. Because security on such networks is not strong, anyone connected on the network could potentially snoop on data flowing on the network. Imagine revealing your credit card information while making a purchase while connected to the network.
FastestVPN Features
FastestVPN delivers the best in VPN technology to meet the challenges of today's security. It is backed by a network of more than 150 high-speed servers around the world. These high-speed servers are also P2P-optimized, which means that you get the best performance while downloading torrents.
In addition to the military-grade AES 256-bit encryption, FastestVPN features Anti-Malware protection and Ad-Blocker for a consistent and safe browsing experience. You don't have to worry about those annoying ads anymore.
FastestVPN is compatible with 20+ devices. With dedicated apps for major platforms, all you have to do is download the app and connect to your preferred VPN server.
Why Choose FastestVPN Spring Sale?
To put it simply, FastestVPN delivers an unbeatable combination of price and performance. FastestVPN spring sale delivers the best in VPN technology in a package that is competitively priced to deliver the best value to customers.
One subscription allows you to connect up to 10 devices simultaneously. And if you want more, you can add more devices according to your needs. The 5-Year packages cost as low as $0.83 a month – that's a 93% discount! Take advantage of FastestVPN spring sale and get the VPN protection you deserve.