Enable End-to-End Encryption on Facebook Messenger
Enable End-to-End Encryption on Facebook Messenger
By Nick Anderson No Comments 4 minutes
Encryption is an important part of privacy and security on the web. As a Facebook user, it is important for you to note that without end-to-end encryption, Facebook has the capability to read your messages. Facebook has begun rolling out end-to-end encryption for voice and video calls, as announced earlier on the Facebook blog in August and recently by Mark Zuckerburg. Here's everything on how to enable end-to-end encryption on Facebook Messenger.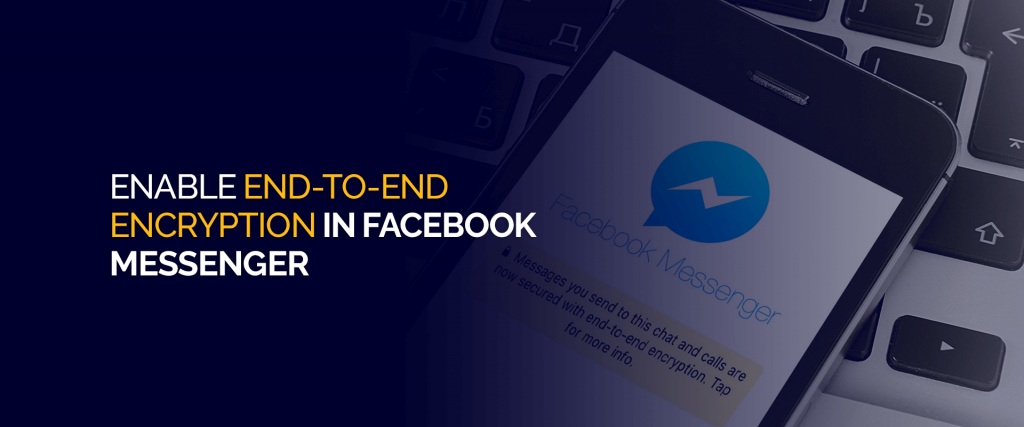 Why End-to-End Encryption is Important
In the age of digital surveillance and data retention, end-to-end encryption is a much-needed technology. Encryption is the process of scrambling data into an unreadable format. Only the intended recipient with the key can decrypt it.
In end-to-end encryption, only the end-user can decrypt the messages. Data does not get decrypted at the webserver but at the user's end. It makes private client-to-client communication possible. Without the technology, Facebook can intercept the communication in its original form.
You can learn more about end-to-end encryption in our blog here.
How to Enable End-to-End Encryption on Facebook Messenger
Facebook Messenger is one of the popular chat applications that allows Facebook users to send each other texts. It's now a separate app that can also connect with Instagram.
End-to-end encryption was introduced for Facebook Messenger as Secret Conversation and is also used for Meta-owned WhatsApp. With the rollout to Messenger, Facebook users can take advantage of it and make chats with friends and family private.
The feature only works on Facebook apps for mobiles so far. It means that users accessing Facebook through the web browser or the Messenger desktop cannot use end-to-end encryption – yet. There is no word on when and if the feature will extend to the browser version of Messenger.
Keep in mind that end-to-end encryption on Facebook Messenger is not enabled by default. Here's how to enable end-to-end encryption on Facebook Messenger.
Open Messenger app on your phone (iOS or Android)
Create a new chat
Select recipient(s) that you want to add. It supports group chats so
Tap on the little switch with the lock icon. Turn it on and you will switch to Secret Conversation.
Any message that you send will now use end-to-end encryption. One thing to note here is that end-to-end encrypted chats appear separate from the chats that you may already have with the same recipient(s). Your existing chat with a friend will appear as a separate thread in the Messenger app, and only one of them will be end-to-end encrypted. You can see which one supports the feature by noticing the gray lock icon on the recipient's picture.
How to Make End-to-End Encrypted Calls on Facebook Messenger
End-to-End encrypted calls on Facebook Messenger work in the same way.
Create a new chat.
Select one or more recipients to start a solo or group chat, respectively.
Toggle the lock switch in the chat window to turn on end-to-end encryption.
Once in the Secret Conversation, send a message to activate voice and video call icons. This is an important step; simply adding recipient(s) to the chat does not initiate a conversation; hence voice and video call icons will not appear.
You can now make an encrypted voice or video call. The call will show "end-to-end encrypted" on the screen. Again, there will now be two chats threads if you have existing chats with the same recipient or recipients in the group chat as a whole. So, you will need to communicate in this thread if you want your chats and calls to be end-to-end encryption.
What's Disappearing Messages?
Disappearing messages is a feature within end-to-end encrypted chats that allow you to set a timer on messages after which they disappear. Once in a Secret Conversation, tap on the clock icon in the typing area and select how long you want the messages to live before they disappear. You can choose from 5 seconds to as long as 24 hours.
What's Next?
Currently, the only way to use the feature is to make a new chat thread. It leads to two separate threads with the same recipient: one without end-to-end encryption and one with end-to-end encryption.
This may lead to confusion among users and could accidentally make them delete the previous chat.
After Facebook Messenger, Facebook is also testing end-to-end encryption for Instagram DMs. The testing is limited to accounts of adult individuals.
Conclusion
Encryption is an extremely important technology that enables privacy and security on the web. End-to-end encryption takes it a step further to ensure only the sender and the receiver can read messages. There is a reason there is a motion by governments against end-to-end encryption to allow them access.

Take Control of Your Privacy Today!
Unblock websites, access streaming platforms, and bypass ISP monitoring.
Get FastestVPN