How to Download VPN on School Chromebook
How to Download VPN on School Chromebook
By Johan Curtis No Comments 6 minutes
How many times have you noticed that you wanted to visit a particular site, or download something on your school assigned Chromebook but were unable to do so? That's probably because your school's Chromebook has blocked off particular websites and actions on the device.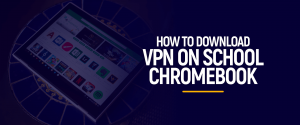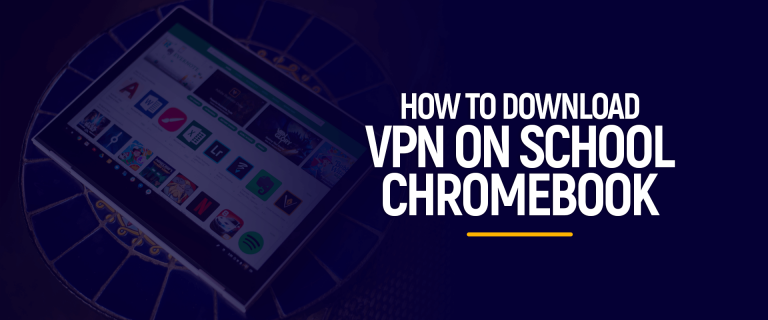 School systems tend to block all applications or websites which they deem irrelevant to the school and its curriculum, which can be quite frustrating, in all honesty, why own a smart device if you can't utilize it to its full potential?
We've found the perfect way for you to bypass such restrictions on your school's Chromebook. The best way to get through any restriction is through a VPN. Want to learn how to download a VPN on your school's Chromebook? Keep reading.
What is a VPN and Why Do You Need One?
A VPN (Virtual Private Network) is used for many reasons; the most common is to provide you with security and privacy while you are browsing the web. It will mask your identity by hiding your internet activity from your ISP, potential spies, or your school's admin in this case.
Similarly, the reason why you may need to install a VPN on your Chromebook is that a VPN will allow you to access any blocked websites by changing your IP address to one that does not match the system's list of blocked IPs, providing you with immediate access to whatever website you choose and also hiding your identity side by side so you don't get caught.
Moreover, when deciding what VPN to connect, we'd suggest that you opt for a paid version. Since free VPNs do not offer the utmost protection as you require, it is better to subscribe to an efficient and effective VPN. FastestVPN will provide you with the best security features for a very low price.
However, the problem that usually arises is that many school Chromebooks have the Play Store blocked as well; so how are you supposed to download a VPN? We have just the way; keep reading to find out how to download a VPN on the school's Chromebook.
Do You Need a VPN on your Chromebook?
Normally, it is recommended that you connect to a VPN at all times whenever you are surfing the internet since the web is open to all sorts of vulnerabilities. No matter what device you are operating, it would be best if you always opted to use a VPN.
Chromebooks do support VPNs. If you're ever wondering what VPNs work on Chromebook, there's no need to worry; FastestVPN works with Chromebook.
Can School Block VPNs and Will They Find Out that I'm Using One?
The most common question among students is that can my schools block VPNs and whether they can get past this blockade.
Usually, school systems do implement a block on various VPNs to ensure that students do not use their Chromebook for any other purposes outside of educational. Although we do agree with such measures, we believe that students should be allowed some level of web browsing.
In such instances, you can bypass the block on VPNs by using certain stealth VPN protocols that are made to bypass VPN blocks and firewalls. It will scramble your traffic and make sure that your school will not know that you're using a VPN as it won't be recognized as VPN traffic.
Moreover, you can also run OpenVPN on port 443 to unblock VPN on Chrome OS. OpenVPN uses the SSL encryption and port 443, and it will slip through the firewall easily unless it is a very strong DPI, which we highly doubt your school would adopt. Such advanced DPIs are used in government firewalls such as China's, which can also be unblocked with the use of certain stealth VPN protocols.
Lastly, you can also opt to use the TOR network; it will provide you with layers of encryption and privacy, through which you can easily unblock your VPN on your Chromebook without being identified.
How to Install a VPN on School's Chromebook
Normally your school will have your Play Store blocked on its Chromebook, so you will be unable to download a third-party app. You will have to enter the asked information manually through your VPN provider by selecting L2TP protocol.
Here's how you can install a VPN on your school's Chromebook through your Chromebook's CA certificate:
Obtain the CA certificate from your VPN provider and store it on your Chromebook
Open Chrome and enter the URL "chrome://settings/certificates"
Press the "authorities" button at the top of the page
Click on "Import", select the CA certificate
Follow the instructions given on the screen
Now you should begin to enter VPN settings; click on your account photo at the bottom right
Press "Settings"
Under Network, choose "Add a connection"
Click "Add OpenVPN/L2TP"
Type the necessary info required
Then press "connect"
Now you've successfully installed a VPN for your Chromebook.
How to Download a VPN on School's Chromebook
Similarly, instead of manually configuring a VPN connection, you can always opt to download a VPN extension.
Although a VPN extension will not provide you with all the security features that FastestVPN's desktop application would, it still covers your main concern, which is it will hide your internet activity from your school's administration.
Here's how to download a VPN on your Chromebook:
Go to the chrome web store
Search for FastestVPN
Click "Add to chrome" for the FastestVPN extension
Select "Add extension" in the popup shown above
Click on extension logo displayed on the top right of your browser
Once done, turn on protection
Begin browsing securely
Conclusion
It is understandable why your school may want to block off certain activities and websites from your Chromebook. We hope our guide helped you in knowing how to download and install a VPN for the school Chromebook. FastestVPN let's bypass such restrictions without effort while also keeping your activities private.
Take Control of Your Privacy Today!
Unblock websites, access streaming platforms, and bypass ISP monitoring.
Get FastestVPN